Apple 'Privacy. That's iPhone' campaign billboards reach Germany
Apple is continuing to expand its 'Privacy. That's iPhone' campaign into more territories, with more billboards in the series spotted in Hamburg and Berlin in Germany promoting the iPhone and iOS' data security credentials.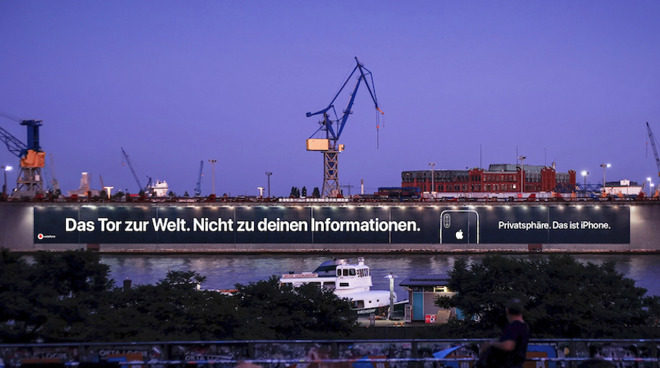 The 'Privacy. That's iPhone' ad in the Port of Hamburg (via Macerkopf)
The poster campaign in Hamburg consists of two prominent placements for the black and white images. At the Port of Hamburg,
Macerkopf
reports
Apple uses a long poster featuring a statement translated as "The Gateway to the world. Not your information.
A second ad elsewhere in Hamburg suggests the iPhone "Betrays so little about Hamburgers as a Hamburger," referencing the unofficial name given to the city's denizens. In Berlin, the poster reads "Welcome to the safe sector."
In all three cases, Apple includes the german version of the phrase "Privacy. That's iPhone," as well as an illustration of an iPhone XS.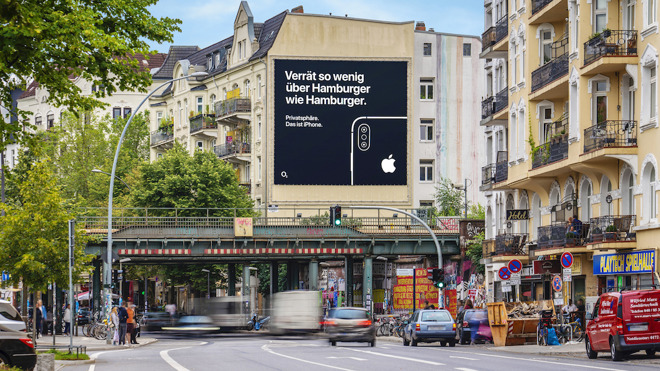 The second Hamburg 'Privacy. That's iPhone' billboard. (via Macerkopf)
The posters are a continuation of Apple's current ad campaign, which officially kicked off with a
video in March
. Billboards have been erected
in Canada
as part of the effort, offering similar privacy-focused messages, with the Berlin and Hamburg posters believed to be the first in Germany.
The style of the posters predates the March launch, closely resembling the one
used in January
during the Consumer Electronics Show, but with the added campaign tagline.