DOJ requiring eSIM support as condition of Sprint & T-Mobile merger, including Dish
A small but significant condition of the Justice Department approving Sprint and T-Mobile's merger is that the combined entity -- and Dish, which is being turned into a fourth national carrier -- must support eSIM technology.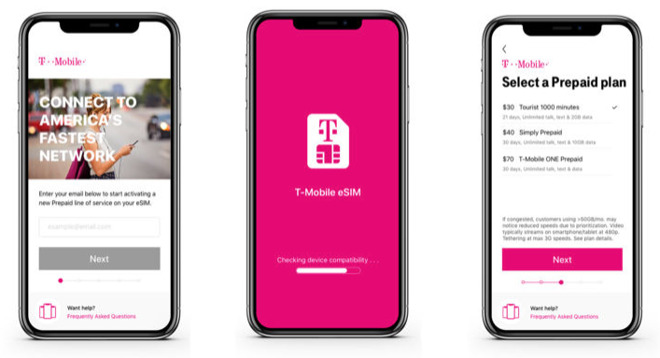 "This requirement will make it easier for Dish to attract new subscribers, help extend the competition in this market, and will provide a platform for new innovative options," the Department
said
according to
The Verge
. "Sadly in the United States, eSIM has not been widely adopted in mobile wireless like it is in Europe and others. And that's an area separate of this merger we have looked to. This will revolutionize the use eSIMs in hopefully all carriers, because once consumers have it, they'll benefit from it."
eSIMs
let phone owners switch carriers on the fly instead of having to physically swap cards. While carriers have been relatively slow to adopt the technology -- T-Mobile has, but Sprint hasn't -- it's frequently appealing to both the public and phone makers like Apple, which are continually trying to cut costs and optimize the space in their designs.
Apple was an early backer of the eSIM concept in the form of the Apple SIM, first included with
the iPad Air 2 and iPad mini 3
. Work on true eSIMs
began in 2015
, and now the technology is incorporated in the iPhone XS, XS Max, and XR.
The
Sprint and T-Mobile merger
can't be finalized until the conclusion of a lawsuit from 13 state attorneys general and the District of Columbia. A trial date is set for Oct. 7, though that date could be pushed as late as Dec. 9. It's also possible that the case could be settled out of court, since it revolves around a lack of competition in the national wireless space -- with Dish being propped up as a replacement for Sprint, there may not be reason to continue.