MacBook Pro vs MacBook Air - Which is the better buy?
A few weeks ago, Apple launched a pair of machines in direct competition with each other. Let's take a look at the differences between Apple's new entry level MacBook Air, and the new base model 13-inch MacBook Pro with two Thunderbolt 3 ports. Which one should you pick up?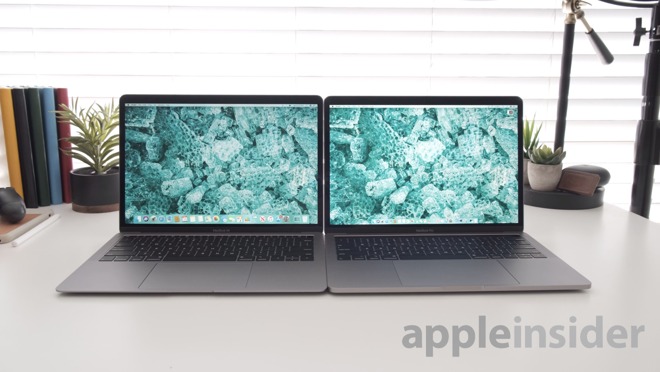 2019 MacBook Air (left) and 2019 MacBook Pro 13-inch (right)
A couple of weeks ago, Apple decided to kill off its
12-inch MacBook
with its single USB-C port and replaced it with the
13-inch MacBook Air
with Retina Display.
Air versus Pro
This new
MacBook Air
now starts at $1099 which packs a 1.6GHz dual-core processor that turbo boosts up to 3.6GHz, 8GB of RAM, 128GB SSD, and Intel's UHD 617 Graphics.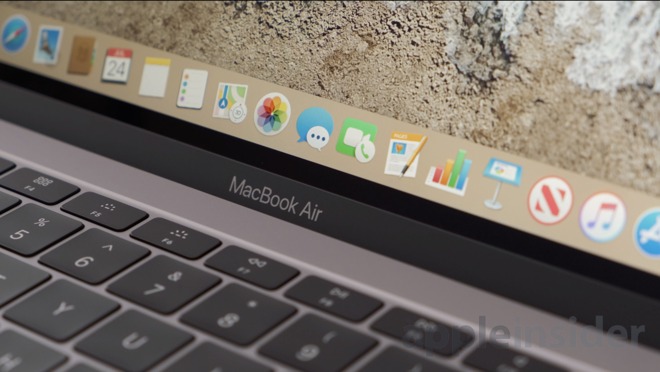 2019 MacBook Air
The new base model
13-inch MacBook Pro
with two Thunderbolt 3 ports starts at $1299 and that gets you a 1.4GHz quad-core i5 processor that turbo boosts up to 3.9GHz, 8GB of RAM, 128GB SSD, and the Intel Iris Plus 645 Graphics.
Superb build quality, similar design
In terms of overall design, both devices look incredible. The
MacBook Air
, like its name, is very thin and light. It's the most portable Mac you can carry with you. We've seen this same exact design for the MacBook Pro since the 2016 debu of the style, and the 13-inch model is still very portable, but not as light as the MacBook Air.
Both the Air and Pro also feature Apple's newly updated butterfly keyboard which we've
covered in length in the past
, but to reiterate our review of this new keyboard, it's a little bit better to type on versus the first gen keyboard, there's little to no key travel, but we're not completely sold on whether or not this will end up breaking in a few months.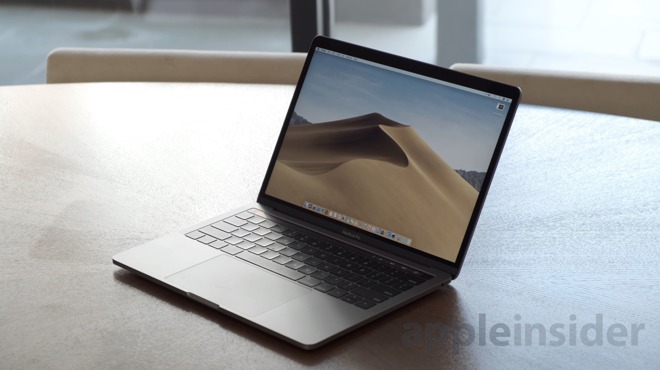 2019 13-inch MacBook Pro
One of the major differences between these two models and their keyboards however is the Pro's Touch Bar versus the Air's Function Keys with Touch ID. Personally, I prefer the MacBook Air's function keys over the Pro's Touch Bar because they are physical buttons I can press, and in my opinion is the more reliable option. Of course, others -- even within the
AppleInsider
editorial team -- have differing opinions on the Touch Bar. It is a hotly debated piece of tech that Apple now has throughout the entire
MacBook Pro
lineup.
Those who are champions of the Touch Bar love the familiar shortcuts and app-specific controls that can be displayed. Safari, mail, Final Cut Pro X, and many more apps all take advantage of the Touch Bar to various degrees.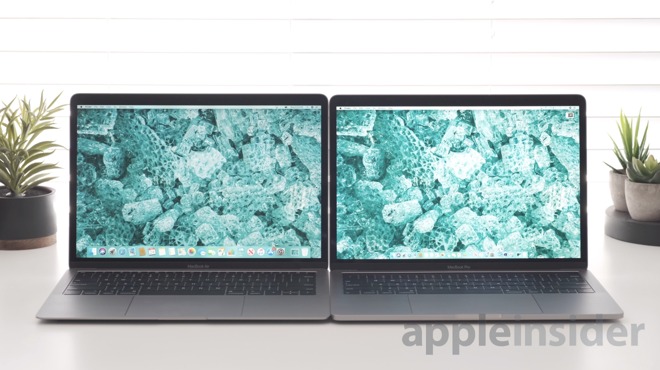 2019 MacBook Air (left) and 2019 MacBook Pro 13-inch (right)
I feel Apple hasn't yet fully realized the potential in the Touch Bar by themselves. Now that every MacBook Pro comes with the Touch Bar and not function keys, perhaps developers who haven't embraced it yet will devote some additional resources to fleshing it out.
Great displays, but one is clearly better
Both devices also feature True Tone display which adjusts the color temperature of your display to the environment you're in to give you a much better viewing experience. The MacBook Pro's display features P3 wide color gamut, versus the Air's sRGB so colors and contrast ratio is much better on the Pro.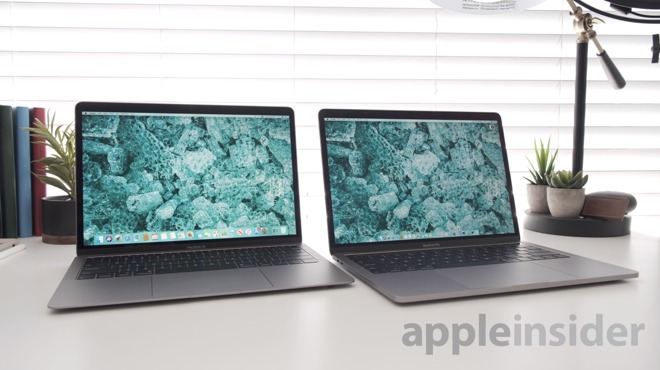 2019 MacBook Air (left) and 2019 MacBook Pro 13-inch (right)
But one of the biggest differences between the devices is how much brighter the MacBook Pro can get. The Air's display can go up to 400 nits of brightness, versus the Pro's 500 nits of brightness. On paper, it may not sound all that drastic, but in person you can tell which display looks better and brighter.
Dual-core versus Quad-core
When it comes to performance and day to day usage, the MacBook Pro is the clear winner here. We've tested both machines and ran several benchmarks to showcase how these base model MacBooks perform.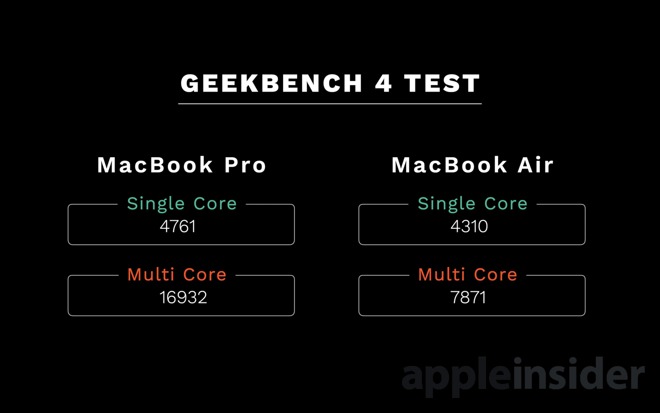 Geekbench 4 results
In Geekbench, the MacBook Pro received a single core score of 4761 and multi-core score of 16932, while the MacBook Air's dual-core i5 processor scored 4310 in single core, and received a multi-core score of 7871. It shouldn't come as a surprise that a quad-core processor will deliver a big jump in multi-core performance.
As a video creator, I was curious how these two machines compare in Final Cut Pro X. So we imported five minutes of 4K h.264 footage in our timeline, added color correction, adjusted the saturation, and added some contrast to the overall image. We exported this five minute timeline with background rendering on and off.
On the MacBook Air with background rendering on it exported the video in 4 minutes and 22 seconds, and with it off, it exported the video in 14 minutes and 12 seconds. The MacBook Pro exported the video in 2 minutes and 45 seconds. And with it off it did it in 10 minutes and 26 seconds.
Final Cut Pro X results
Testing out the SSD speeds on these two machines we noticed that both devices are about on the same playing field averaging around 1275MB/s on its read speeds and around 600MB/s on write speed. Effectively, a dead heat between the pair.
MacBook Pro is a more performance-oriented choice
The extra $200 you'll be shelling out on the Pro could go towards AppleCare or accessories if you were to choose the base model MacBook Air, but in the long run, we think you'll be much happier with the Pro's better looking display, and overall raw performance.
If you're looking to grab a MacBook Air just for its weight and portability, the difference between the two laptops is very small. The 13-inch MacBook Pro is still very much a lightweight and portable Mac, and we believe it's the best bang for the buck Apple portable you can buy at the moment.
If you're looking for the best prices on the new MacBook Air or the base model MacBook Pro we'll leave a link down below to
AppleInsider's
Price Guide where you can find the best deal on these new laptops.
Where to buy and save on these new laptops
Both the 2019 MacBook Air and the new 13-inch MacBook Pro are eligible for instant and/or promo code savings at Adorama. All CTO models are
up to $150 off
with coupon code
APINSIDER
. Details on how to reedem the code can be found in our
savings guide
.
And for the lowest prices across all models, be sure to check out our
2019 MacBook Air
and
13-inch MacBook Pro
Price Guides.