Apple's Services including Apple TV up 13% to $11.5B
Revenues from Services earned double-digit growth' across the world, according to
figures released by Apple
during its July earnings call with investors and analysts.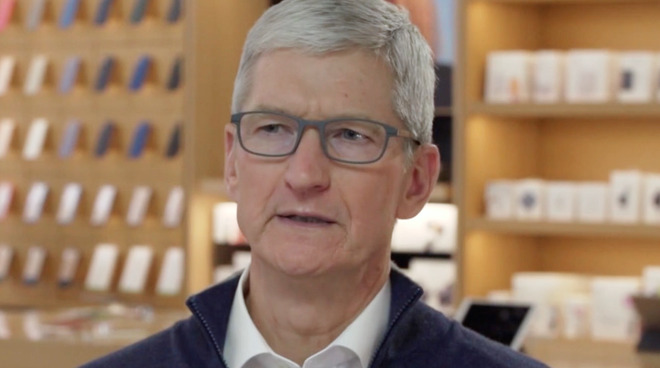 Apple CEO Tim Cook
As revealed in its July 2019 quarterly earnings call, Apple's Services, such as iCloud, Apple TV, Apple News and Apple Music, earned the company $11.5B in the last quarter, making a combined growth of 13% since this time last year.
Discounting a one-time accounting adjustment last year, this quarter's revenues would represent a 15% growth in real times, which CEO Tim Cook described as "a new high-water mark for Services."
"Our strong services performance was broad-based," he said. "We set new, all-time records for AppleCare, Music, Cloud services, and our App Store search-ad business achieved a new third-quarter record for the App Store. What's more, we had double-digit growth in all five of our geographic segments."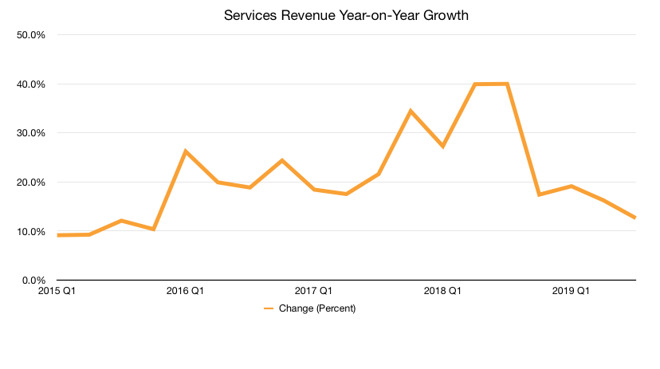 Apple's Services revenue over the last four years. (Graph: Malcolm Owen)
Luca Maestri, Apple's Chief Financial Officer, further broke down the revenue in the company's Services, saying that its growth came "in spite of foreign exchange headwinds."
He said that most of the Services Cook had mentioned had achieved double-digit growth. "[There was also] triple-digit growth from Apple Pay and our App Store's search ad business," he reported.
"In total, Services accounted for 21% of Apple revenue, 36% of gross margin dollars," he continued. "Customer engagement in our ecosystem continues to grow. We now have over 420 million paid subscriptions across the services on our platforms and are well on our way to our goal of surpassing the 500 million mark during 2020."
Cook also singled out the revamped Apple TV app, which launched in 100 countries back in May. According to Cook, the monthly viewing figures in the US are up 40% year on year.
He said that this growth plus "a blow-out quarter for wearables," meant that if you combined the figures for both, "they now approach the size of a Fortune 50 company."