Apple adds more drivers to autonomous car project
Apple is expanding efforts to forward its self-driving car project, and according to government documents has added 33 drivers to test its fleet of 69 autonomous vehicles over the past three months.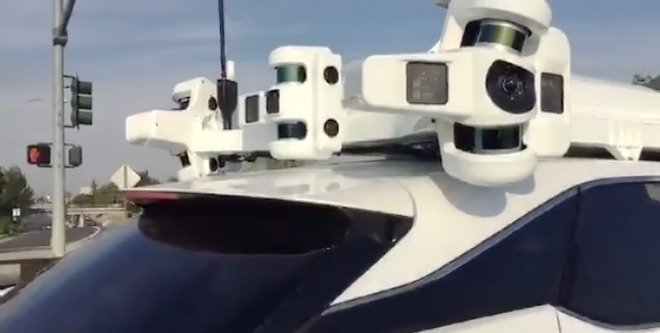 The new statistics were revealed in a filing with the California Department of Motor Vehicles, which shows Apple now has 143 pilots registered to evaluate autonomous systems on specially equipped Lexus SUVs. As noted by
macReports
, that
number is up
from 110 drivers
in April
.
Apple is currently operating 69 vehicles on California roads, down from a peak of 72 cars in November 2018. The company cut its fleet down in April for unknown reasons. It has been speculated that Apple simply mothballed cars involved in accidents or those that required repairs above routine maintenance.
The Cupertino tech giant has the third-largest fleet of autonomous test cars in California behind GM Cruise and Waymo, which field 258 cars and 135 cars, respectively. GM Cruise added nearly 100 vehicles and cut 228 drivers from its roster since April, while Waymo added 10 cars and pulled 47 drivers from its fleet over the same period.
Apple's motivation in the self-driving market are unknown. The company initially embarked on an ambitious effort to build a branded self-driving "
Apple car
" with "Project Titan," a program that at one point had
over 1,000 employees
working on various projects. The effort was put on hold
in late 2016
after development roadblocks led to disagreements in Apple's upper ranks.
After it was handed off to longtime executive Bob Mansfield, the Project Titan team was
whittled down
to core personnel working on self-driving software and supporting hardware.
Reports suggest Apple plans to implement a version of its self-driving technology in an
autonomous shuttle
that will ferry employees between its California campuses, while other believe a full-fledged car
is still being considered
.
Most recently,
Apple recruited
Tesla VP of Engineering and longtime car industry executive Steve MacManus to fill a senior manager role in July.