Apple updates USB-C Digital AV Multiport Adapter with HDMI 2.0 support
Apple this week started sales of an updated version of its USB-C Digital AV Multiport Adapter, delivering HDMI 2.0 support for 60Hz refresh rates at high resolutions, HDR output and more.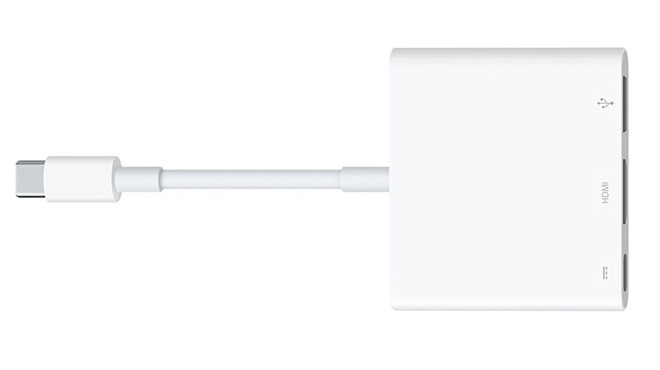 The new part, model A2119, replaces the outgoing model A1621 and is on sale now through Apple's
online storefront
.
A must-have for some users, especially MacBook owners with multi-screen setups, the adapter enables HDMI output from a USB-C-enabled Mac or iPad Pro. In addition to HDMI, the accessory features a USB-A port and USB-C port, the latter of which is limited to transferring power from a wall charger or battery pack.
A Support Pages
document
published Friday details the differences between the USB-C Digital AV Multiport Adapter generations, which share an identical design.
With HDMI 2.0 capabilities, the new adapter can handle a refresh rate of 60Hz at resolutions of 3,840-by-2,160 pixels when connected to a 2017 or later 15-inch MacBook Pro, 2017 or later iMac, iMac Pro or iPad Pro. Like the deprecated A1621, resolutions and refresh rates of 1080p at 60Hz and 3,840-by-2,160 pixels at 30Hz are also supported on compatible hardware.
In addition to higher throughput, the updated USB-C dongle is compatible with HDR formats HDR10 and Dolby Vision when connected to a compatible playback device and display.
USB-A and USB-C ports operate in line with the outgoing variant, with the former port providing USB 3 data transfer speeds up to 5Gbps, Apple says.
The updated USB-C Digital AV Multiport Adapter retains a $69 price tag and orders placed today are due to arrive by Aug. 12 or 13, depending on delivery speed. Brick-and-mortar Apple Stores will receive stock on Aug. 13.