Apple Watch vs Fitbit Versa: which fitness tracker watch is right for you?
We're taking a look at the Apple Watch vs Fitbit ecosystem to see how the Apple Watch Series 4 compares to the top of the line Fitbit Versa to answer the question: which smart watch and fitness tracker is right for you?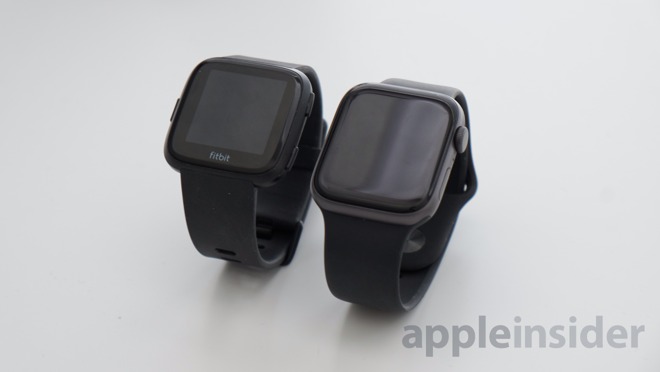 Fitbit Versa vs Apple Watch Series 4
Fitbit is mostly known for its fitness trackers, but it also offers products that border on being a smartwatch, such as the Versa. The
Apple Watch Series 4
on the other hand is generally considered a smartwatch first, and a fitness tracker second, which for some is a deciding factor in the
Apple Watch
vs Fitbit showdown.
Similar looking design, but one offers more options
When it comes to build quality, the Apple Watch comes in two different flavors. There's an aluminum variant which is what most people buy, and there's also a more expensive version that is made out of stainless steel which is more luxurious and arguably better looking.
The Apple Watch Series 4 comes in three different colorways: silver, space gray, and gold.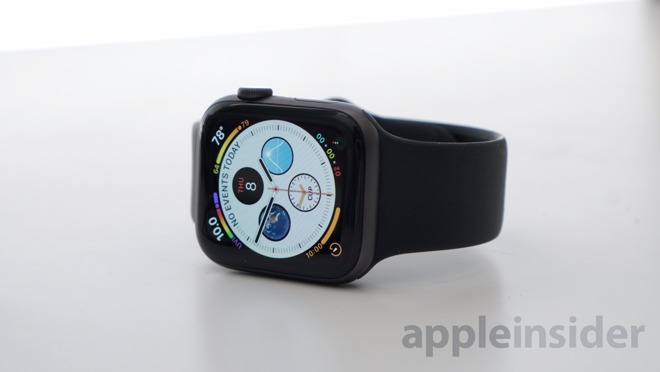 Apple Watch Series 4 in space gray aluminum finish
The Fitbit Versa is crafted out of an aluminum casing as well, but they don't offer a stainless steel option and it only comes in black, and silver. Both are incredibly well made, and you won't be disappointed with either device.
Apple also offers two different size options, at 40mm and 44mm, whereas Fitbit only offers one. To cap it off, Apple offers an LTE version for the Series 4 where you can use the watch independently and leave your phone at home.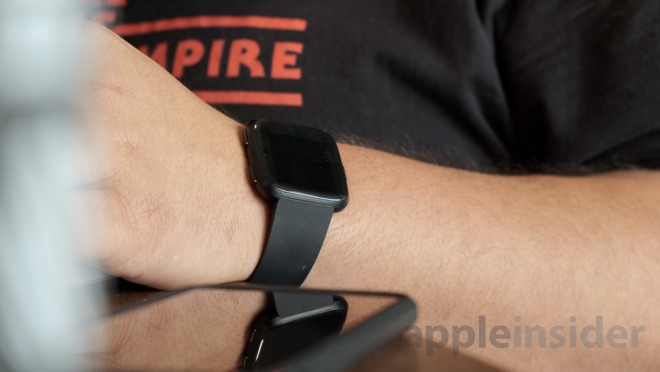 Fitbit Versa
When you go OLED it's hard to go back
While design may be similar in some ways, the displays are a completely different story.
The Fitbit Versa doesn't have a terrible screen - it's big enough to see all your information, and text is legible. But, the Apple Watch's OLED display and higher resolution screen looks a lot nicer with better color reproduction, deeper blacks, and less pixelated visuals compared to the Versa.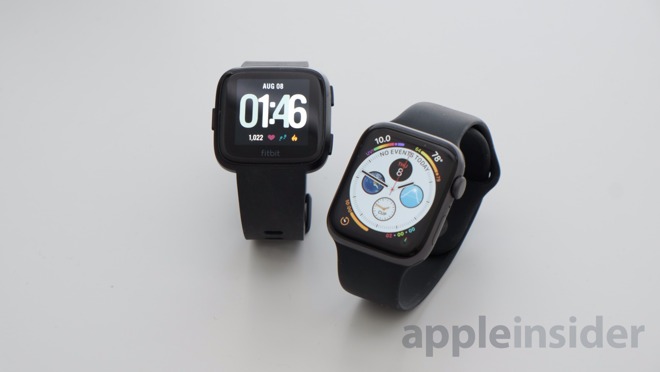 Apple Watch Series 4 vs Fitbit Versa: OLED is clearly the far more superior display tech
The Versa's screen looks outdated when compared to the Apple Watch Series 4.
Apple Watch vs Fitbit Versa Software integration
One of the major differences between the Apple Watch and Fitbit is software and how it integrates with your smartphone and everyday life. The Apple Watch Series 4 can only be used with an iPhone, whereas the Fitbit Versa can be used with an iPhone or Android device.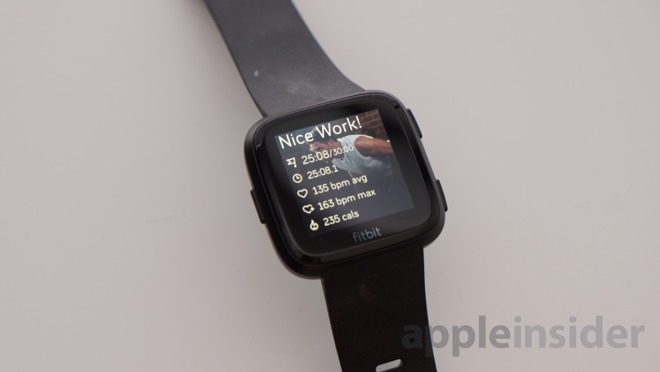 Summary screen on the Fitbit Versa after a workout
With Fitbit, there is only one app you need to download to check the watch's battery life, your health information, and workout information. With the Apple Watch you have multiple apps, such as the Health app, Watch, and Activity. We think
Fitbit's app
is more streamlined than Apple's offering -- but that's not necessarily a good thing.
Overall, we think software on the Apple Watch Series 4 is far superior versus the offerings on the Fitbit Versa. The Apple Watch is a lot easier to use, and the overall user experience is faster, a lot cleaner, and more fluid than what you get with the Versa. Despite the streamlining, the Versa's user interface is dated and lags every now and then when quickly going through menus.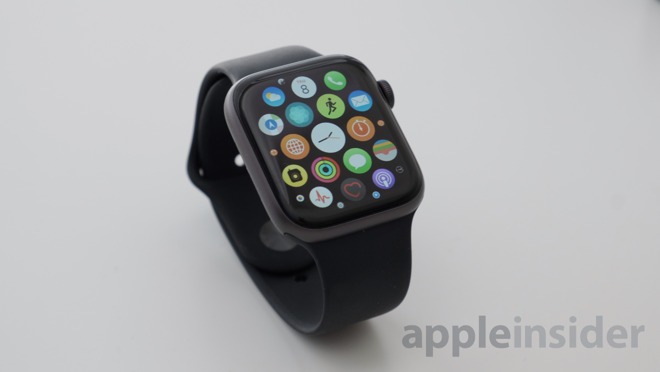 Apps on the Apple Watch Series 4
The Apple Watch can also be used as a relay device for your iPhone to take phone calls or be used as a walkie talkie since it has a built-in speaker. And it has Siri, which works great on the Series 4.
The Fitbit Versa can't take calls or send voice messages to your friends. It also can't ask a voice assistant to figure out what the weather is tomorrow, or when your favorite team is playing next.
Features and Pricing
When it comes to health and fitness, both devices excel at fitness tracking and offer nearly the same level of detail in information when working out and tracking daily activities. Both the Apple Watch and Fitbit Versa offer heart rate, steps, calories, and workout tracking. They are also both waterproof up to 50 meters.
However, there are some features that one has that the other doesn't, and vice versa.
Starting with the Apple Watch Series 4, the Series 4 has GPS built-in so if you rely heavily on this feature for your workouts, the Versa doesn't offer this. The Apple Watch also offers ECG in the US to track any abnormal measurements and potentially helping to detect atrial fibrillation.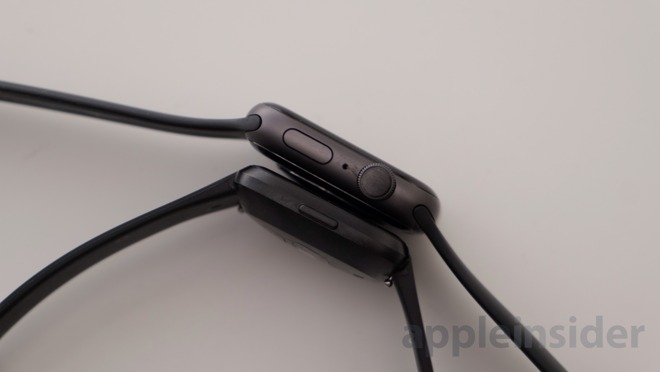 Both devices are made out of high quality aluminum
The Apple Watch has a much-heralded Fall Detection feature which detects if you've taken a hard fall and will call emergency if you're unresponsive for a minute. But, all of these features takes a toll on battery life, and the Apple Watch Series 4 battery will only last you about a day and a half, maybe two if we're being careful about power consumption.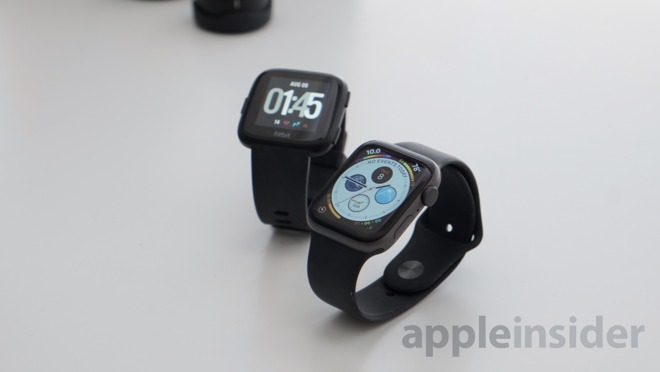 When comparing the Apple Watch vs Fitbit Versa, battery is a primary concern
On the other hand, the Fitbit Versa has sleep tracking which Apple doesn't offer natively. Apple Watch owners can use third-party apps for sleep tracking, though. The Fitbit Versa can easily last four or five days on a single battery charge with regular usage, and if you're looking for a smartwatch that you don't have to constantly plug in every night, the Fitbit Versa is a top contender.
The Fitbit Versa retails for $199, while the Apple Watch Series 4 40mm starts at $399, though the
AppleInsider
price guide
regularly has discounts of $20 or more. Still, that's a pretty big jump in price and could be a big factor when deciding which is the better device for you.
Smartwatch vs. Fitness Tracker
We had a lot of hope for Fitbit's smart wearables following its acquisition of Pebble, but that doesn't appear to have paid off as much as we wanted it to. If you're looking for the best smartwatch in the market, the Apple Watch Series 4 is the best device out right now, but it comes with a premium price tag.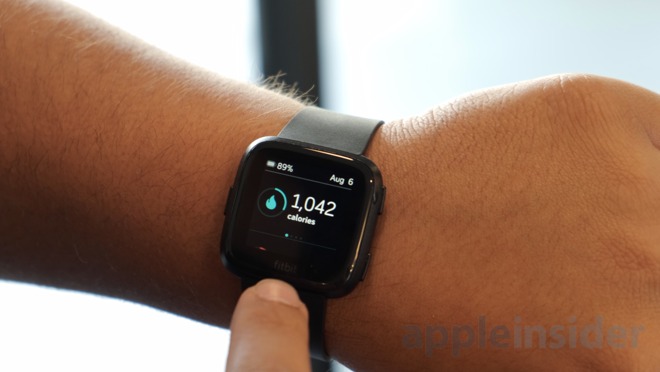 Track your daily health and workout goals on the Fitbit Versa
However, if you're strictly looking for a great, basic fitness tracker -- and effectively only a fitness tracker -- that will go days without a charge, that happens to have some smartwatch capabilities to notify you of your missed calls or text messages, the Fitbit Versa may be the right device for you.
Where to buy
If you've decided on an Apple Watch vs Fitbit, but need to find to find the lowest price, the
AppleInsider
Apple Watch Price Guide
delivers daily deals at your fingertips. Apple Watch Series 4 devices are regularly on sale with savings at press time of
up to $70 off
GPS + Cellular units.
Those looking to enter the Apple Watch ecosystem while adhering to a budget can also pick up an
Apple Watch Series 3 for $199
.
Prefer the Fitbit Versa? Shoppers can order the fitness tracker
from Amazon
, often with double-digit savings. From a price perspective, the Fitbit will ring in cheaper when comparing the Apple Watch vs Fitbit.