OWC updates USB-C Travel Dock with 100W power delivery
OWC has launched a new version of the USB-C Travel Dock, a compact accessory for the iPad Pro, Mac, and MacBooks that provides five essential ports to expand the host device's connectivity options, one that is also capable of being used to recharge a 15-inch MacBook Pro through the same connection.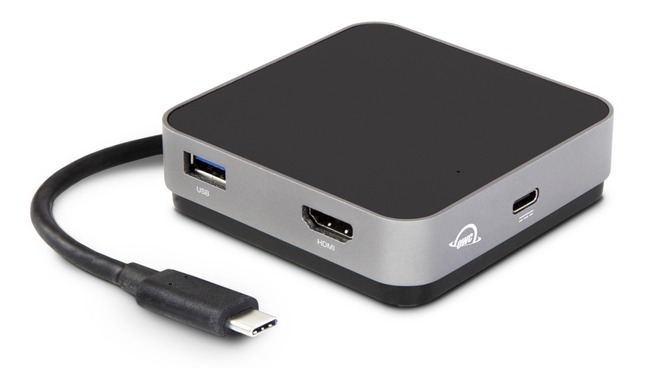 Based on the original model with the same name from 2017, the new version offers an almost identical roster of five ports to consumers, including two USB 3.1 Type-A ports on opposite sides, and an extra USB 3.1 Type-C connection. While the original's USB Type-C port was capable of up to 60 Watts of power delivery, the new version has been increased to provide up to 100 Watts, allowing it to charge all of the MacBook Pro lineup.
The SD card slot supports SD, SDHC, and SDXC cards, along with UHS-II versions, with transfer speeds of up to 312MB per second possible with the right memory card. The HDMI 2.0 port is able to deliver 24-bit color, and can handle a resolution of up to 4096 by 2160 at 30Hz.
The physical design of the unit is also quite similar to the original, resembling a square space grey puck with an attached cable, though this time it is slightly taller, with a black section raising the metal surround off a table's surface. It also has a slightly smaller footprint, measuring 3.1 inches square, but with a taller height of 0.9 inches and a heavier weight of 120 grams (4.23 ounces).
Aside from power delivery, the other major change in the latest iteration is the addition of cable storage, hidden in the base. A small groove underneath can hold the attached cable, which can be diverted out a gap in the side when it is required.
OWC also provides
Dock Ejector
, free software for macOS that goes through the process of undocking all connected devices on behalf of the user, before the user physically disconnects the unit from the Mac.
The 2019 version of the OWC USB-C Travel Dock is available now from OWC directly, priced
at $54.99
.