Sonos 'Move' portable Bluetooth speaker and dock images leak
The first images of what Sonos' first attempt at a portable Bluetooth speaker have leaked, with the HomePod competitor Sonos 'Move' offering smart speaker abilities while also able to be used both with and separately from an existing Sonos speaker network via the addition of Bluetooth.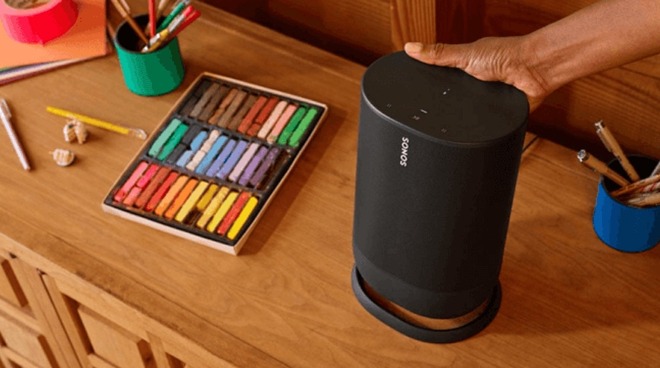 The speaker is a portable unit that is cylindrical in shape, though it has a recess at the back for easier moving of the unit that also hides extra buttons for power and toggling between modes. Around most of the front of the speaker is a grille, that extends around the sides and near to the rear alcove.
Unlike others in the range, it also is supplied with a dock ring that can recharge its battery using a pair of contacts, images from
WinFuture
reveal
. Along with the dock, a USB Type-C connection can be used for charging, though it is unknown how much battery power is provided, nor if the physical connection could be used to provide power to other devices.
The key addition to the Sonos Move appears to be the inclusion of Bluetooth support, allowing it to be used to play audio from practically any device with Bluetooth connectivity. The unit can switch modes between working as part of a speaker network at home and Bluetooth, which means the portable speaker could easily be taken from the home and used elsewhere.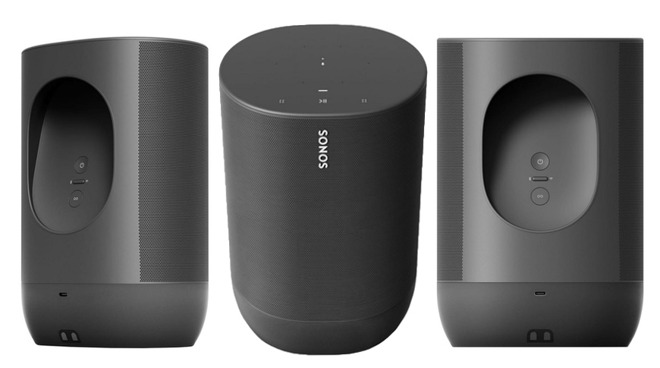 Six speakers are also included to enable its smart speaker functionality, with it including support for both the Google Assistant and Amazon's Alexa, with the latter enabling the use of
Apple Music
hands-free. Support for Apple's AirPlay 2 is also touted for the unit.
It is unclear exactly how much the HomePod competitor will cost, as well as other information such as weatherproofing. More details are likely to arrive this month, as Sonos is holding a media event on August 26 which may feature the speaker's launch.