Editorial: Here's why the 'iPhone 11' will do fine, despite no 5G
Posted:
in iPhone
edited August 2019
While rumors and speculation suggest the 2019 iPhones may not necessarily be a worthwhile upgrade versus older models or worth buying prior to 5G, the vast majority of existing iPhone owners are still interested in upgrading to the 'iPhone 11.'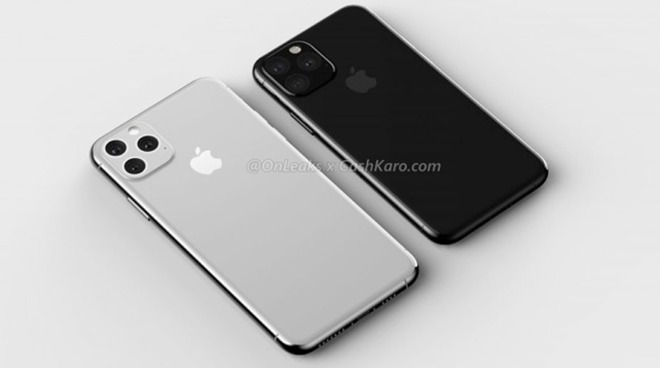 An early render of the triple camera setup of the 2019 iPhones, via OnLeaks and CashKaro
A survey by smartphone and electronics buyback firm
Decluttr
suggests
analyst expectations on consumer behavior for the iPhone 11 may be an underestimation. According to the survey of 2,003 smartphone owners at the start of August, 82% of consumers claimed the speculation and rumors of a lack of updates to the iPhone 11 "hasn't changed their intent to purchase," or became more interested in purchasing the models. The remaining 18% were swayed by the rumors, making them less inclined towards the new releases.
Of the features predicted to be on the way, half of respondents were looking forward towards the iPhone adopting a triple-lens camera on the back, while 26% were intrigued by improvements to the Taptic engine.
Pricing remains a major factor in whether or not consumers upgrade to the newest model. Approximately 19% of consumers are willing to pay more than $1,000 for a smartphone, with 82% saying they could pay between $500 and $1,000. The price sensitivity could affect the sales of upper-tier models if they are priced into four figures, or could push more consumers towards acquiring the cheaper iPhone XR replacement.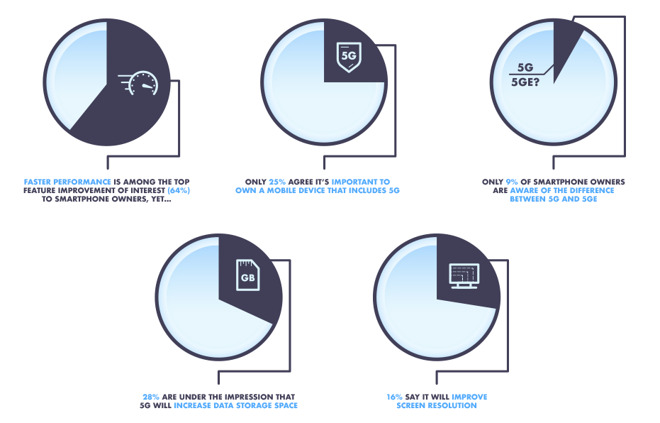 Image Credit: Decluttr.com
Thought more to be a part of the 2020 iPhones than the 2019 models,
5G is a major feature
that is still being misunderstood by iPhone users. A
previous survey
in July revealed many iPhone owners believed they already owned a 5G-compatible device, with the new survey indicating misinterpretation of what 5G does is still rife.
Of iPhone users surveyed, 64% either didn't know when 5G was coming to an Apple device, or believe it is already available to use. Only 9% were aware of the difference between
5G and 5GE
, AT&T's name for its improved network in some locations.
Further emphasizing the point that there is mass consumer confusion about 5G, the survey found that about 28% of people had the impression 5G will increase data storage space on their devices, and 16% thought 5G improves screen resolution.
Ultimately, only 25% of those surveyed agree it was important to own a smartphone with 5G, whereas a vague "faster performance" need remained the most important feature improvement at 64%.
The takeaway
Analysts have been keen to forecast middling sales of the
2019 iPhones
, with proclamations the new models will, aside from having a triple-camera setup on the back, largely consist of a specifications bump from the iPhone XS, iPhone XS Max, and iPhone XR. There has even been the suggestion that the 2019 models will
"lack novelty"
for consumers, which won't help it increase sales over previous years.
At the same time, speculation for the
2020 iPhones
propose they will offer a far bigger change, including the use of exciting new technologies like a Time of Flight 3D sensor on the rear as well as a smaller notch. More importantly, the
addition of 5G
to the models is believed to be a major factor, and could lead to higher sales.
There is no data in the provided survey in regards to technical competence, and it appears to be a general consumer survey. This is in stark contrast to the profoundly tech-savvy
AppleInsider
audience. As such, the survey is a better cross-section of the "average" iPhone-wielding US consumer in regards to the cell phone purchase cycle than readers here are.
And, this technical knowledge gap is willingly aggravated and leveraged by the carriers, AT&T in particular. This is borne out by conversations that the
AppleInsider
staff is having in the lead-up to new iPhones not just with our regular readers but a larger Apple-using population as well.
There will certainly be a subset of consumers that may wait for any given technology on the iPhone. Specifically, that 5% that knew the difference between 5GE and 5G will wait, and those that know what time of flight sensors can do.
But, beyond 5G network unavailability across most of the US, the vast majority of US consumers don't know or don't care about 5G, because photography or other uses are more important to them. And, next year is next year, and not now.
Price may be a bit of a barrier, as it always has been. But, the lack of 5G or other future technologies won't be a stopping point.