Satechi launches pair of 4K60 compatible USB-C Multimedia Adapters
Satechi has released two new USB-C adapters-- one that features a multitude of multimedia solutions, and another designed to make multi-monitor setups a breeze.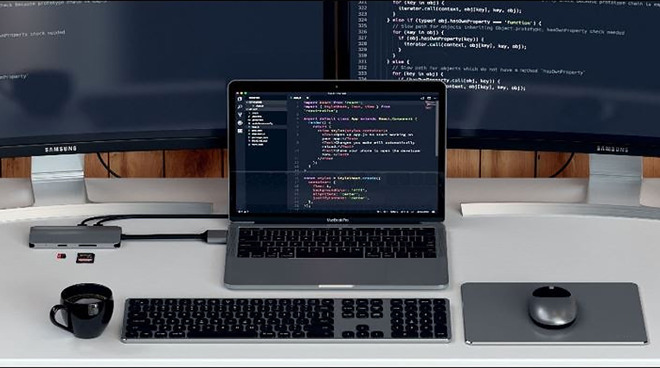 Satechi's USB-C Multimedia Adapter
Satechi, the company that made
one of our favorite smart outlets
, is releasing its most powerful USB-C adapter to date. The Type-C Dual Multimedia adapter seeks to be an all-in-one solution for your desk setup.
The Type-C Multimedia Adapter features a patent-pending dual-connector design. This expands a computers two USB-C ports into multiple others, including a 4K HDMI port at 60Hz, a 4K HDMI port at 30Hz, which allow for a 4K display to be extended across two monitors. The plug-and-play adapter is compatible with the 2018/2019 MacBook Pro, 2018 MacBook Air, and 2018 MacMini.
There is also a USB-C PD charging port, a Gigabit Ethernet port, and two USB 3.0 ports. The adapter also features a Micro/SD card reader, eliminating the need for a dedicated SD card reader.
For those who are looking to extend their dual display and don't need the additional features, there is a Type-C Dual HDMI Adapter. This adapter features the same dual-connector design, but boasts two HDMI ports at 60Hz and one additional USB-C charging port.
The Type-C Multimedia adapter is available in both Silver and Space Gray
from Amazon for $109.99,
and the HDMI-only extender is available
from Amazon for $64.99 as well.
Using the coupon code DUALDISPLAY will score you an additional 20% off.