T-Mobile adds postpaid eSIM support for iPhone
T-Mobile has added support for eSIM cards for iPhone users to its postpaid plans, in addition to prepaid plan options.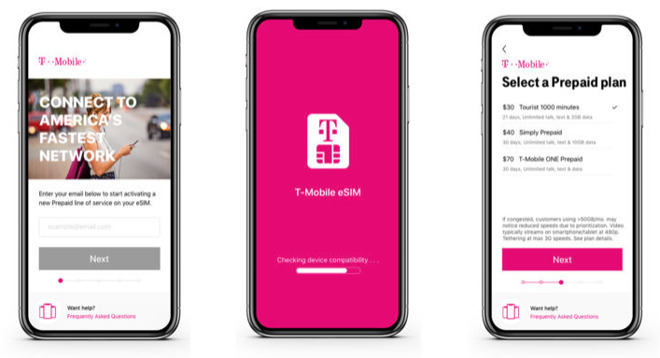 iPhone
users have been able to use an eSIM since December provided they were on the prepaid plan. However, now T-Mobile customers can also use eSIMs if they're looking to
go the postpaid route.
The benefits of using an eSIM are varied-- users who want to use both their home and work phone numbers on the same device may find this especially useful. It also allows for a separate SIM to cut down on data or calling costs while traveling outside of the country.
However, making the leap to an eSIM means you'll not be able to pop the physical SIM card out of your iPhone to put into a new one. Instead, any time you wish to switch devices, you'll have to call support and reconfigure your account and device to work with your eSIM.
There are some limitations as well. You can use both active numbers for voice calls and texting, but can only utilize one of the data networks at a time.
Additionally, only the
iPhone XS, iPhone XS Max, and iPhone XR
work with the T-Mobile eSIM setup, and it's currently anticipated that it will work with newer devices as well. However, anyone using an iPhone X or earlier won't be able to take advantage of the technology.
Prepaid eSIMs can be activated through the T-Mobile eSIM app. Postpaid eSIMs need to be set up by directly visiting a T-Mobile store.
Sprint and T-Mobile were
recently ordered
by the Department of Justice to support eSIM technology if and when the companies merge later this year.