Google target of antitrust probe by 50 state attorneys general
A group of 50 state attorneys general has commenced an antitrust probe into Google, examining whether the search giant is engaging in anti-competitive practices with regards to how it provides advertising services online.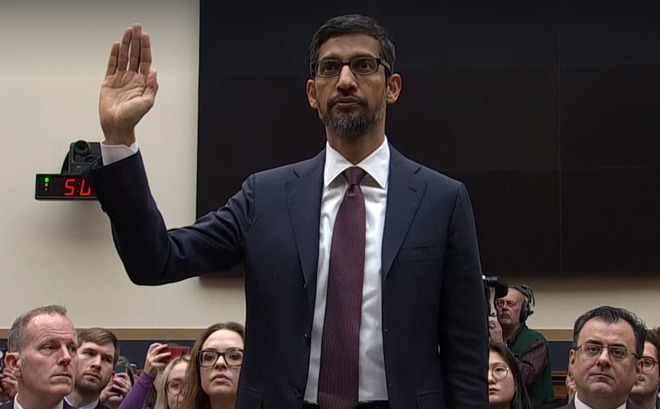 Google CEO Sundar Pichai testifies in front of a U.S. congressional panel in 2018.
Initially reported on
Wednesday
as being in the works, the announcement has grown the number of attorneys general from more than 30 to 50, consisting of 48 states excluding Alabama and California, as well as representatives of Washington DC and Puerto Rico.
Revealed on Monday, the group is being headed up by Texas Attorney General Ken Paxton,
reports
Business Insider
. While the investigation may spread to other high-competition areas of Google, the initial activity will center on advertising.
"This is a company that dominates all aspects of advertising on the internet and searching on the internet, as they dominate the buyer side, the seller side, the auction side, and even the video side with YouTube," claims Paxton. "This investigation is not a lawsuit. It is an investigation to determine the facts. Right now we're looking at advertising, but the facts will lead where the facts will lead."
Google has already been contacted by the group over the probe.
It is unclear what penalties Google could face if the investigation deems the search company has been anticompetitive, with District of Columbia attorney general Karl Racine saying it was too early to tell.
While only applying to the FTC and DOJ, the "
Monopolization Deterrence Act
" introduced to the Senate at the start of August hints at lawmakers being keen to levy harsher penalties against firms engaging in antitrust behavior. If passed, companies could face a fine as much as 15% of its US-based revenue, which as an example, would be in the region of $40 billion for Apple based on its 2018 revenue.
The coordinated investigation is the latest move by regulators and lawmakers to try and limit the amount of control major tech companies can have over the rest of the industry. The size and power of the firms has put Google, Apple, Facebook, and others in the firing line for similar probes by other regulators.
In July, it was revealed by the
Justice Department
it was opening up an antitrust review of Apple, Google, and others over platform ownership and competition. Meanwhile, the Federal Trade Commission has been operating its own antitrust efforts since February.
On Friday, Google parent company
Alphabet confirmed
it was the subject of a DOJ antitrust investigation.