The iPhone 8 is now $449 and the iPhone XR is $599
Posted:
in iPhone
edited December 2019
Amidst the Tuesday bonanza of releases, Apple has restructured the low-end of its iPhone lineup, and is now selling the iPhone 8 for less than the iPhone SE cost at launch.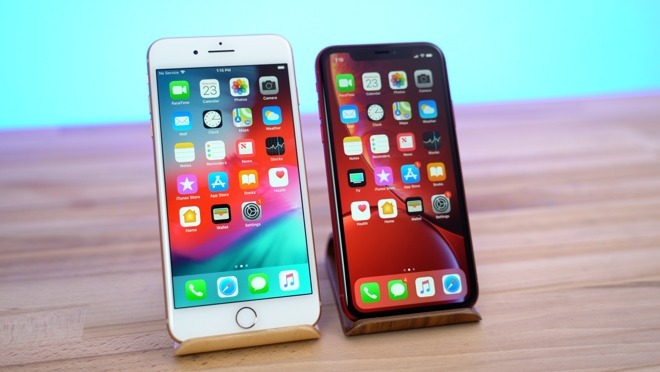 iPhone 8 Plus (left) versus iPhone XR (right)
Without fanfare, Apple reduced the price on the 2018
iPhone XR
. Previously $749, the iPhone XR has been cut $150 to $599. The iPhone XS has been discontinued, in the same manner that the iPhone X was culled after the release of the iPhone XS.
A price cut has also been applied to the two-year old
iPhone 8
. Prior to Tuesday's event, the iPhone 8 retailed for $599, and now it sells for $449 with the iPhone 8 Plus selling for $549. The iPhone 8 is Apple's last iPhone it sells new to retain Touch ID and a conventional Home button.
While rumors continue to circulate about an "iPhone SE 2," with the most recent resurrection
on September 4
, the most recent price cuts make that rebirth unlikely at least in the short term. Upon release a half-year after the iPhone 6S, the iPhone SE retailed for $499 -- $300 cheaper than the flagship -- with the same A9 processor.
Apple's announcements that preceded the pricing move on Tuesday include
debut dates
for Apple Arcade and Apple TV+, plus a new entry-level iPad, the
Apple Watch Series 5
, the iPhone 11, and the
iPhone 11 Pro family
.