Should you upgrade to iPhone 11 Pro if you have an iPhone XS?
You might want an iPhone 11 Pro if you have an iPhone XS, and there are very strong reasons to upgrade, but the 2018 iPhone XS and iPhone XS Max are still great phones. AppleInsider looks at the specific use-cases where you may want to upgrade.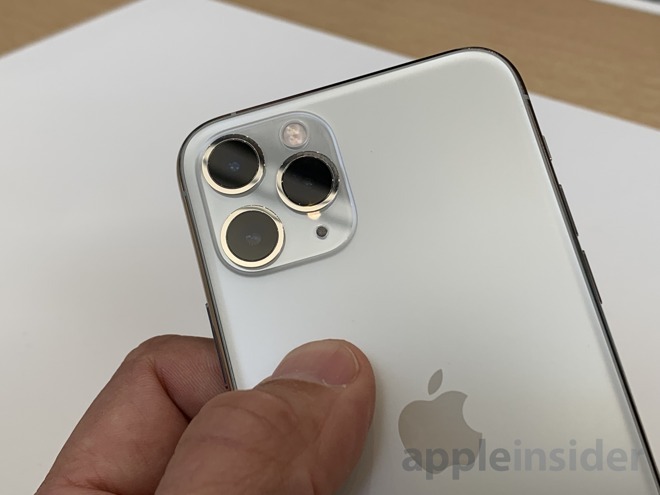 The silver iPhone 11 Pro with three cameras and a reinforced glass back in a new frosted matte finish
We weren't supposed to be that fussed about this year's new
iPhones
. They were supposed to be a mild upgrade in between 2018's
iPhone XS
models and
2020's expected 5G ones
. Strictly speaking, that's exactly what they are, and yet everybody wants one.
Maybe you were completely blase about the
iPhone 11 Pro
until you saw the new colors and were tempted. Maybe you'd even decided against buying one, but then there was that demo from
Filmic Pro
, and you just had to have that.
Or perhaps it's just that
Apple
is really good at simultaneously extolling the new and dismissing the old.
Whatever it was, you as the owner of an iPhone XS or
iPhone XS Max
are likely to be weighing up whether to upgrade or not.
If you're in that position, or if you've already decided you must upgrade but you'd like a hand justifying it, here's the situation.
Battery life
No question, you will get much better battery life per day with an iPhone 11 Pro than with your iPhone XS, and even more still with an
iPhone 11 Pro Max
.
Apple does seem to want to hide quite how much, with the way it only keeps saying that this one phone has so many more hours per day than this other. However, check out the full specifications and some details are clear.
You can't compare general use, the kind of occasional app and phone call usage, but you can compare the extremes. Video playback. Even then, Apple neglects to mention every detail, but for what the company calls
Video playback (wireless)
, there is a comparison.
The iPhone XS should get you up to 14 hours of this and the iPhone 11 Pro will get you up to 18 hours. The iPhone 11 Pro Max provides up to 20 hours, and its equivalent last year, the iPhone XS Max, managed 15 hours.
Apple appears to be hedging about the battery life figures, and you know that real-world usage is going to be less. Yet even so, the new iPhone 11 Pro and iPhone 11 Pro Max last vastly longer.
That's a strong reason to upgrade for anyone, as it's something you are very clearly going to notice. Yet it's not the most immediately visible difference.
Cameras
The new iPhone 11 Pro and iPhone 11 Pro Max come with
three rear cameras
. We knew they were coming, we just perhaps didn't expect them to make the difference that they do.
That keynote demonstration of Filmic Pro shooting with multiple cameras, the footage from each being recorded separately, that was startling. Reportedly, you'll be able to get the same simultaneous recording on the iPhone XS and iPhone XS Max when the updated Filmic Pro app is released.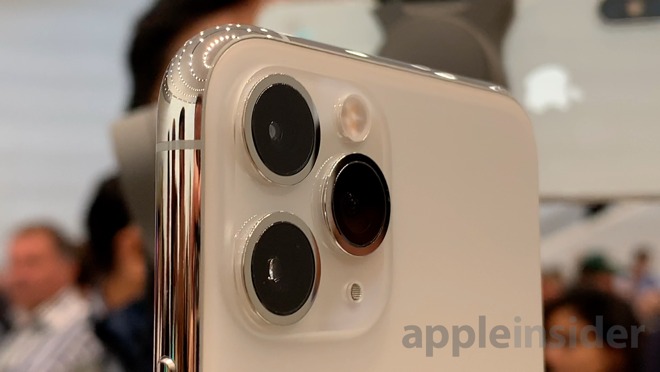 iPhone 11 Pro three-camera system
You won't get the ability to record the closeup and the wideshot at the same time. Yet, that may not concern you as it's surely rare to want both close and wide shots to be from precisely the same vantage point.
Still, we did say that the iPhone 11 Pro and iPhone 11 Pro Max come with three rear cameras. There's also that fourth one, the front-facing camera that ostensibly is meant for FaceTime and Skype calls.
Not any more. Where the iPhone XS had a 7 megapixel front-facing camera, the iPhone 11 Pro and iPhone 11 Pro Max have 12 megapixel ones.
The newer phones have optical zoom out, because of that new extra rear lens, and also better, brighter True Tone flash and what Apple calls "next-generation Smart HDR for photos."
Maybe you need to be shooting photographs a lot, or professionally, to make the difference in stills images worth the cost of upgrading. Perhaps you have to be a filmmaker to really exploit the ability to film that 12mp front camera at the same time as a wideshot on the rear ones.
This means that while in every way the new iPhone 11 Pro and iPhone 11 Pro Max are the better phones, the camera quality may not be enough to warrant upgrading.
There is, though, the question of how these great images you take are displayed.
Display
If the basic design of the new iPhones isn't that much different to last year's models -- although they are more water resistant -- the displays are certainly improved.
Both the iPhone XS and the iPhone 11 Pro have 5.8-inch OLED HDR displays with 2,436x1,125 pixels at 458dpi.
Yet where the iPhone XS has what's called a Super Retina HD display, both the iPhone 11 Pro and iPhone 11 Pro Max have Super Retina XDR ones.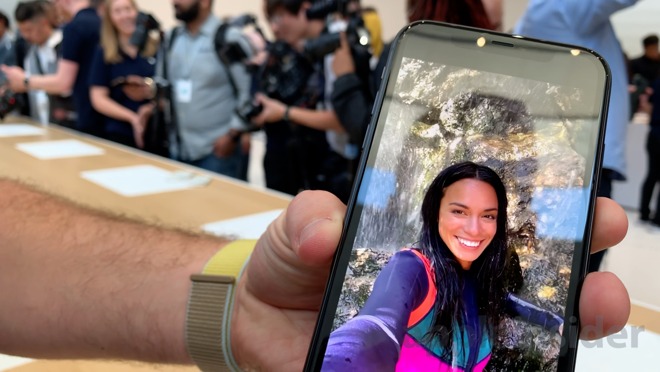 iPhone 11 Pro has an amazing display
They also have a 2 million to one contrast ratio compared to the iPhone XS's one million. And this may make the difference for you -- the iPhone XS screen brightness is 625 nits, where the newer phones have 800 nits.
This makes your images look better, but it also makes playing back movies superb. And while we're on the subject, the new phones come with Spatial Sound which makes films sound even better.
Games are better on the iPhone 11 Pro too. Some
Apple Arcade
titles actually felt like they lagged a bit, or had frame rate issues on the iPhone XS compared to the new model.
Of course, you may very well not be a gamer. You might not even tend to watch much video on your iPhone. And if what you do watch is usually something like YouTube, you're going to have to seriously like those unboxing videos to see a difference, or to think it worth the cost if you do.
Processor
Whatever you use your iPhone for, though, you're likely to see why games look better and everything seems faster. The iPhone 11 Pro and iPhone 11 Pro Max both have an Apple A13 Bionic processor with third-generation Neural Engine.
The iPhone XS has an
A12 Bionic
chip with second-generation Neural Engine.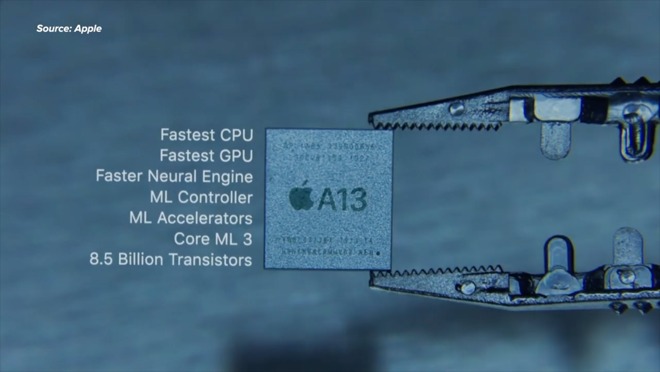 The fast A13 Bionic processor
Apple Arcade just launched and we see a lot of great titles, though the most immersive of the bunch do show a bit of lag on our iPhone XS Max. Gamers and those doing similarly processor-heavy tasks are going to want the power of the A13.
In truth, the iPhone 11 Pro and iPhone 11 Pro Max are better -- and usually significantly so -- than your iPhone XS in every way.
Except one.
Price
It's cheaper to hang on to your iPhone XS. Even with Apple's trade-in price, even if you get a good deal from some other reseller, nothing can beat the fact that you already have the iPhone XS.
If you're paying on instalments through something like Apple's own
Upgrade Program
, then you can make a case that you're just carrying on. It doesn't really change the fact that you're spending much more money, but you can see it as continuing to pay a monthly fee that you know you can manage.
Except, if you were on the Apple iPhone Upgrade Program, you'd be swapping to the iPhone 11 Pro anyway. In that one situation, you're definitely better off -- or at least no worse off financially -- by upgrading.
In every other situation, it comes down to some very fine lines. If you know you would visibly benefit from the better cameras, the improved display, the faster processor, and the great battery life, you should upgrade. Otherwise, you need to weigh up how many of these issues are important or useful to you.
Apple may have produced a comparatively low-key update this year, but it's a significant one.
Where to buy
Wireless carriers and third-party Apple resellers are already offering
deals
on the new iPhone 11, iPhone 11 Pro and iPhone 11 Pro Max. A sampling of the discounts can be found below, while additional promotions can be found in our
iPhone deal roundup
and
iPhone 11 Price Guide
.
iPhone 11 deals
Keep up with AppleInsider by downloading the AppleInsider app for iOS, and follow us on YouTube, Twitter @appleinsider and Facebook for live, late-breaking coverage. You can also check out our official Instagram account for exclusive photos.