Should you upgrade to the iPhone 11 if you own an iPhone XR?
The just-launched iPhone 11 is similar to the iPhone XR in many respects, but still has its fair share of upgrades from the earlier model. AppleInsider weighs up whether it's a good idea for iPhone XR owners to move over to the newest model in Apple's iPhone lineup.
As revealed on September 10, Apple continued to provide two distinct tiers of iPhone model in its latest generation, with the
iPhone 11
effectively replacing the
iPhone XR
, considered the value proposition of 2018's iPhone roster. As usual, Apple has made a few changes that could prompt upgrades by owners of older models to opt for the latest version.
The question, however, is whether it is enough to tempt current owners of the iPhone XR to upgrade. It's a difficult question, not least because of the similarities between the two generations.
The Outside and Screen
Just as with the iPhone XR, the
iPhone 11
sports an identical 6.1-inch LCD IPS display with a 1792-by-828 pixel resolution, 1400:1 contrast ratio, True Tone support, and 625 nits of maximum brightness. Made from a glass and aluminum case and frame, the models also have the same physical size and weight.
The models are also offered in a wide array of colors, with both available in black, white, and Product(RED), but while the iPhone XR goes for a strong yellow along with a light blue and coral, the iPhone 11 opts for a light yellow, purple, and a pastel-like green.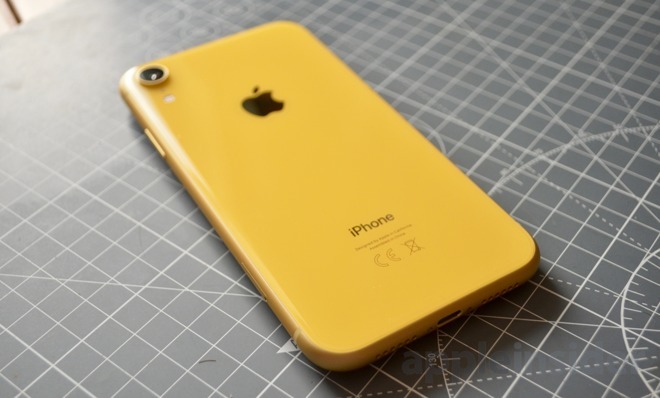 Apple's iPhone XR, in yellow
To onlookers, without seeing the rear camera bump and only looking at the front and sides, it is quite easy to confuse the two models at face value, without a closer inspection.
The newer model does have a higher water and dust resistance of IP68 versus IP67, which means it can survive for up to 30 minutes at 2 meters instead of 30 minutes at half the depth.
Cameras
Arguably the main difference between the two models is the
extra camera
on the back of the iPhone 11. While the iPhone XR has an adequate 12-megapixel wide-angle camera, the iPhone 11 add a second camera, but rather than a telephoto lens as usually offered by dual-camera setups of previous iPhones, this one is a 12-megapixel ultra wide camera.
While not quite the same as wide and telephoto, this is a fairly similar concept to typical dual camera systems, except there's a 2x zoom out to get more of the environment instead of a zoom in to make a tighter frame.
The extra camera also means there's a different camera bump on the back, though instead of the oval style of other iPhones, the iPhone 11 uses a square bump like its stablemates, the iPhone 11 Pro and iPhone 11 Pro Max.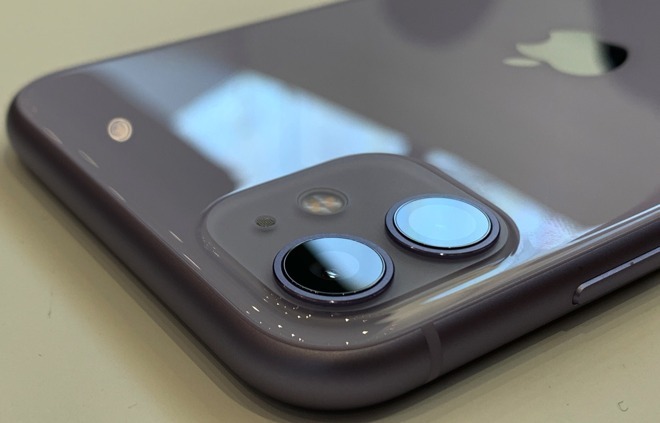 The two cameras on the back of the iPhone 11
There have also been some improvements to video, with the iPhone 11 now capable of a 2x optical zoom out while both offer a digital zoom-in to 3x. The iPhone 11 also has "Audio Zoom" and "QuickTake video" for when recordings need to be taken in a short space of time.
Apple's automatic adjustments to photographs is also present here, as with the Pro models, while its
Night Mode
helps improve low-light photography.
The TrueDepth camera on the front has also been given a boost, upgraded from 7 megapixels to 12 megapixels, along with the capability to record 4K video at 60fps, up from 1080p.
A13 over A12
There are other smaller, but expected, changes under the iPhone 11's skin, such as the move to
A13 Bionic
instead of the A12 Bionic. Capable of over one trillion operations per second with a 20-percent faster CPU and GPU, the A13 is obviously the better chip, as well as being far more power-efficient than the previous version.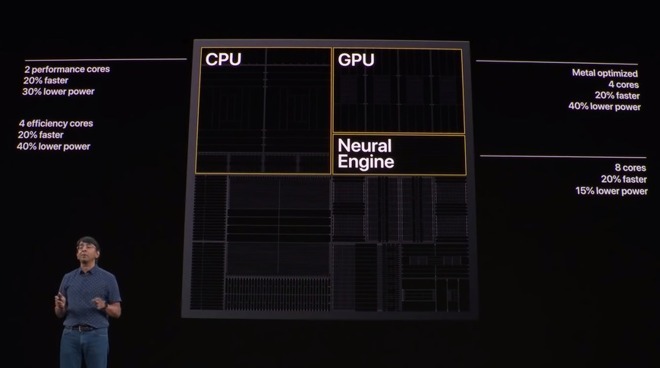 Apple certainly promoted the A13's performance and power efficiency, but it isn't a massive leap from the A12
At this point, the A12 is still an extremely powerful chip in the smartphone market, so the shift to A13 will certainly cement Apple's position as a processor pioneer. However, while better for the most demanding tasks, such as gaming, it may not necessarily be felt as an improvement in everyday usage.
Sure, there's a massive performance gulf between the A13 and, say, the A11 or earlier versions, but between the A13 and A12, we're talking about apps loading maybe a fraction of a second quicker in the iPhone 11. Given it is unlikely that an iPhone's processing capability will be replied upon in a life-or-death situation, the performance is a nice-to-have but not easily noticeable boost to regular users.
Smaller Changes
The iPhone XR had excellent battery life at its launch, with Apple still marketing it as having up to 16 hours of video playback time. For the iPhone 11, the time has been extended by another hour, which is impressive, but seeing as though the iPhone XR is a device that can last for an entire day being used actively, an extra hour is a comfortable addition, but not as valuable as it once was.
There is also the addition of the
U1 chip
, which is using Ultra Wideband (UWB) technology. In theory the chip will help the iPhone pinpoint the location of iBeacons and other iOS devices that are also equipped with a U1 chip, and other location-detection applications using features of Bluetooth 5.1, but it is still fairly early in its lifecycle to determine whether it will be of any real use.
Upgrade from XR to 11?
If you were presented with a brand new $699 base model
iPhone 11
and a
$599 iPhone XR
, and was asked which one you would buy, it is highly likely that most
AppleInsider
readers would opt for the iPhone 11. Sure, it's $100 more, but the extra camera, processing power, and more battery life would be worth it.
The question becomes harder when you already own an iPhone XR. The price difference grows to however much the shortfall is when you trade in your iPhone XR. Based on Apple's website and with a good-condition trade-in for an iPhone XR at $370, that $100 changes to $479 for the base model.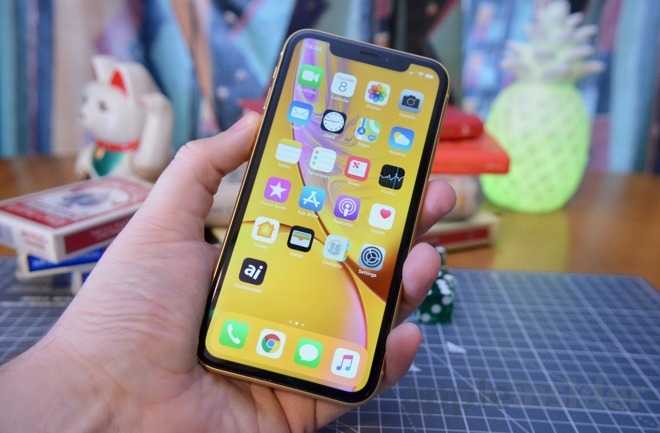 The iPhone XR, with one less camera and the previous A12 chip
Seeing as though the processing improvement and the battery life are relatively small increments, the question fundamentally becomes: Is it worth paying $470 to be able to zoom out with a second camera, to take higher-resolution self-portraits, and to film 4K video with the TrueDepth camera?
Unless you are a social media star or a creative professional who highly values the images an iPhone takes, it doesn't really seem to be as much of a deal to pay that much out for zooming out and better night shots. Even so, said social media influencers and creative types would pay the extra again to go for the
iPhone 11 Pro
and Pro Max to get that third camera lens.
There is the extra option of going down the route of the iPhone Upgrade Program and perpetually upgrading your iPhone to the newest model each year, which may be one way to take the sting out of the effective-upgrade pricing.
Otherwise, it's probably better not to move from the iPhone XR to iPhone 11 after all. Hold on to the smartphone for another year, save the money, and put it towards the 2020 models. Releases that could include better upgrades, including the much-rumored
5G connectivity
.
Where to buy
Wireless carriers and third-party Apple resellers are already offering deals on the new iPhone 11, iPhone 11 Pro and iPhone 11 Pro Max. A sampling of the
discounts
can be found below, while additional promotions can be found in our
iPhone 11 deal roundup
and
iPhone 11 Price Guide
. Each offer is subject to terms and conditions, so please consult the merchant's website for a full list of details.
iPhone 11 deals
iPhone XR deals


AT&T Wireless: Buy an eligible iPhone and get the iPhone XR for free when you buy both on a qualifying installment plan with an eligible AT&T unlimited plan. Plus, get a $300 reward card when you order online.

Verizon Wireless: Buy an iPhone XR on monthly payments, get a 64GB iPhone XR via bill credits. Plus, get a $200 Prepaid Mastercard when you switch to Verizon on Unlimited. After checkout, visit Verizon's Digital Rebate Center and enter promo code SEPTSWITCH200.

Sprint: Lease an iPhone XR, get an iPhone XR via bill credits. Requires two new lines or one new and one upgrade.