Apple's new tvOS 13 for Apple TV is now available
The newly updated
tvOS
software will be automatically installed in Apple TV boxes, and includes a redesigned home screen with picture-in-picture, multiple users, and support for games controllers.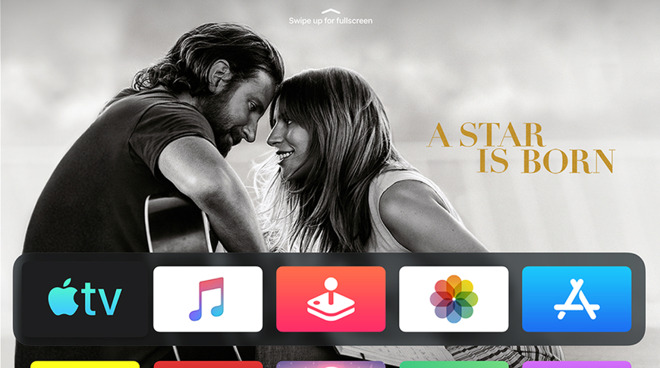 The new tvOS shows preview images and video full screen, including underneath your apps.
Apple
has officially released the new
tvOS 13
for
Apple TV
hardware and compatible TV sets. It features a redesigned Apple TV app, which is where you'll be able to watch the
forthcoming
Apple TV+
and
Apple TV Channels
services. Alongside that, however, it has also revamped the overall look and functionality of Apple TV.
The most immediately noticeable change is in how the front home screen works. Previously, the top section of the screen would show a preview image or images from your selected app -- if that app is in the first row.
Now your first or top row gets a more pronounced dock-like graphic, and selecting any of the apps in there starts the new preview. Rather than a still image and above the rows of apps, the preview is now moving video and it fills the screen behind all of your apps.
It's very similar to how Netflix works, and it's visually much more striking than it was.
Multiple users and settings
Also like
Netflix
is the way that Apple TV can now have two or more different users, each with their own preferences, recommendations, and, most significantly,
Apple Music
account.
You have long been able to have different accounts on Apple TV, but only for accessing specific content. You might have different Apple IDs and depending on which you choose, you get different movie purchases, or be able to access the TV store in a different region.
Now you can set up users and all of their preferences. So whenever each family member switches to their user account, they get their purchases, their arrangement of apps, and Apple's recommendations for what they might want to watch next.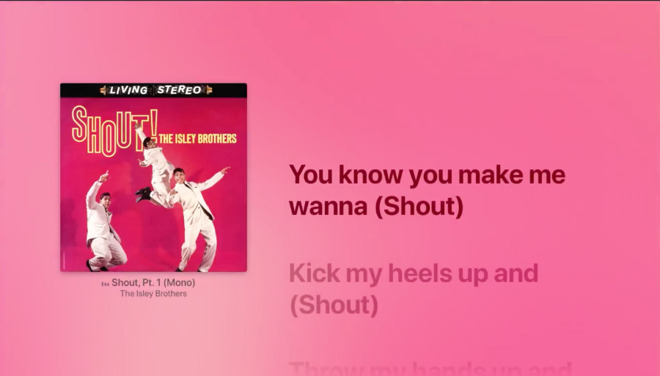 Apple Music on Apple TV now displays lyrics synced to the singing
It's probably Apple Music that will make people use this feature. The idea of each individual getting their own recommendations of what to watch, based on what they've already seen, sounds great.
Yet those recommendations ignore the fact that many people watch their TV together. And since every user has access to all of the same Apple TV apps and material, it would be a very organized person who bothered to switch accounts just to see what Apple recommends for them alone.
However, Apple Music is different. With that service, every user has already built their own playlists, and is already aware that the weekly mixes are very well targeted to them.
Apple Music on Apple TV has also seen a redesign to make it more useful, too. You can now see lyrics to the music you're playing, and those lyrics scroll to keep in sync with the singing.
Whether Apple Music and its improvements tempt you to keep switching accounts or not, though, that switch process is straightforward.
Each user has to have an Apple ID and you have to set them up on Apple TV. Once that's done, though, you switch between them by just pressing and holding the Home button on your remote.
This is the button with an icon of a TV set, and it's the one next to the
Menu
button.
Press and hold that for a moment, and panel of controls will slide over from the right of the screen. This is an Apple TV Control Center, and it works in much the same way that you can swipe on
iOS
or
Macs
to bring up options.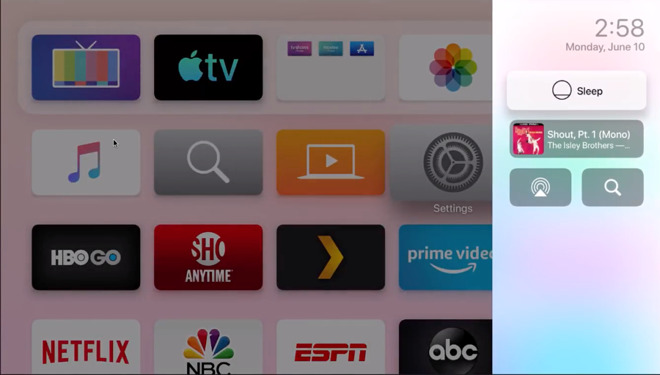 A slide-over Control Center here shows you options for audio, but this is also where you'll be able to switch between users
Inside this Control Center, you can quickly switch between users. However, you can also put your Apple TV to sleep here, or you can search for something to watch. This is the same search that you can do at the top level of Apple TV, when you're not inside an app, with the advantage that now you stay watching whatever you've currently got on the screen.
Picture in picture
When you do leave an app to go somewhere else on Apple TV, then you can now use Picture-in-Picture to keep watching what you were.
This feature is limited, though. While this will presumably change as developers update their apps, during the beta phase it was only media you've bought from Apple that would successfully play in this way.
You're also going to be swiping around a lot with your Siri Remote to get to the video playing in Picture-in-Picture and then to pause or return it to the full screen.
Apple has only updated the tvOS software, not any of the hardware, so you have the same Apple TV remote that you did. However, you do now get more options for adding other hardware controllers, specifically games ones.
That's because Apple TV is going to be one place where you access your
Apple Arcade
subscription in order to play games. Consequently,
Apple has added support
for Sony Playstation Dualshock 4 controllers and Xbox One S controllers.
When you're not watching
When you're done with games or movies or TV, you should really put your Apple TV to sleep. And the new Control Center makes that straightforward, with a Sleep button right there instead of being buried in the settings menus.
You won't, though, at least not all the time, because Apple TV famously has utterly beautiful screensavers. The new tvOS 13 introduces a whole new series of them, this time consisting of gorgeous underwater photography.
How to get tvOS 13
Your
Apple TV 4K
or Apple TV HD may already have these screensavers and all of these new tvOS 13 features. With so many updates going on at the same time, though, it may take a day or two for absolutely every Apple TV 4K or Apple TV HD user to get the new sofware.
Rather than wait, though, you can request a software update right now. Go to
Settings
,
System
, and click on
Software Updates
.
On the screen that appears, choose
Update Software
. This is will make your Apple TV 4K or Apple TV HD check for a new version and, if it's available, begin downloading too.
Keep up with AppleInsider by downloading the AppleInsider app for iOS, and follow us on YouTube, Twitter @appleinsider and Facebook for live, late-breaking coverage. You can also check out our official Instagram account for exclusive photos.