Review: The Apple Watch Series 5 leaves the competition in the dust
The 2018 Apple Watch Series 4 brought a lot to the table, and the Apple Watch Series 5 hasn't added a lot. But, Apple has added where it counts, and importantly, kept the same price point.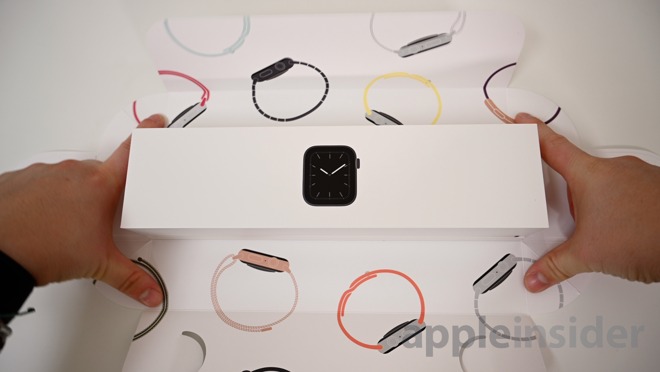 Apple Watch Series 5
Prior to the Apple Event on Sept. 10, nobody was sure if there was going to be an
Apple Watch Series 5
. We had indications of new materials about two weeks prior -- but in 2018 we knew about the larger case and screen sizes several months in advance of the event.
But, there it was. Series 5.
Apple didn't say a lot
about the hardware at the event, other than it has the new always-on display and S5 chip. But, there's more to it, and a lot to like.
We're reviewing the
Apple Watch
Series 5 in aluminum here. The review pertains to the technology of the device more than the materials used in the construction, which we have already started to
break out in detail
.
Like 2018, the Apple Watch comes in 40 millimeter and 44 millimeter sizes. And, they start at the same price as 2018 -- $399.
First-time buyer?
Apple says that three-quarters of
Apple Watch
buyers are getting into it for the first time. So, for those folks, there's a bit to go over in regards to what the Apple Watch can do and does. If you're an
AppleInsider
regular, scroll down a few paragraphs. It'll be clear where to stop.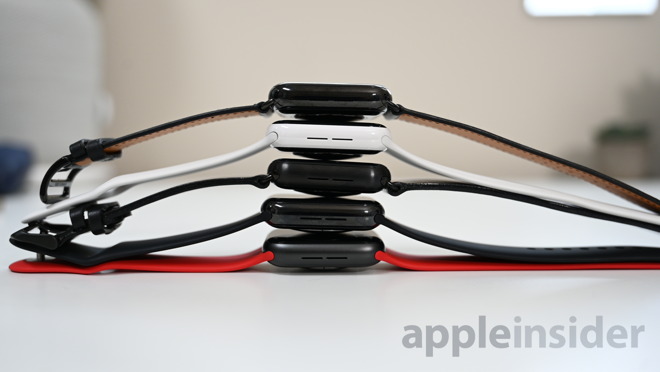 Apple Watch Series 5 comes in several finishes
Here's the big takeaway:
The Apple Watch is the best smartwatch on the market. Period.
In summary, the Apple Watch connects primarily to your iPhone. With the basic Wi-Fi version, you can use it to start phone calls on your iPhone, play back content stored on your iPhone or Apple Watch through the tiny internal speaker or to AirPods or similar wireless audio devices, monitor your heart rate, and keep track of your workouts.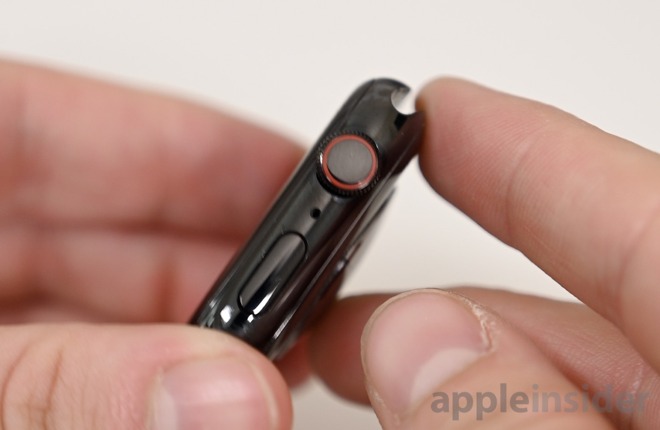 Apple Watch Series 5 comes in a cellular configuration
There is also an LTE version. You'll still need an iPhone for most tasks -- at least this year. But, when you aren't in range of your iPhone, you can use wireless connectivity to stream that same audio content.
And you can do it all day. When the Apple Watch is off your wrist, it charges wirelessly on a puck that Apple includes or any one of a number of Apple Watch stands.
This is all controlled by either a 326 dpi display at resolutions of 324 x 394 pixels or 368 x 448 pixels, on the 40mm and 44mm versions, respectively. That is combined with a Digital Crown knob. When the Apple Watch needs to tell you something, it uses the same Haptic Engine technology that is in the iPhone to tap your wrist, or simulate mechanical clicks in the Digital Crown as you turn it.
Practically, the utility of the Apple Watch depends on how crucial the iPhone is to your daily life. It is an obvious device for an iPhone-centric user, in the same way that AirPods are. It is slightly less so if your Mac is your primary device.
Those are the basics. Here's what's different this year.
Always on
Like 2018, the Apple Watch display uses a low-temperature polycrystalline oxide (LTPO) OLED display, allowing for a thinner unit overall than the
Apple Watch Series 3
. Besides that, a LTPO OLED screen requires a bit less power to run than the previous generation panels.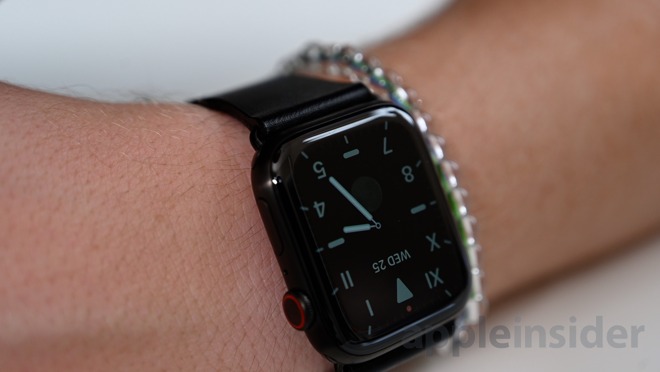 Apple Watch Series 5 is dimmed when not active, but always on
This year, they amped up the use of the technology, and have turned the Apple Watch into an always-on device. Where the
Apple Watch Series 4
and earlier would wake on a wrist-raise. the new Apple Watch Series 5 is always on, updating as slowly as once per second.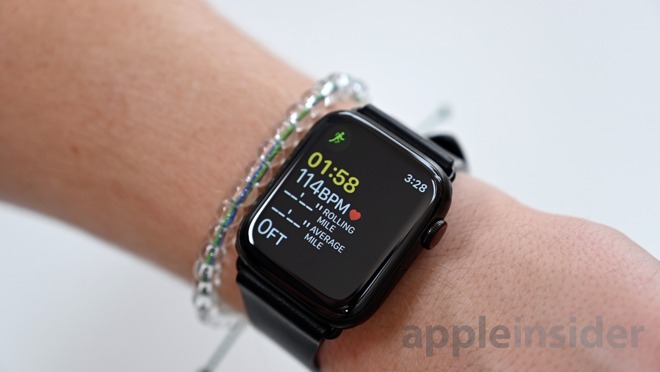 Workouts lose partial seconds and other non-crucial data when non-active
If this bothers you, though, you can turn it off in the settings for the device. And, if you're worried about showing sensitive information to the world while it is always on, you can hide those complications too, unless it's actively in front of your face.
App developers still aren't fully onboard with the larger display that arrived with the Apple Watch Series 4, though. With the advent of the new App Store for the Apple Watch, we're hoping to see that change.
S5 with 32GB
Apple breezed right by the significance -- or lack thereof -- of the S5 system-in-package (SIP) in the Apple Watch Series 5. It remains a 64-nit processor, and has been upgraded to 32GB of storage, versus the 16GB that was in the Series 4 Apple Watch.
But that appears to be it. There is no speed difference, no improvement in loading times, or anything else we could measure. Connectivity is still 802.11n which will have a small impact on nascent Wi-Fi 6 networks, and Bluetooth 5 is still included.
That 32GB is nice for the casual user, though. It's excellent for users who decided to not get the LTE version, allowing for much more audio to be jammed on the watch for a run or other use outside the range of the connected iPhone.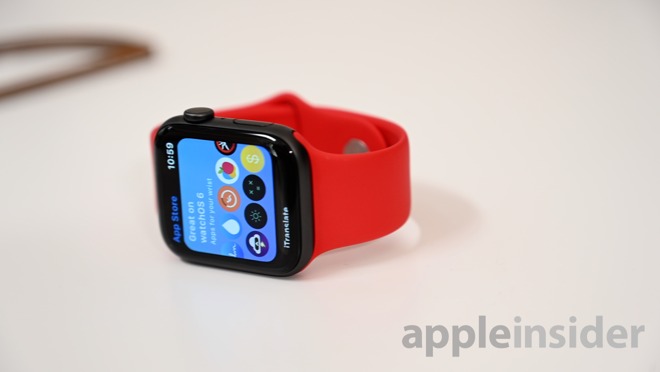 App Store of watchOS 6
In regards to that music stored? Assuming you fill 20GB of the 32GB of storage, that will give you around 4,000 four-minute songs downloaded from Apple Music natively stored on-device. That's a long run. It also gets eaten up by the now-native apps of watchOS 6.
Compass is nice, but extra
Apple made a big deal about the compass. While we're pretty sure that anybody who needs a compass has one that doesn't require a battery charge, this is still a nice addition.
In theory, like any compass, a magnet in close proximity may interfere with the detection. This was met with some befuddlement when the Apple support document noted it -- for what reason, we don't know, as by definition, a compass that doesn't rely on satellite measurements orients itself according to the Earth's magnetic field.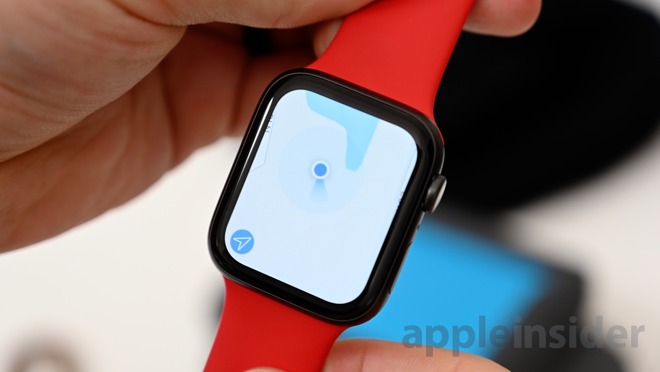 The compass allows for easier navigating in Maps
In practice, Apple's bands with magnets don't have any real impact. And, if you're worried about it, use something with a hook and loop fastener like a Nike band, or something with a traditional fastener. "Problem" solved.
Other than the compass addition, the sensors are the same. The gyroscope-accelerometer is still capable of measuring up to 32G and is crucial to the fall detection. The heart rate sensor is still excellent, as is the ECG sensor embedded in the crown.
Battery life
Battery life is the same as the Apple Watch Series 4, and it will go at least all day without needing a charge. It's as simple as that. Apple's addition of the always-on LPTO display hasn't impacted the life of that battery to any measurable extent.
Put it on, wear and use it all day. If you want to use the sleep tracking, charge it during dinner time, and wear it overnight. Charge it while you're getting ready for work, and you'll be good to go all day.
Stick with the Series 4 if you have one
Apple catches a lot of heat for iteration, and year-over-year, upgrades certainly can feel like that. But, that isn't exclusive to Apple -- every smartphone, smartwatch, and computer vendor has the same issues. How do you keep a product fresh year after year?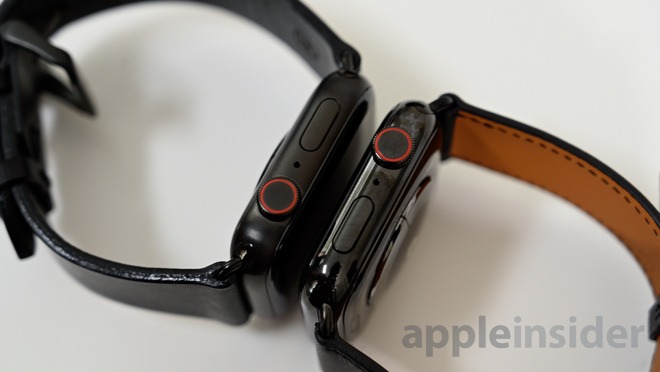 Titanium versus stainess steel Apple Watches
Well, you can't. Not anymore. The days of 50% or more gain per year in processors is behind us not just in computers, but in mobile as well.
And, like the iPhone, Apple acknowledges that this is the case in the Apple Watch. Also like the iPhone, the Apple Watch is on a multi-year cycle, where a one-year gap most of the time has relatively minor changes, but a two-year gap is a big deal.
As a case in point, look at the Apple Watch Series 3 which Apple has retained in the product lineup for $199. Smaller screens, far slower processor, no ECG sensor, no fall sensor. For $200 more, though, is a two-year newer model with all of these features, and a few more we haven't singled out here.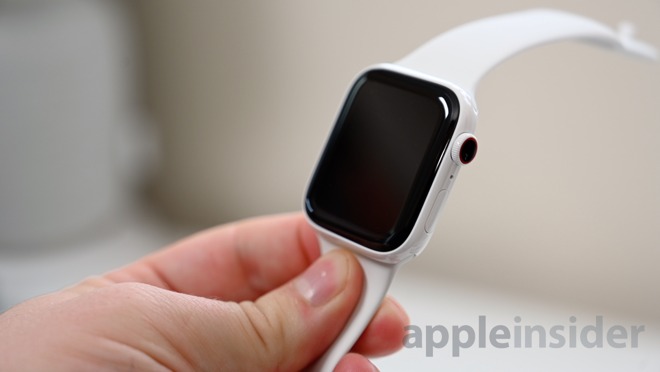 Ceramic Apple Watch Series 5
But, that leaves the question of what to do if you have a Apple Watch Series 4. We here at
AppleInsider
suggest that if you do, and don't
absolutely have
to have that titanium or ceramic enclosure, to sit pat. Go another year, and see what Apple has in store for the Series 6.
Otherwise, if that original Apple watch through the Series 3 is looking a little dated, the Apple Watch Series 5 is absolutely worth the upgrade money. And, if the fall detection summons help for you, or the better heart rate monitor technology in the newer model tells you to call your doctor, it may even help to save your life.
Score: 4.5 out of 5
The only thing it needs is just a bit more battery life to make it all day and all night, and it will be ideal.
Where to buy
Those in the market for the Apple Watch Series 5 can already
save up to $50
on the new devices. For the latest prices and product availability across top Apple resellers, be sure to check out our
Apple Watch Series 5 Price Guide
.
Apple Watch Series 5 deals (GPS Only)
Apple Watch Series 5 deals (GPS + Cellular)