Editorial: Apple faces entirely new challenges with Apple TV+
One month from its November 1 launch, there are many reasons to believe Apple TV+ will succeed -- but also several reasons for skepticism.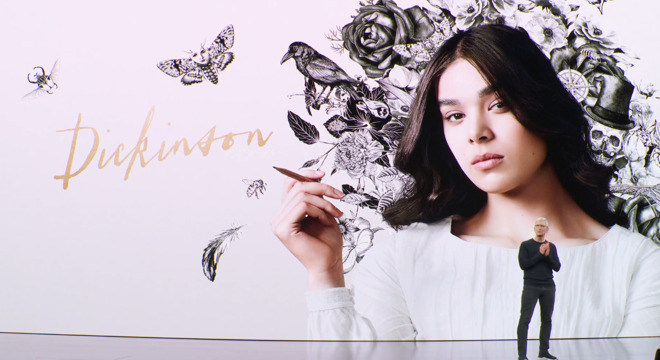 Tim Cook on Dickinson
On November 1, one month from today,
Apple
will finally launch
Apple TV+
, the culmination of its many years of planning and designing its original video service.
This new streaming service, and the very expensive content that will live on it, represents one of Apple's biggest bets ever. The company has always made videos, but not even on a fraction of this scale.
Apple TV+ is less an extension of Apple's previous promotional videos, and more like the situation with the launch of the
iPhone
. Apple is entering an extremely well established market, already full of entrenched players -- very many of whom have or are launching similar streaming services.
The way this is not like the iPhone is in how Apple's famous skills may simply not apply here. Apple always enters a market late and it always leapfrogs the existing products with its superior design.
There's no equivalent of the iPhone's multi-touch in television, no equivalent of moving the keyboard to the back of a laptop to create room for a wrist-rest and a trackpad.
Apple could design better software than anyone else, and still it doesn't matter because all that counts is what shows it makes. Apple has reportedly spent six billion dollars producing TV shows and it's conceivable that every single one will flop. It's hardly likely, but neither Apple nor anyone else can know until those shows air.
From the beginning
It's not entirely fair to say that Apple is new to this market, because it has been closely intertwined with Hollywood for much of its history.
Steve Jobs
co-founded
Pixar
, for instance, and was the largest shareholder in
Disney
at the time of his death in 2011.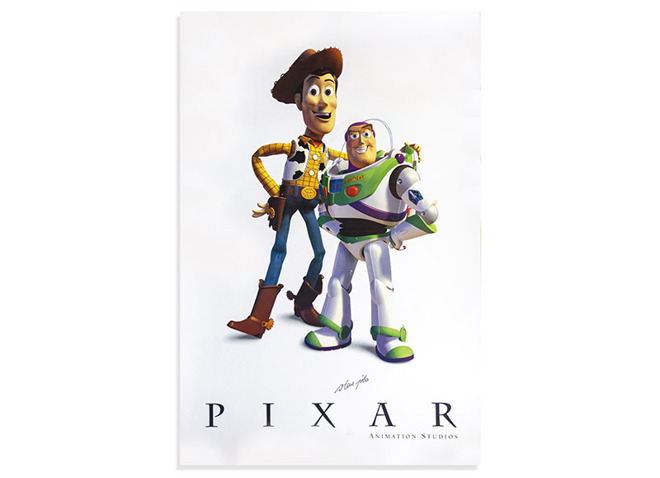 Notice the autograph at the bottom of this Toy Story poster
With that connection and the rise of streaming in the early part of this decade, whispers gradually grew louder that Apple would be planning a content play of its own.
The company even tested the waters by launching a couple of original shows -- "
Planet of the Apps
" and "
Carpool Karaoke
", in 2016, which were distributed through iTunes.
In early 2017,
The Wall Street Journal
reported that Apple was looking to acquire original programs
and had begun engaging high-profile producers with an eye towards doing so. That June, Apple announced that it was putting veteran Sony TV executives Jamie Erlicht and Zack Van Amburg in charge of the effort.
Throughout 2018 and 2019, Apple carefully started announcing shows that it was developing with such high-profile Hollywood talent as Steven Spielberg, Jennifer Aniston, Reese Witherspoon, Oprah Winfrey, J.J. Abrams, Jason Momoa and M. Night Shyamalan.
Perhaps showing that Apple truly does understand that it's the shows that will make or break any service, it made these announcements without explaining anything further. However long it took Apple to decide on the name Apple TV+, or how distribution would work, or what it would charge, Apple was already promoting its new shows.
Apple formally announced in March that the programming would launch on as a streaming service and that it would be called Apple TV+.
Then in September, Apple revealed that the service would launch November 1, at an unexpectedly low price point of $4.99 a month. CEO
Tim Cook
also said that anyone purchasing a new iPhone,
iPad
,
iPod touch
,
Mac
, or
Apple TV
would get a free year of the service.
During that September unveiling, the first Apple TV+ show shown to an audience was "Dickinson", starring Hailee Steinfeld. Apple set out to make a statement with this series by not only launching it in the keynote, but also
premiering its first episode on September 15
at the Tribeca TV Festival in New York.
Similarly, Apple has announced that the first three films in its deal with prestige distributor A24 -- "The Banker", "Hala" and "The Elephant Queen" -- will
get a theatrical release
first.
It doesn't have to give them a wide release. Apple knows well, from as far back as its famous "1984" ad, that giving something a release in the right place, at the right time, makes it eligible for year-end awards.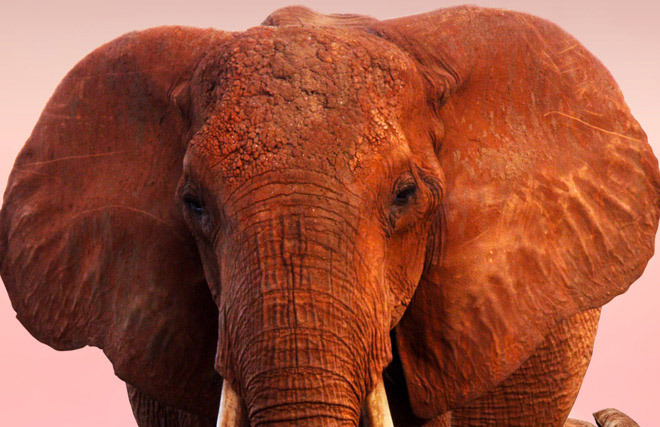 The Elephant Queen will get a theatrical release before it appears on Apple TV+
There's no particular buzz about these three Apple films, but they're unlikely to be the last. Back in 2017, analyst Gene Munster of Loup Ventures predicted that
Apple would win an Oscar within five years.
The launch lineup
One problem of producing video is that television eats up shows. Ten or twenty years ago, television had its September new season releases, just as Apple has its annual iPhone launches. Then there would also be the midseason replacements, new shows in January taking the place of September's failures.
The new- and mid-season pattern continues, but even within network broadcast television, it's being replaced by a year-round release pattern. Cable and now streaming services have long switched to that, and this is the world Apple is stepping into.
To succeed, Apple can't just come out with some shows and see what works. It can't iterate its designs, refining shows until they turn from flops to hits. Apple has to produce shows and keep producing them, to keep constantly investing, and to do its best to keep making hits.
Over the very short term, it's going to be Apple's library of content that makes a difference, and this is the company's weak spot. Compared to any other streaming service, it is launching with very few shows.
If this were back in the day, it would be like the way UPN or Fox began by having a couple of hours of programming on most nights, and only slowly expanding to a full schedule.
Nonetheless, the most important shows Apple is probably ever going to produce are in this opening small set. And they are going to be the ones Apple has chosen to launch first.
When Apple TV+ launches on November 1, it will present just nine titles.
One is the movie "The Elephant Queen," and one is "Dickinson." Alongside those are the backstage TV drama "The Morning Show," along with science fiction series "See" and "
For All Mankind
." There will also be kids programming such as "Snoopy in Space," "Helpsters" and a reboot of the 1990s show "Ghostwriter."
Apple is clearly counting on at least one or two of those series becoming much-discussed hits, the way that "House of Cards" was for Netflix, "Transparent" did for Amazon Prime, or how "The Larry Sanders Show" made HBO.
As well as Oprah Winfrey's book programme, the most likely hit is probably "The Morning Show". This has the benefit of starring Jennifer Aniston and Reese Witherspoon, and its executive producers include Mimi Leder, whose work goes all the way back to "Hill Street Blues."
Reasons for optimism
In launching Apple TV+, Apple is jumping into a crowded field, one that's only going to get more crowded in next six months. Just 11 days after Apple, Disney's long-awaited Disney+ service has its own launch.
Then NBC Universal's service, Peacock, launches next April, while AT&T/Warner Media's HBO Max will also debut next spring. Those four services will join Netflix, Hulu, Amazon Prime, CBS All Access and all of the other incumbent streaming services.
However, there are several advantages Apple has when it comes to differentiating itself. For one thing, Apple has a massive amount of money to spend.
The Financial Times
reported in August
that Apple has thus far spent $6 billion on its content efforts, up from original reports from a couple of years earlier of $1 billion.
That's a massive amount of money by any stretch -- though
Netflix has spent more
before, and it's still less than a broadcast network could expect to pay for a whole season of primetime dramas and comedies airing every night.
Still, Apple, in its most recent quarter, posted revenue of $53.8 billion, and is said to have cash on hand of over $200 billion.
With that money and, as Oprah pointed out, the number of people it can reach through its devices -- "
they are in a billion pockets, y'all, a billion pockets
" -- Apple can attract talent.
And Apple can afford to advertise its new shows heavily, as it's been doing on NFL broadcasts in the weeks leading up to the launch.
If they wanted to, Apple could buy a movie studio, to populate Apple TV+ with a library of content.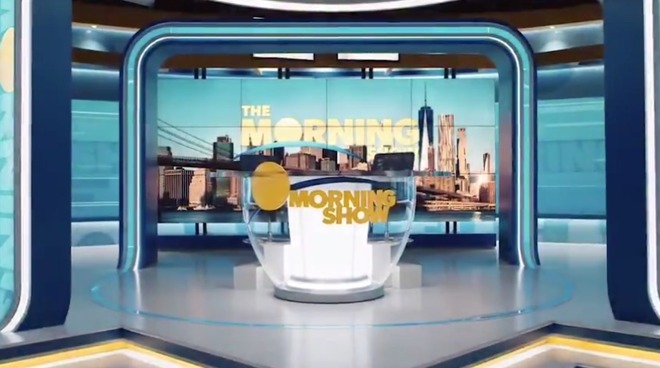 The Morning Show on Apple TV+
Movie industry journalist Richard Rushfield has been speculating in his newsletter
The Ankler
that
Apple could at some point buy Sony's movie studio
, should the Japanese electronics conglomerate choose to get out of the movie business.
Those billion devices include Apple's biggest advantage. Anything Apple releases will have this reach, and this access to the massive and very loyal user base of Apple device owners.
Netflix, Amazon and Disney may have exceptional brand loyalty, but none of them make a device that a large percentage of Americans carry around in their pockets.
Reasons for pessimism
So Apple has money, it has hired talent, it is positioning itself well, and we've all got Apple devices. Apple TV+ has the potential to be a big success -- but there are strong reasons to be skeptical about it, too.
Those few new shows at launch, and that lack of a back catalog, is a disadvantage. Even though Apple TV+ is launching at a lower price than its rivals, it's not only competing for dollars. It's competing for our time -- we all have just so much time we can spend watching anything.
And if you're not going to sample every service going, then Disney+ is offering a more attractive package than Apple. Even ignoring the new shows coming from Disney+, the service is launching with the studio's incredible library of beloved animated classics, plus moves from the "Star Wars," Marvel, and Pixar range.
Similarly, Warner and NBC Universal come with literally decades of programming available to them.
Then there is also a serious question of creative freedom.
The Wall Street Journal
reported last September that Apple
, in its original content efforts, has made an effort to avoid gratuitous sex, violence and controversial topics. For instance, the service, early on in its original content efforts, cancelled a planned project about the life of Dr. Dre.
Apple TV+ has already been referred to as "expensive NBC," meaning it has the budget, but keeps to the family-friendly fare that broadcaster maintains.
And you can throw money at talent while simultaneously robbing them of the reason you hired them.
Another report, earlier this year
, indicated that Apple executives have been too intrusive with the creative process of the new shows, including a quote that "Tim Cook is giving notes and getting involved."
Although Apple's Eddy Cue has
flatly denied reports
that Cook had told TV creators to not be "so mean."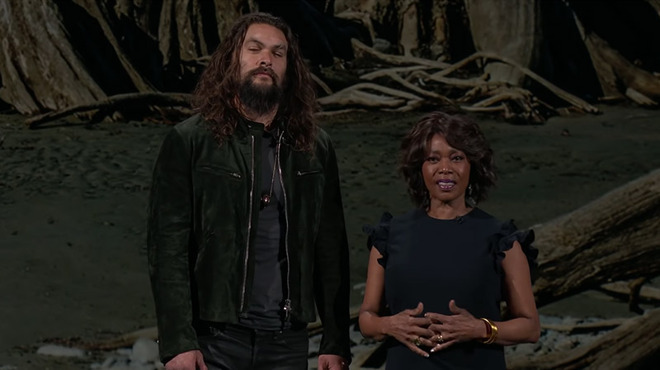 Jason Momoa and Alfre Woodard present See
Fortunately, we have some evidence that Apple isn't trying out out-Disney its shows. "Dickinson" includes sex and a same-sex affair. "The Morning Show" trailer is clear, too, that the central plot involves a
#MeToo
accusation, so Apple isn't entirely avoiding topical debates in its series.
Speaking of attracting talent, though,
AppleInsider
has been told off the record that Apple was particularly keen to pursue exclusive contracts with cast and crew. If so, Apple has failed.
While Apple has got into business with an impressive list of Hollywood luminaries, none of them are exclusive.
Steven Spielberg is making the "Amazing Stories" reboot for Apple, but has future movies lined up elsewhere. Jason Momoa, star of "See," is also still Aquaman, for Warner Media.
Then J.J. Abrams may be working on a limited series with Apple called "My Glory Was I Had Such Friends", but his major new development deal is with Warner Media, after he reportedly
snubbed Apple's $500 million offer
. Similarly, Oprah, Shyamalan, and even Reese Witherspoon all have significant projects set up elsewhere.
It does seem sensible for talent to avoid being tied down to one service, to risk backing one that may not work out. Yet Netflix has in the last couple of years handed out exclusive, nine-figure development deals to the likes of star TV producers Ryan Murphy, Shonda Rhimes and Kenya Barris.
Similarly, Amazon Prime has now signed an exclusive deal with "Fleabag" and "Killing Eve" writer
Phoebe Waller-Bridge
.
Apple has not yet bagged any major TV creator with a similar exclusive deal.
A long battle
It's important not to judge Apple TV+'s potential only on what it has available at launch, or even on what's been announced so far. After all, when Netflix first started with original shows, it only had a handful, and six years later, it has hundreds.
In addition, contrary to a lot of the analysis that's been done on the topic, the streaming wars aren't going to just have one winner. Signing up for Disney+ or Apple TV+ doesn't mean cancelling Netflix. There's a good chance that entertainment will continue to shift towards consumers subscribing to more and more streaming services- and ultimately paying about the same for all of them that they're now paying for cable.
The challenge for Apple is whether it can establish itself as a key, and indispensable part of that streaming equation. This is complicated by how Apple has also launched
Apple Arcade
, which has no connection to the TV service but will be competing for time and eyeballs just the same. Still, Apple has been building towards its launch of Apple TV+ for several years and spent billions of dollars doing so.
This is not a casual effort, and Apple is not a company that throws money away. It'll be interesting to see how Tim Cook describes the service in, say, next year's keynote speeches.
That might be when we learn what Apple considers a success. Income is one measure of that, but Apple could be looking to market share, or even have its eye on the prestige of Oscars and Emmys.
Whatever it's after, and whatever advantages and disadvantages Apple TV+ has, it would be foolish to bet against the company's efforts. It has patience, and money, to spare.