Compared: Apple's iPhone 11 Pro Max versus the Samsung Galaxy Note 10 and 10+
Posted:
in iPhone
edited December 2019
The iPhone 11 Pro Max may be the most high-specification model available from Apple, but how does it shape up against its main rival, the Samsung Galaxy Note 10 and the Note 10+? AppleInsider compares the specifications to determine an on-paper winner.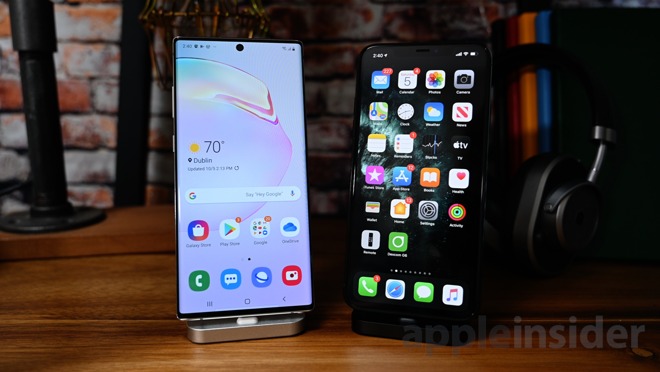 Samsung Galaxy Note 10+ against the iPhone 11 Pro Max
Revealed just a month ahead of Apple's annual iPhone event, Samsung's
Galaxy Note 10 and Note 10+
were revealed as potential smartphone powerhouses, with a large display and a rear triple-camera setup that is relatively similar to what was presented by Apple in the
iPhone 11 Pro
and
Pro Max
a few weeks later.
With the launches so close together and being the flagship models of their respective manufacturers, it is worth taking some time to compare the offerings against each other, to see who has the upper hand for the next year or so.
The Specifications List
On paper, the three are roughly similar in terms of size and what they offer. There are obvious differences, such as the Note pair having support for the S Pen while the iPhone doesn't use an Apple Pencil or any stylus at all, but ultimately the differences in the key areas people look at are quite small.
Apple iPhone 11 Pro Max
Samsung Galaxy Note 10
Samsung Galaxy Note 10+
Price
$1,099
$949
$1,099
Screen size (ins)
6.5
6.3
6.8
Resolution
2688 x 1242 at 458ppi
2280 x 1080 at 401ppi
3040 x 1440 at 498ppi
Contrast
2,000,000:1
2,000,000:1
2,000,000:1
Brightness (nits)
800
1200
1200

Display type:
Super Retina XDR OLED, HDR, True Tone, Wide Color (P3)
Infinity-O Dynamic AMOLED, HDR10+
Infinity-O Dynamic AMOLED, HDR10+
Processor
A13 Bionic with Neural Engine
Octa Core processor, 2.7GHz + 2.4GHz + 1.9Ghz
Octa Core processor, 2.7GHz + 2.4GHz + 1.9Ghz
Memory
4GB*
8GB or 12GB
12GB
Stylus Support
No
S Pen
S Pen
Dimensions (ins)
5.7 x 2.8 x 0.32
5.9 x 2.8 x 0.31
6.4 x 3.0 x 0.31
Weight (ounces)
6.63
5.92
6.91
Rear Cameras (megapixels)
12MP Ultra Wide, 12MP Wide, 12MP Telephoto
16MP Ultra Wide, 12MP Wide, 12MP Telephoto
16MP Ultra Wide, 12MP Wide, 12MP Telephoto, VGA DepthVision
Video recording
4K60
4K60
4K60
Slow Mo
1080p at 240fps
720p at 960fps, 1080p at 240fps
720p at 960fps, 1080p at 240fps
Front Camera
12MP TrueDepth
10MP Selfie
10Mp Selfie
Biometric
Face ID
Fingerprint, Face Recognition
Fingerprint, Face Recognition
While the basic list of specifications can certainly give the appearance of similarities in some areas and larger differences in others, like with the Note's rear cameras against Apple's being fairly close in many respects, there's more variation in the two different families of devices than numbers alone can advise about.
Display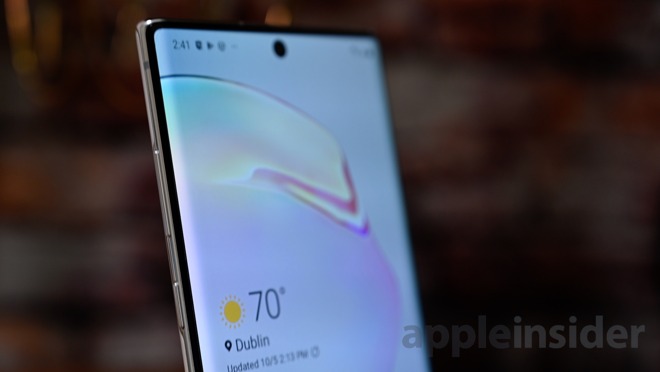 Samsung Galaxy Note 10+ display
All models employ an OLED panel for their screens, which means both offer high levels of contrast and brightness. Indeed, since
Samsung supplies Apple
with OLED panels for its iPhones, the technology and quality should be quite comparable from a manufacturing standpoint.
The iPhone 11 Pro Max slots in the space between the Note 10 and Note 10+, at 6.5 inches to the Samsung 6.3 inches and 6.8 inches. The resolution is also roughly in the middle of the two Samsung models as well, with its pixel density of 458 pixels per inch sandwiched between the 401ppi for the Note 10 and the 498ppi of the Note 10+.
While you are likely to find the quality of the display on all three models to be quite agreeable, one big difference is how the two companies handled the extra components on the front of the device. Apple continues to endure with the infamous notch holding the TrueDepth camera array, while Samsung elects for a hole-punch camera design that minimizes wasted space.
It is hard to judge one over the other, as while you have more screen with the Samsung models, both do ultimately interrupt a full-screen appearance with an aberration, one that cannot easily be dismissed from view. Samsung's may be smaller, but it's still a distraction.
Performance
In theory, Samsung should be able to blow Apple out of the water with the performance of the Note 10 and Note 10+, with each Note using an 8-core Qualcomm Snapdragon 855 processor equipped with either 8GB or 12GB of memory, depending on the model. While the iPhone 11 Pro Max has just 4 gigabytes of memory to work with, its six-core
A13 Bionic
therefore needs all the help it can get from the Neural Engine to properly compete.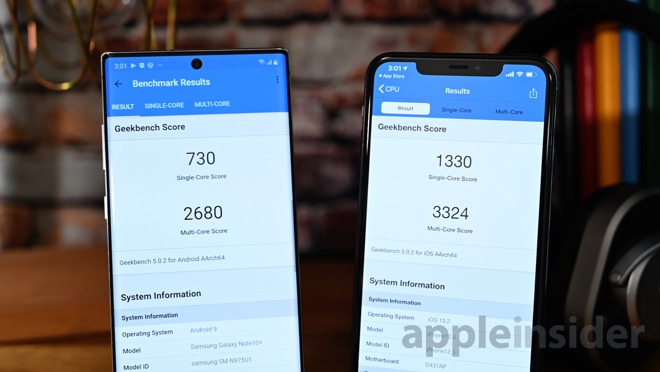 Geekbench 5 results for the iPhone 11 Pro Max (right) and the Galaxy Note 10+ (left)
In benchmark results at least, the A13 seems to have done the job. According to GeekBench, the A13 Bionic in the iPhone 11 Pro Max scores 1,329 points on single-core processing to the Note 10's 697 points, while for multi-core, Apple wins again with 3,405 to Samsung's 2,523.
The story doesn't get any better for Samsung in GeekBench's Compute benchmark, with Apple achieving 6,288 points for Metal over 2,307 for the Note 10's OpenCL score. While this isn't a direct comparison due to differing technologies, it does indicate the iPhone continues to be far in the lead in this respect.
Why is the A13 doing so well, despite having half the RAM? It is likely due to Apple's chip design choices, the fact that it has almost complete control over the entire process, and that it can make chips that work for its own needs, rather than relying on a third-party design like one from Qualcomm.
Photos and Video
Around the back, there is both a similar story between the companies, as well as considerable differences. Both Apple and Samsung went down the same route of offering three cameras, with Ultra-Wide, Wide, and Telephoto lenses.
Both sides also have Optical Image Stabilization on the Wide and Telephoto cameras, as well as typical camera-shooting modes, HDR, and a 10x digital zoom, but while Apple does opt for 12-megapixel sensors across the board, Samsung uses 12-megapixel for the Wide and Telephoto but switches it out for a 16-megapixel sensor in the Ultra-Wide.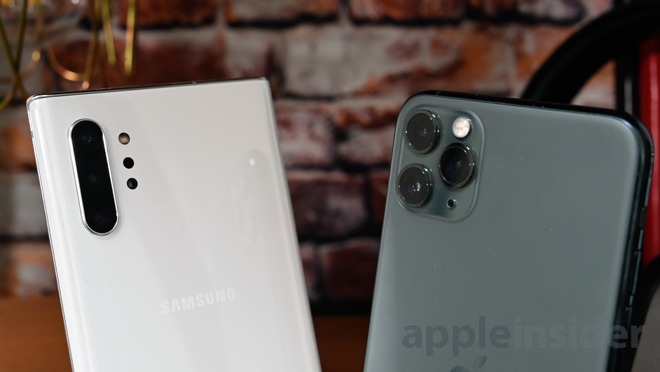 Cameras on the Note 10+ and iPhone 11 Pro Max
For photographers, this will mean a higher resolution image could be produced for Ultra-Wide shots, but only for those. There are also the assorted imaging features and processing that each smartphone offers which can influence the final shot, which may sway some users based on their personal preferred shooting style.
The Note 10+ does offer an extra party trick, in the form of the DepthVision camera, a VGA-resolution sensor which is able to acquire depth data, allowing for augmented reality experiences using the rear camera. Apple's ARKit does allow for its rear cameras to be used for similar purposes but Samsung's version may be more accurate overall due to capturing actual depth data rather than computing it from a live video feed.
Turning to the front, the aforementioned hole-punch camera in the Note 10 models offers 10-megapixel images, but the iPhone's TrueDepth camera offers 12-megapixel images, along with Portrait Mode effects that depth data can provide. Face ID, powered by the TrueDepth camera, is also a far more secure biometric system than both the single camera-based facial recognition system and the fingerprint reader offered on the Note models.
As for video, both are capable of 4K recordings at 60fps as well as the usual slow motion 1080p at 240fps, but Samsung adds in Super Slow-mo, capturing 720p video at 960fps. HDR, audio zoom, and the ability to capture still images while recording a video are also present in both ranges.
And The Winner Is...?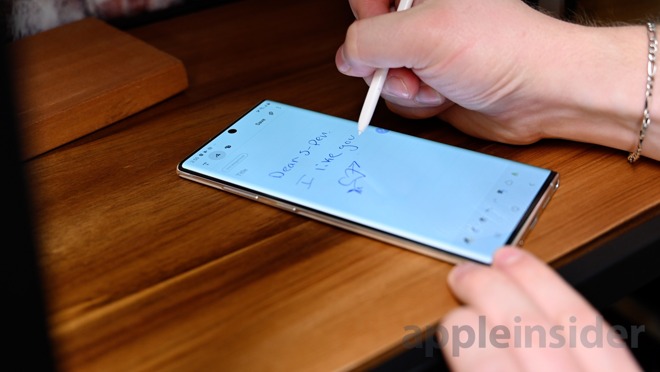 S Pen on the Samsung Galaxy Note 10+
Putting aside debatable elements like the merits of iOS over Android or the long-time rivalry between the two companies, it's actually quite hard to determine just from specifications alone which device is the best.
If we're talking displays, the Note 10+ is better than the iPhone, which is better than the Note 10. If it's photography, Samsung may have a higher-resolution Wide-Angle camera sensor, but there's only an arguable amount of benefit to that difference, before anyone takes into account image processing systems employed by each device.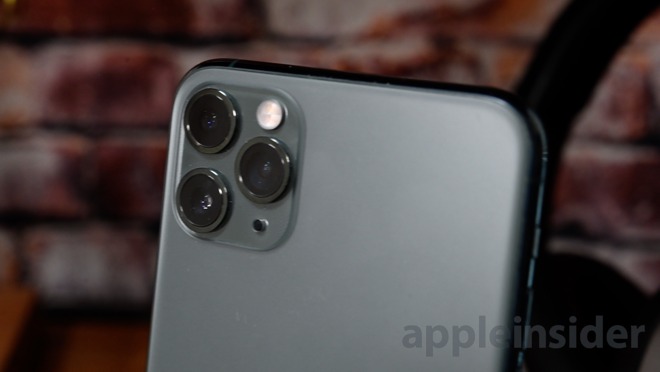 The iPhone 11 Pro Max in Midnight Green
The iPhone 11 Pro Max does come out on top in some areas, like Face ID security and the TrueDepth camera, as well as performance, but it also falls behind in aspects like the pixel density against the Note 10+ and rear camera depth sensing.
The main takeaway is that Apple is still maintaining its position at the front of the field alongside Samsung, with it producing iPhones that are at a par with the best its main rival can offer. Those who are platform agnostic would probably be quite happy using any of the devices, as they are the best of what are currently available on the market at this time.
Where to buy
The Samsung Galaxy Note 10+ is available at
B&H Photo
and from
Samsung directly
. Each retailer is offering free
Galaxy Buds
with the Note+, as well as free service options (free Mint Mobile service for three months at B&H or four months of ad-free YouTube service at Samsung). Details of each promotion, including terms and conditions, can be found on the respective retailer's site.
Meanwhile, wireless carriers are offering a variety of incentives on the new iPhone 11 Pro Max, from BOGO offers to
trade-in
deals on devices in any condition. Highlights are below.
iPhone 11 Pro Max deals