Apple Card Disaster Relief Program eases financial burden in times of crisis
Apple is now offering a disaster relief program for the Apple Card, which halts interest and delays one payment to those who apply.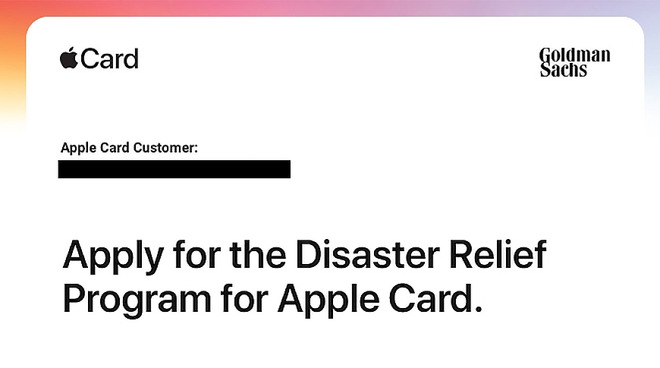 Image Credit: MacRumors
The emails likely get sent out
Apple Card
cardholders whose address matches an area that has been affected by a natural disaster. Disasters would likely include flooding, earthquakes, wild fires, hurricanes, and more.
Houston has recently experienced flooding due to tropical storm Imelda. Following the inclement weather and resultant flooding, a
MacRumors
reader received an email invitation to apply for the Apple Card Disaster Relief Program.
The email details the benefits of the program, most notably a two-month interest-free period and the ability to skip payments for the first month that a person enrolls.


No interest for two months, starting with the month you enroll. After two months, your standard purchase APR will apply.


You can skip the payment due in the month you enroll.


If your account is in good standing, you will remain current while enrolled.


If your account is past due, your account will not go further delinquent while enrolled. However, your account will remain paste due until you make all of your past due payments and your ability to make new purchases may continue to be restricted.


According to the email, those who may wish to apply for the Apple Card Disaster Relief Program should contact an Apple Card specialist after receiving the email.