Disney posts three-hour trailer for Disney+ with 'basically everything' coming
In order to build hype for their new streaming service, Disney+, Disney has uploaded a three-hour long trailer to YouTube highlighting most of the titles that will be available to watch at launch.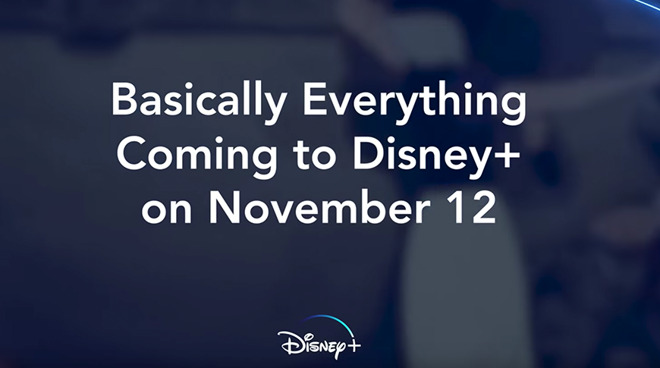 A three hour long trailer may seem excessive, but it serves as a chronological and comprehensive guide to "basically everything" that will be on offer when
Disney+
launches on November 12.
The Disney+ Twitter account has also posted a comprehensive list in a Twitter thread for anyone who would rather skip watching a three hour long video.
The streaming service will incorporate Disney's entire movie library,
including classic films
that are often out of circulation.
Notable Titles include


Snow White and the Seven Dwarfs (1937)

Fantasia (1940)

Treasure Island (1950)

Old Yeller (1957)

101 Dalmations (1961)

Mary Poppins (1964)

The Jungle Book (1967)

Star Wars: A New Hope (1977)

The Great Muppet Caper (1981)

Tron (1982)

Who Framed Roger Rabbit (1988)

The Simpsons (1989)

The Sandlot (1993)

Boy Meets World (1993)

Muppet Treasure Island (1996)

Even Stevens (2000)

Waking Sleeping Beauty (2010)

The Mandalorian (2019)

The World According to Jeff Goldblum (2019)
When the service arrives, users will be able to browse content by production house and franchise, such as Disney, Pixar, Marvel Universe, Star Wars, and National Geographic. Users will be able to access the service from web browsers and through mobile device apps. Disney+ will cost $6.99 per month, or $69.99 per year, making it slightly more expensive to fledgling streaming service
Apple TV+,
which will cost $4.99 a month.
Apple TV+ debuts on November 1
with a host of original content from acclaimed Hollywood directors, producers and actors.
Projects will include
A-list partners like Steven Spielberg, J.J. Abrams, Oprah Winfrey, Reese Witherspoon, Jennifer Aniston, Steve Carell, Jason Momoa and more, who presented a look at their forthcoming projects.