Google Pixel 4, Pixel 4 XL boasts first radar-based depth-sensing functionality
Google has updated its Pixel smartphone lineup with the launch of the Pixel 4 and Pixel 4 XL, a pair of smartphones that include a radar sensor to enable in-the-air gestures and to detect the user's presence.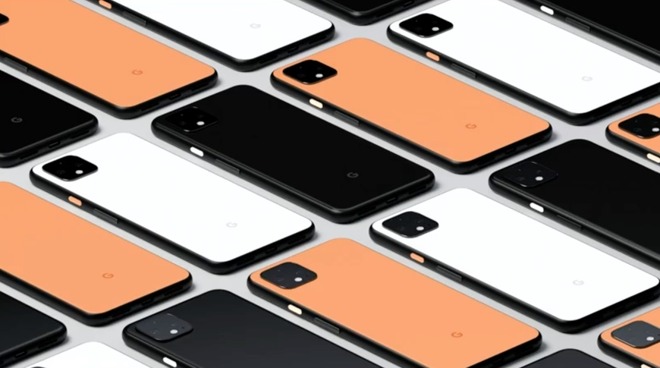 The Pixel 4 and Pixel 4 XL largely differ due to their size, with the Pixel 4 using a 5.7-inch Full HD+ OLED display while the XL packs a 6.3-inch Quad HD OLED screen, both billed as a "Smooth Display" with Ambient EQ and a 90Hz refresh rate.
A key addition is a radar sensor on the front, which helps Google provide experiences reminiscent to the iPhone's TrueDepth camera array's depth detection functionality, by detecting motion near to the device. The "MotionSense" motion tracking it offers allows it to activate before being picked up, to turn off if the user goes away, and to understand gestures like swiping.
On the back of each is a square camera bump, which contains a 12-megapixel "Dual-Pixel" camera along with a 16-megapixel telephoto lens, a microphone, and a flash.
Inside both models is the Qualcomm Snapdragon 855 chip, along with the "Pixel Neural Core." Following after the use of the "Neural Engine" used by Apple in the A-series chips for the iPhone, Google's implementation is a replacement of its Visual Core chip that works to perform intensive image processing on a device, as well as to assist with machine learning tasks.
Both handsets also have 6GB of RAM to help assist the processor. The devices also have options for 64GB or 128GB of storage capacity, stereo speakers, and USB-C connectivity.
One missing element from the device is Google's usual offer of unlimited cloud storage for original-resolution photographs. While earlier models provided storage at that resolution, the Pixel 4 is offered with "unlimited online storage with Google Photos" at no charge, however the disclaimer advises photos and videos "uploaded in high quality may be compressed and resized," meaning original resolution images aren't catered for anymore under the offer.
For security, the custom-built Titan M chip is used to protect data and to ensure operating system integrity. Google also pledges monthly security updates for the device for three years.
The Pixel XL uses a large 3,700mAh battery to go with its large display, whereas the Pixel 4 has a 2,800mAh version. Both benefit from an 18-Watt USB-C charger that is included in the box, allowing for a quick charging experience.
Available to
preorder today
and shipping from October 24, the Google Pixel 4 costs $799 for 64GB and $899 for 128GB, while the XL costs $899 and $999 for the respective capacities. New for this generation is the availability of the Pixel 4 range on all major carriers in the United States, making it easier for consumers to acquire the devices. Third-party retailers, such as
B&H
and
Best Buy
, will also stock the Pixel 4 line.