Apple, Facebook reportedly vie for choice NYC office space
Apple and Facebook are reportedly fighting for a chance to lease four floors of an iconic Manhattan post office that is currently undergoing renovations for office use.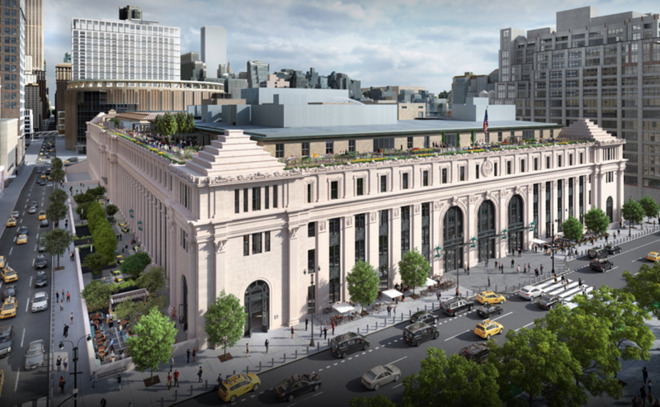 Rendering of renovated James A. Farley Post Office building. | Source: Vornado Realty Trust
Citing sources familiar with the matter, the
New York Post
reports Apple
has applied
to lease all four floors of the former James A. Farley Post Office after touring the property earlier this year.
Taking up a New York City block, white-walled building is located in the heart of the city, across from Madison Square Garden and two blocks west of the Empire State Building. Vornado Realty Trust is working to transform the former post office into a 740,000-square-foot office complex spread across four floors, including a new roof deck that will feature outdoor gardens.
Facebook initiated talks to take over the space in September, disrupting plans by Japanese advertising company Dentsu to occupy the top floor, the report said. Amazon, too, was eyeing a piece of the Farley post office, but decided to take its business elsewhere after Facebook made a play for the entire building.
Vornado's chairman, Steve Roth, is well acquainted with the social media giant, acting as its landlord at a 758,000-square-foot office at 770 Broadway since 2013.
While Apple and its massive coffers pose a threat to Facebook's claim to Farley, industry insiders believe Roth is partial to leasing the structure out to the social network.
Farley was designated a New York City landmark in 1966 and the current renovation by Vornado will deliver an underground train hall, as well as restaurants and shopping stalls.
Apple has been on the hunt for Manhattan office space for months. In February, reports claimed the tech giant was
in advanced negotiations
for a 60,000-square-foot location at the upscale 55 Hudson Yards. More recent rumblings in August, which first mentioned Apple's interest in Farley, suggest the company seeks
up to 750,000 square feet of space
in the city.
Along with seven
Apple Store
locations in Manhattan, Apple currently leases 45,000 square feet of office space at 100-104 Fifth Avenue.