Apple again investigating 'wrap around' display for iPhone
Another patent filing has revealed that Apple is continuing its efforts to make foldable iPhones, this time specifically looking to make use of the sides and back of devices.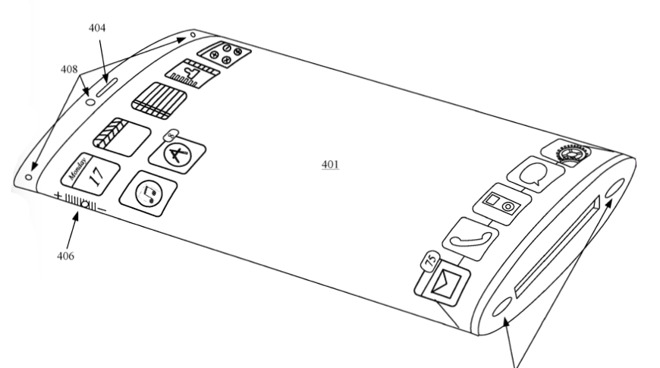 Detail from a drawing in Apple's patent application for a device with a "wrap around" screen
Apple
has filed a
continuation
on the subject of foldable displays and their use in electronic devices, specifically how to "present visual content" on any part of the device, such as an
iPhone
or
iPad
,
It describes an "electronic device with wrap around display," which contains "at least" a transparent housing and a flexible screen.
"A portable electronic device having front and rear surfaces, comprising: a transparent enclosure that forms at least part of the front and rear surfaces; a circuit board; and a display assembly configured to provide visual content," describes the patent, "wherein the display assembly is positioned in the transparent enclosure and extends around the circuit board, wherein the display assembly has first and second ends, wherein the second end is coupled to the first end at a joint, and wherein the visual content extends continuously across the joint."
Rather than a folding display as described in previous patents by Apple in
2015
,
2016
,
2017
and
2018
, this patent discusses two or more screens that overlap.
"[For example] wherein: the display assembly defines a first display assembly, the second display assembly overlaps the first display assembly, and the first display assembly and the second display assembly combine to present 3D visual content," it says.
However, the patent also touches on what appears to be a more familiar folding display system.
"[Such as] a housing having a front portion and a back portion integrally formed with the front portion, wherein the front portion and the back portion are formed from a transparent material that defines an internal volume...," it continues, "wherein the display assembly wraps around the circuit board and the battery. "
Patently Apple
reported on the patent application
on Saturday
.
While Apple has said nothing publicly about the use of folding or overlapping displays, it has been continuously filing patents regarding elements of them for several years.
Most recently, the company has applied for a patent that covers how a
circuit board for such a device
could itself be flexible.
Late last year, Apple also filed a patent for devices where the
screen could be folded
in multiple ways.