iPhone 11 Pro versus Pixel 4 - comparing the best smartphone cameras
Posted:
in iPhone
edited December 2019
Both the iPhone 11 Pro and Pixel 4 have some great cameras packed in -- but which has the best smartphone camera of 2019? We pit them against one another to find out.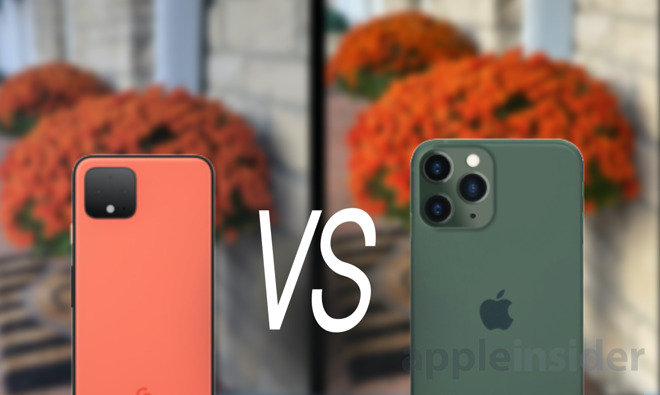 iPhone 11 Pro VS Pixel 4
Hardware
Google's newest
Pixel 4
has two cameras on the rear -- a 12MP wide-angle lens and a 16MP tele lens.
With the iPhone 11 Pro,
Apple
has chosen to include a similar 12MP wide lens but drops the resolution on the tele lens to 12MP. A 12MP ultra-wide lens is present as well -- a lens system absent on the Pixel.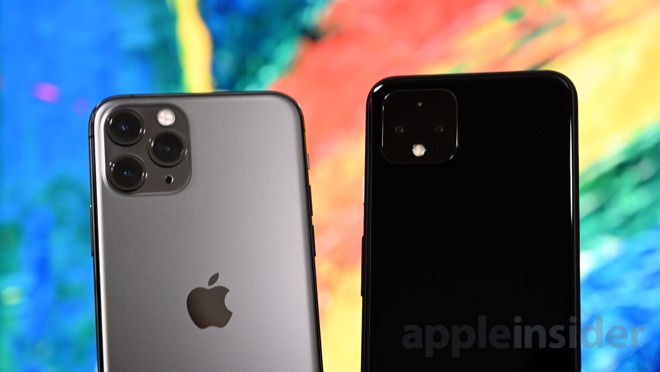 iPhone 11 Pro camera VS that of Pixel 4
If you shoot video, you'll want to pick up
iPhone 11 Pro
over Pixel 4. Pixel 4 can only shoot 4K at 30FPS and the front camera is limited to only 1080P. iPhone can do 4K on both, with up to 60FPS on the rear set.
Here, we are specifically using an
iPhone 11 Pro Max
-- though it has the same camera system as an iPhone 11 Pro.
iPhone 11
has the same wide and ultra-wide lenses but doesn't have a tele lens -- which means compared to the Pixel 4, there is even more of a difference in telephoto shots.
Detailed comparison shots
We'll start with a simple wide shot.

Pixel 4 (left) vs iPhone 11 Pro (right) using wide lens
Here we can start to see qualities that will play out throughout most of the series of photos. Pixel 4 has a specific
look
to it that it nails nearly every time. The look isn't as saturated as the iPhone and leans towards the cooler side of the white balance.
On the other side, the iPhone colors are very vibrant, if not a bit too saturated leaning towards the warm side of the spectrum.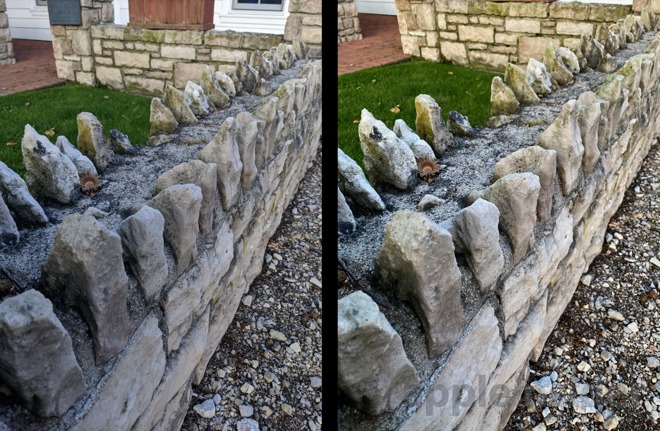 Pixel 4 (left) vs iPhone 11 Pro (right) using wide lens
Much of that applies to the above second shot as well. We can say that the Pixel 4 shot looks a bit flat while the iPhone 11 Pro has increased contrast in the rocks.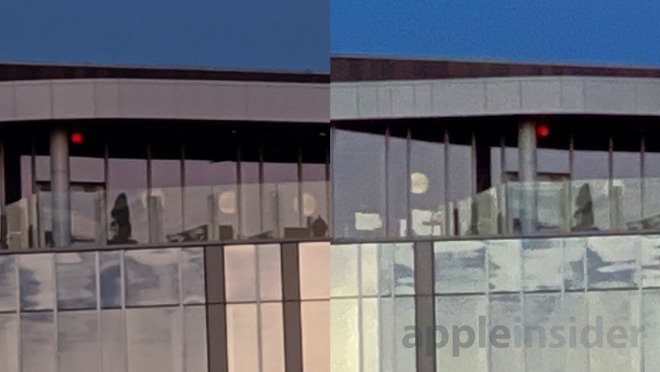 Pixel 4 (left) vs iPhone 11 Pro (right) using tele lens at 8X plus 200% crop
One of the best abilities of Pixel 4 is the higher-resolution telephoto lens. In practical use, you can see above. This photo is zoomed in 200% from 8X digital zoom so we can see more of the details. The Pixel 4 shot on the left is smoother with less noise versus the iPhone 11 Pro shot on the right which has more grain and artifacts.

Pixel 4 (left) vs iPhone 11 Pro (right) using tele lens at 8X
The difference is even more prominent here. This is not zoomed in further but 8X on both the Pixel and iPhone. Pixel had a better take on the exposure and is overall significantly sharper. The iPhone shot is grainer and darker by comparison.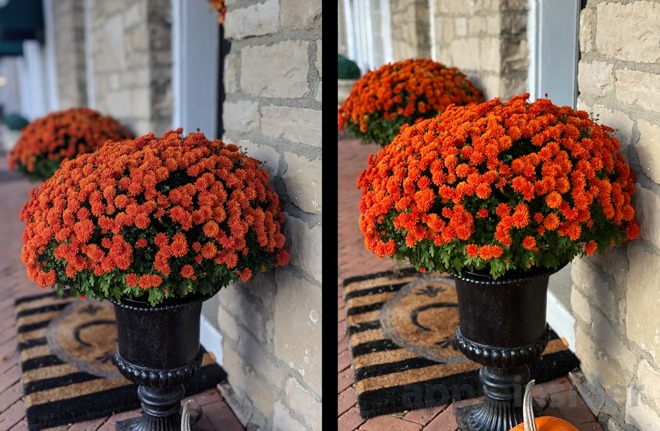 Pixel 4 (left) vs iPhone 11 Pro (right) using Portrait mode
Moving to portrait mode, both did a good job dealing with abstract objects such as these flowers. The iPhone 11 Pro shot, in our opinion, looks far better here even if the saturation is high. Pixel 4 sticks with its stylized look though here comes across as flat and less interesting.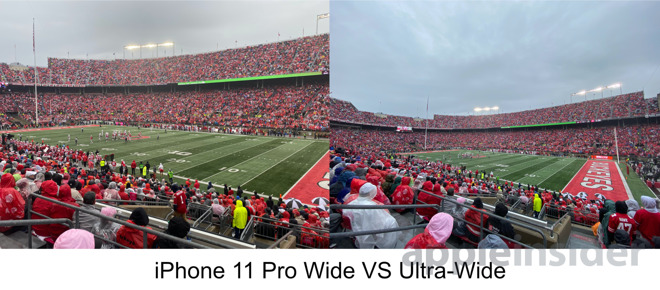 iPhone 11 Pro wide (left) versus ultra-wide (right)
Now we will take a look at ultra-wide shots, such as the one above. Scope is far more significant and has been extremely useful in our time shooting. At the stadium, we captured so much more than we'd otherwise have been able to.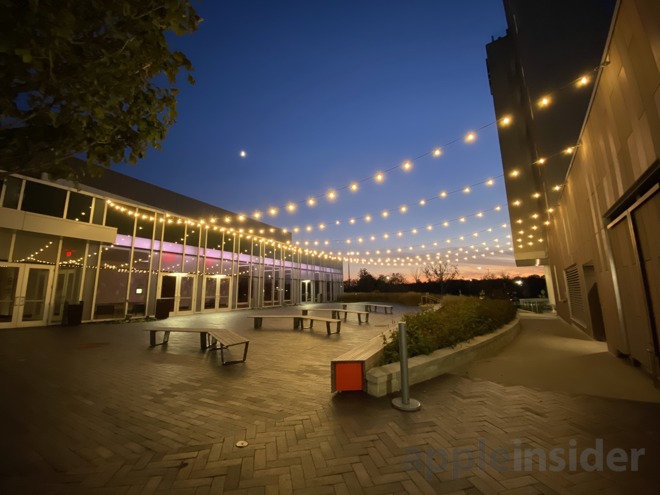 Ultra-wide image from the iPhone 11 Pro
After our photoshoot, the above ultra-wide shot was possibly the best image we captured. It was at dusk and was nowhere near as impressive as what we captured with the standard wide lens. It came out sharp, with slight natural vignetting due to the setting sun and strung lights.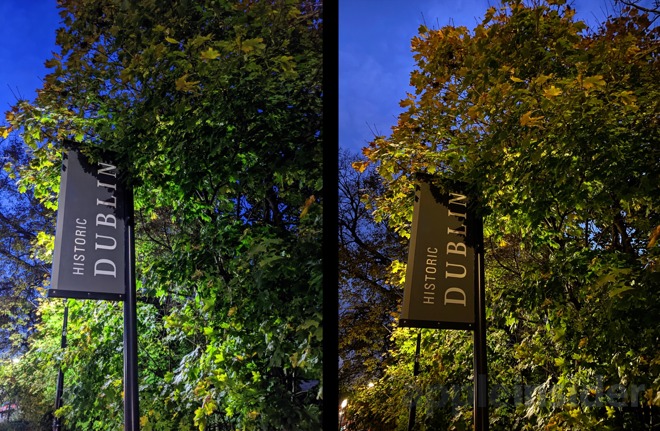 Night mode on Pixel 4 (left) and iPhone 11 Pro (right)
This photo is a night mode shot where Pixel 4 faired better. It has a more natural white balance though the iPhone 11 Pro shot conveys a better sense of night.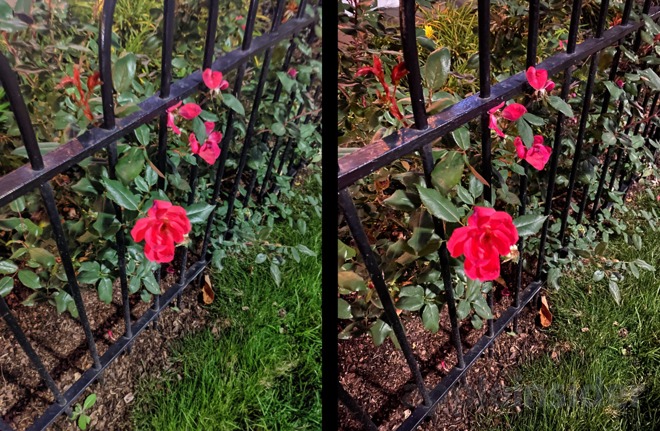 Night mode on Pixel 4 (left) and iPhone 11 Pro (right)
This second night shot looks better on the iPhone with Pixel 4 having a slightly blurry image and we'd prefer the higher saturation of the iPhone.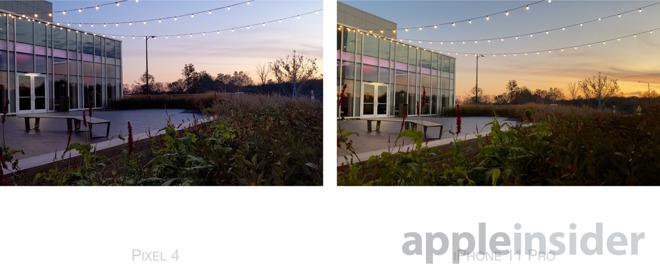 Video frame shot on Pixel 4 (left) and iPhone 11 Pro (right)
Finally, video quality. To get the best impression of video quality, check out the sample video embedded above. But even in the above sample shot, you can see the iPhone 11 Pro has a far better image.
The bottom line
Both phone's cameras are outstanding, though each has frustrating drawbacks. The iPhone could certainly have better telephoto shots and leans towards the warm side. Pixel 4 looks great but lacks the ultra-wide lens, wider Portrait shots, and is severely lacking in video capabilities.
It's such a disappointment not to see an ultra-wide on the Pixel. Google says the reason for that is that users care more about telephoto shots rather than ultra-wide shots. We aren't completely sold on that argument. We agree telephoto shots are important but... why not both? Why do we have to choose? if Pixel 4 had an ultra-wide then it would be the clear winner of the two -- but that's not the case.
It is so difficult anymore to choose one phone's camera as definitively better than another, but Pixel 4 has too many drawbacks to make it the better choice.
Deals on both phones
Free gift offers and instant cash savings are going on now on both phones, with Google's Pixel 4 eligible for a
free $100 Fi credit
now through Nov. 7 at B&H Photo. The Pixel 4 is also
$50 off Best Buy
.
Meanwhile, wireless carriers are also offering a variety of incentives on the iPhone 11 Pro, including
trade-in
deals on devices in any condition. Highlights are below.
iPhone 11 Pro Max deals
More sample shots
Here are high-resolution versions of the above sample shots as well as several more. In all comparison shots, the iPhone 11 Pro image will be on the right with the Pixel 4 shot on the left.