Apple decision to skip congressional hearing on China draws swift rebuke
Apple and Chinese app TikTok failed to send representatives to a U.S. congressional hearing convened to delve into Chinese influence on the wider tech industry and consumer data, a move that drew swift condemnation from senators eager to draw ties between large firms and the Asian nation.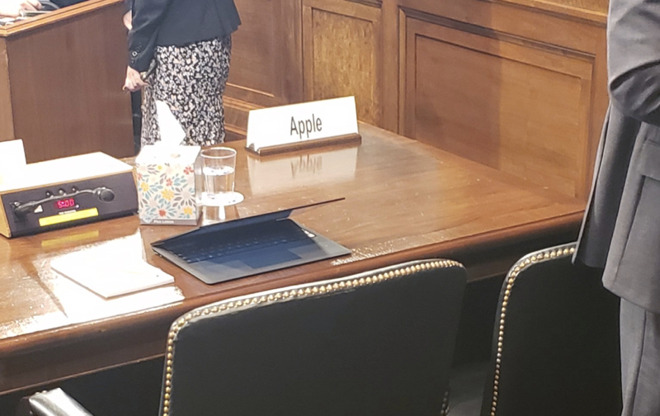 Empty seat reserved for Apple at Tuesday's congressional hearing on China. | Source: Cristiano Lima
Both companies were
conspicuously absent
from the hearing called by Sen. Josh Hawley (R-Mo.), a staunch critic of Big Tech who has in the past sounded the alarm over Chinese interference in the sector, reports
The Washington Post
.
According to
Politico's
Cristiano Lima
, Apple and TikTok were given the "empty seat treatment" at today's hearing. A witness table was set up with placards for Apple and TikTok fronting a pair of ceremoniously empty chairs. The companies flanked Kara Frederick, associate fellow for the Technology and National Security Program at the Center for a New American Security, and Heritage Foundation tech policy chief Klon Kitchen, who
did appear
at the hearing to offer testimony on China's controversial cyber laws. An executive from Microsoft was also present.
"I've invited
@Apple
and
@tiktok_us
to testify on Tuesday about their business in & with China and the risks to American consumers. So far, they are both refusing. Something to hide?" Hawley wrote in a tweet
on Sunday
.
Though Apple was not present, Hawley took issue with the company's ties to China, which he believes are "risking compromise with authoritarianism." Specifically, the senator targeted Apple's
decision to migrate
iCloud data of Chinese citizens to servers operated in China.
Apple maintains the mass transfer and subsequent housing of user data on Chinese soil is a requirement for operating
iCloud
and other cloud services in the country, but Hawley said the arrangement could undermine user security, according to the report. Hawley's concerns mirror those of privacy advocates who voiced opposition to Apple's strategy in 2018.
For its part, Apple said it advocated against iCloud being subject to these laws," but was "ultimately unsuccessful."
"We're accustomed in hearings like this one to hearing about Apple as a good corporate citizen," Hawley said on Tuesday. "But Apple's business model and business practices are increasingly entangled with China, a fact they would rather we think not too much about."
Apple's appeasement of Beijing, which often runs in contrast with its well-groomed image as a bastion of human rights, data privacy and free speech, has been a point of contention for years. The company walks a tightrope between forwarding its social agendas and not running afoul of Chinese state policy.
Last month, Apple
pulled the controversial HKMaps app
from the Chinese App Store at the behest of China government demands, later saying the title
was in violation
of Hong Kong law. Critics, however, noted the title's core functionality did not contravene local regulations, nor did it break rules laid out in Apple's own App Store Guidelines.
The company also
removed the Quartz news app
from the App Store after the publication provided extensive coverage of the Hong Kong protests.