AirPods Pro review: you don't need to be an AirPods power-user to appreciate them
Posted:
in iPhone
edited August 2021
With active noise cancellation and other new features, Apple's new AirPods Pro does its best to embody the "pro" monicker affixed to the well-known name.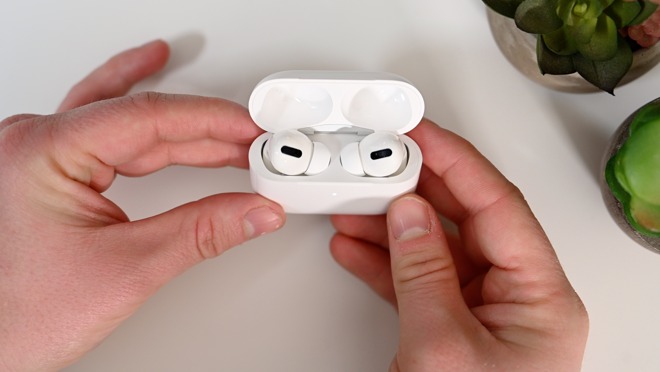 AirPods Pro are easy to set up
There aren't many things left unsaid about
AirPods Pro
. If you've seen or read any of the other reviews out there they likely all touch on the same topics.
We don't need to rehash all of those sentiments by just giving you more of the same. Rather, we want to give you a look at our past week using AirPods Pro after being daily users of the original
AirPods
-- pretty much since launch.
A quick look at the specs
Before we do that, it would be irresponsible to not at least
touch
on the specs AirPods Pro is equipped with.
The new generation Apple true wireless earbud has a new design that is shorter with a more bulbous end. A new force sensor in the stem replaces the tapping gesture for controlling the headphones. Multiple sizes of silicone tips help provide a better seal and fit to help with the new noise control features.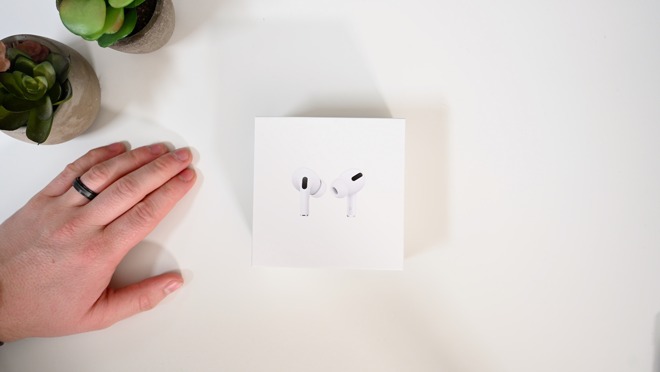 AirPods Pro in their box
Speaking of which, include active noise cancellation, Adaptive EQ, and transparency mode. These all rely not only on an external mic but an internal mic that can hear what your ear is hearing.
They now fit in a redesigned wireless charging case that is shorter and wider than the original.
More than what we asked for
Preceding the AirPods Pro announcement, there were only a couple things we needed to see on a new set of AirPods. We wanted a better fit for active lifestyles and better audio quality. AirPods would constantly fall out for us while we were hitting the treadmill or weight bench and the audio quality could best be described as "fine."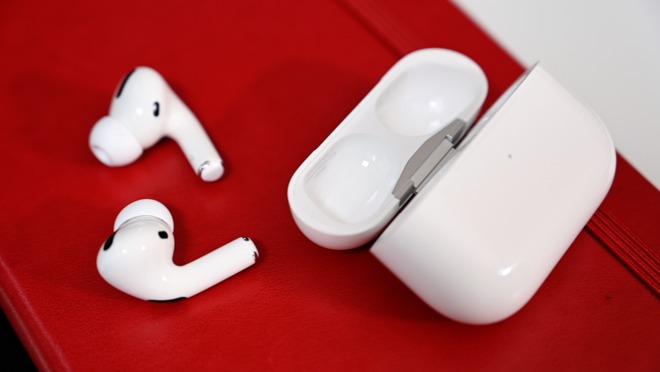 AirPods Pro are great headphones
Audio quality was quite a sticking point for us. We test piles of headphones with outstanding sound but always go back to AirPods because of their ease of use. It was disappointing to come back to such dismal audio.
Upgrading to pro
With those in mind, the absolute first thing we did after getting our hands on AirPods Pro was hit the gym, testing all of our common routines. To our surprise, we made it through an hour and a half without a single earbud coming free. Whether jumping around or lying supine, AirPods Pro didn't fall out.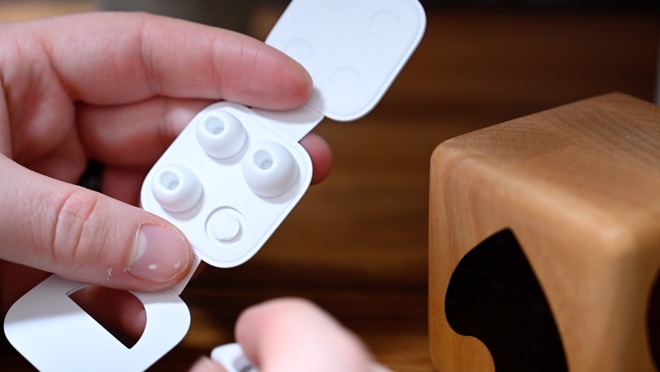 AirPods Pro silicone tips come in small, medium, large
That isn't to say that the fit was perfect for us. We've historically terrible luck with in-ear headphones. They never stay put for us.
As a general rule, AirPods Pro did fit well for us, but we could use more sizes of the silicone ear tips. A smaller size or half sizes would go a long way towards making these fit perfect. Apple, like Klipsch, chose to use an oval-shaped tip which could be part of what makes it stay in so much better, even with not the perfect size.
Apple does offer up the fit test within Bluetooth settings and while neat, didn't provide any real benefit to us. We could tell what fit very easily just by trying on the different sizes, but maybe it is more beneficial to others with differently shaped ears.
The audio quality was great. With a good fit, it was punchy, a full sound, and a huge step up for AirPods. Not saying this is audiophile quality or what you'd get with a set of dedicated over-ear cans, but wow. We were very happy with the audio quality these put out.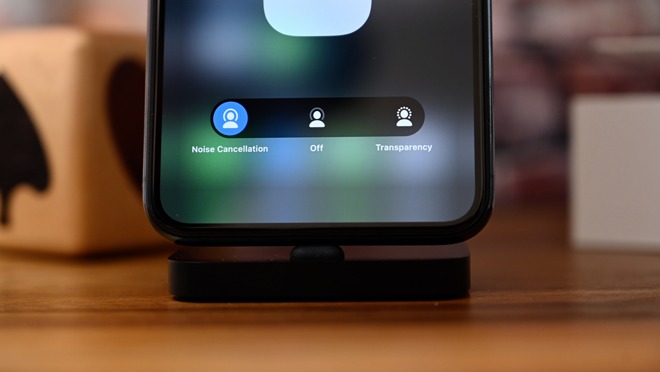 The nosie control toggle within Control Center for AirPods Pro
The active noise cancelation was a bonus for us, but a week in and we don't use it as much as others may. It is nice to have and we used it in the gym for a more immersive workout, but day-to-day we relied on transparency mode. It sounded so much more natural and allowed us to hear people talking to us in the office, delivery drivers hitting up the door, or other runners while we were out with the dogs. It may be our favorite feature of the new AirPods Pro.
In this set of AirPods, Apple forwent the tapping gesture and replaced it with the force sensors in the stems. This requires you to squeeze the stems to control playback and switch modes. The good news is that it adds more gestures than tapping, but it is still awkward to use. If you are moving, trying to squeeze will inevitably knock the AirPods Pro loose. Second-gen or AirPods Pro -- we'd still prefer to just use Siri or our Apple Watch.
While we are here, we also want to give a shoutout to iOS that recently added some great features for AirPods users. Not specifically for the AirPods Pro, but great either way.
">

With this update, users can now have messages announced via Siri. It will automatically reduce any audio that'splaying, read the message, then quickly give you a chance to respond. If you are busy and on the go, this is amazingly helpful and we found ourselves wearing AirPods around the office just so we could respond to messages without having to dig out our phone each time.
Additionally, Audio Sharing -- a feature promised with iOS 13 -- finally arrived
in iOS 13.2
. This allows users to share audio with multiple sets of headphones at once. Say you are watching a movie and your partner wants to watch as well with their headphones. They just bring their AirPods or Beats near your phone or tablet and it will kick off a modal that lets audio be sent to each simultaneously. Works with any audio, including movies, music, or games.
Not without issues
As far as issues we ran into, during long sessions we did have the battery die out on us, which is unsurprising. They're equipped with the same battery life as the AirPods 2 but take a small hit when ANC or transparency mode is turned on. It'd have been nice to see a longer life, but we will take the smaller size as the tradeoff.
We also aren't fans of the new case. Maybe it is nitpicking, but it is what has gone through our minds several times during the past week. It is squat and kind of awkward in our hand and isn't as easy to flip open as the original. The original case was fantastic and was even useful as a fidget device we could open and close repetitively. This case, while it looks similar and feels the same, just doesn't have the same affinity to us.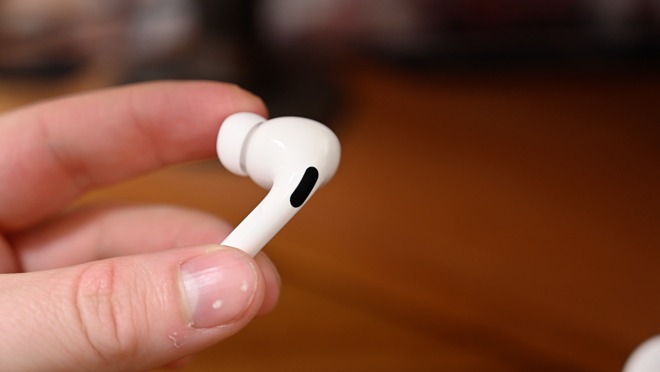 An AirPods Pro individual earbud
There were some improvements to the microphone, which now block out wind better than before, but the same issues as the last generation are present. Namely, they are very sensitive. It is great in picking up your voice, but if you try to do anything with your hands at the same time it gets amplified greatly. Pick up a cup, crinkle a chip bag, wash your hands, really anything that makes any noise sounds crazy on the other end. In a test call, I set down a cup on the counter and the recipient of the call said it sounded like I smacked a hammer against a pipe.
Minor quibbles notwithstanding, we're overwhelmingly happy with AirPods Pro.
Should you buy AirPods Pro?
If you are an active user, moving around, jumping on planes, or frequently working out, AirPods Pro are the way to go. Otherwise, it gets murky.
Most folks are going to fall into one of three camps. They are either existing AirPods owners who are debating an upgrade, they are new to AirPods and debating the AirPods second-gen with wireless charging case, or they are new users looking at the second-gen with the standard case,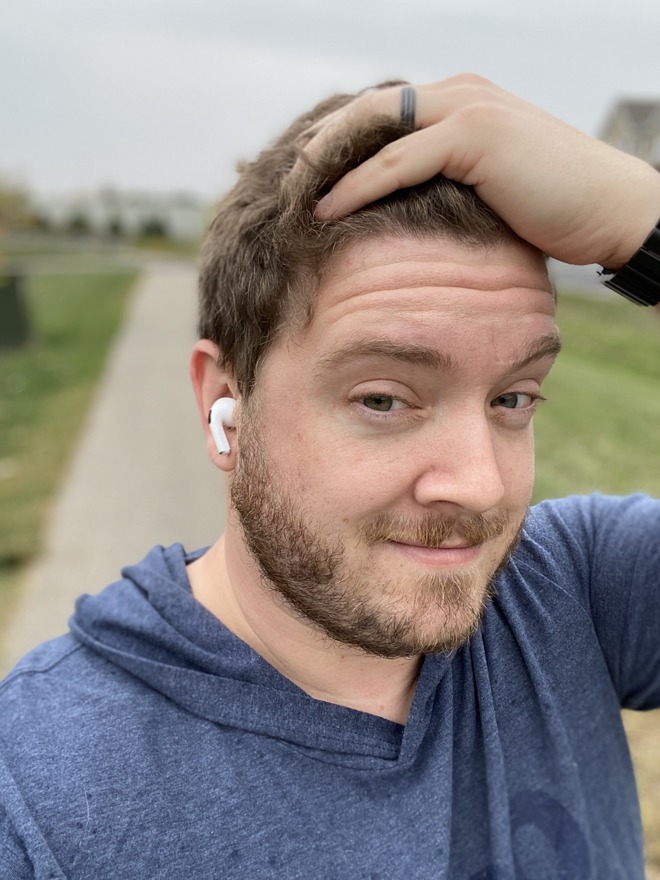 AirPods Pro are great for active users
If you are in the latter camp, it is kind of hard to justify the $100 price increase between the two. There are a lot of features for that differential, but if you just want AirPods in the most cost-efficient form, then it isn't AirPods Pro.
If you are looking at the second-gen set with the wireless charging case,
springing for AirPods Pro
is a no-brainer. It is a $50 difference and you get better fit, water resistance, ANC, transparency mode, and far better audio. We'd make that jump in a heartbeat.
Those in the last group are hardest to quantify, being that they already have a set of AirPods -- possibly the second-generation set that launched only in March. For us, with audio quality and fit being most important, we were able to justify it. Especially after gifting our other set to a family member. Before AirPods Pro we were forced to use another set of headphones while at the gym. With AirPods Pro, we get to use them twice as much.
Pros
Smaller design


Much better audio quality


Great ANC


Transparency mode is outstanding


Stay in much better


Work with Audio Sharing


Announce messages with Siri is particularly useful


Water/sweat resistant
Cons
Needs more granular ear tips


Force sensors are awkward to use


Charging case is awkward


Higher price tag and no price decrease on second-gen
Rating: 4.5 out of 5
Where to buy Apple's new earphones
Apple AirPods Pro
retail for $249
and are carried at these top retailers:
For the latest AirPods
deals
, be sure to visit our
Apple AirPods
Price Guide.
AirPods and AirPods Pro specifications
AirPods (Second Generation)
AirPods Pro
Dimensions (inches)
1.59 x 0.65 x 0.71
1.22 x 0.86 x 0.94
Weight (ounces)
0.14
0.19
Case Dimensions (inches)
2.11 x 1.74 x 0.84
1.78 x 2.39 x 0.85
Case Weight (ounces)
1.41
1.61
Battery Life (AirPods)
5 Hours
4.5 House with ANC, 5 with ANC off
Battery Life (with Case)
More than 24 Hours
More than 24 Hours
Connectivity
Bluetooth 5.0
Bluetooth 5.0
Microphones
Dual Beamforming
Dual Beamforming, Single Inward-Facing
Sensors
Dual Optical Sensors, Motion-Detecting Accelerometer, Speech-Detecting Accelerometer
Dual Optical Sensors, Motion-Detecting Accelerometer, Speech-Detecting Accelerometer, Force Sensor
Sweat and Water Resistance
No
IPX4
Active Noise Cancellation
No
Yes
Read on AppleInsider