Apple says it's been losing money on its repair programs
During a US congressional probe, Apple on Wednesday revealed that the costs to operate its various repair programs have exceeded the revenues generated by those services for roughly a decade now, and went on to defended how it may refuse to service devices in certain situations.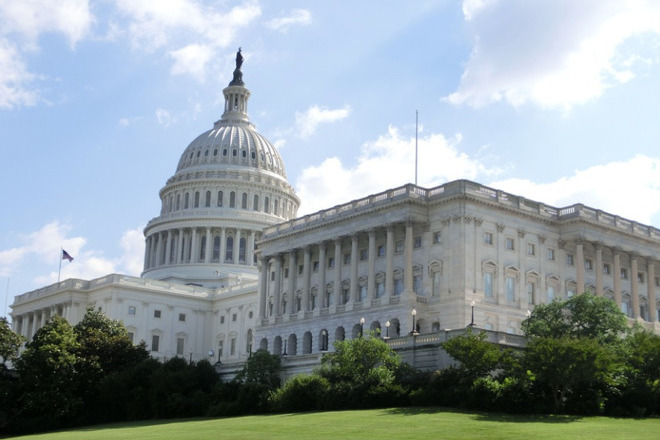 Starting in July this year, Apple, along with other technology firms including Google, Facebook, and Amazon,
responded to an US House of Representatives Judiciary Committee
probe into anti-competitive practices. Apple's
written answers
have now been released, and include specific details about the company's repair policies.
The Committee asked for information dating from 2009 to the present day, including how many repair technicians
Apple
employs, and the "total revenue that Apple derived from repair services.
"There are tens of thousands of Apple-authorized repair technicians working at Apple Retail Stores and third-party retailers," replied Apple in the testimony.
"For each year since 2009," it continued, "the costs of providing repair services has exceeded the revenue generated by repairs."
The Committee's prepared questions then required Apple to account for what repairs its network of Apple Authorized Service Providers (AASPs) was allowed to make -- and what work, if any, it refuses to allow these firms to do.
"AASPs are permitted to conduct exactly the same repairs (both type of repair and type of product) that Apple's Retail Store staff are permitted to conduct," replied Apple.
"For more complicated repairs that cannot be handled at stores (at Genius Bars and at AASP store locations), both Apple Retail Store and AASP technicians can mail the units for repair to the nearest Apple Repair Center," it continued.
The Committee's questioning then asked about the situation where a customer gets an unauthorized repair and Apple later refuses to service the machine.
"Apple would not refuse repair services to that customer in the future," insisted the company. "For example, Apple does not automatically reject service for a device that show attempts by third parties to perform repairs."
"Similarly, the presence of non-Apple genuine components that are designed to mimic the function of Apple genuine components," Apple continued, "even if those components infringe on Apple's intellectual property, does not automatically make the device ineligible for service by Apple."
Apple's responses did, however, specify that there are situations where it would refuse to repair a customer's device.
Devices in which certain original components, such as the main logic board and enclosure, have been replaced with non-original components. This is due to the fact that to replace these components the device has to be disassembled to a point that special tooling and processes are required to reassemble the device. Attempting to reassemble devices disassembled to this state without using proper Apple tools and processes may result in the issue the customer has reported.

- When a device has been disassembled to a point that special tooling and processes are required to reassemble the device.

-When an Apple genuine component is replaced with a counterfeit component designed to look like an Apple genuine component, but not designed to function (e.g., fake speaker or camera modules).

-When a device is beyond economic repair such that repairing the device would result in greater cost to the customer than replacing the device.

-Devices that are missing components.

-Devices with intentional tampering designed to defraud Apple.
As well as performing repairs, companies require the ability to buy genuine Apple replacement parts and the Committee asked when Apple refuses to sell to them.
Apple said that it had an Independent Repair Provider program which companies apply to join. The only eligibility criteria that Apple revealed in its answers was that it requires the company to have "at least one trained technician" to do the repairs.
It also will only sell parts to businesses, including sole traders, not to individuals such as consumers. It does so as part of its "
Apple Genuine Parts Repair
" program, which does place some restrictions on what can be performed in a repair, but fewer than those imposed on stores deemed an Apple Authorised Service Center.
"Repairs performed by individuals, who are more likely to be untrained technicians, increases the likelihood that repairs will not follow proper safety and repair procedures and could result in improper function, product quality issues or safety events," concluded Apple, echoing comments made in April over
consumer safety
in its fight over the "Right to Repair."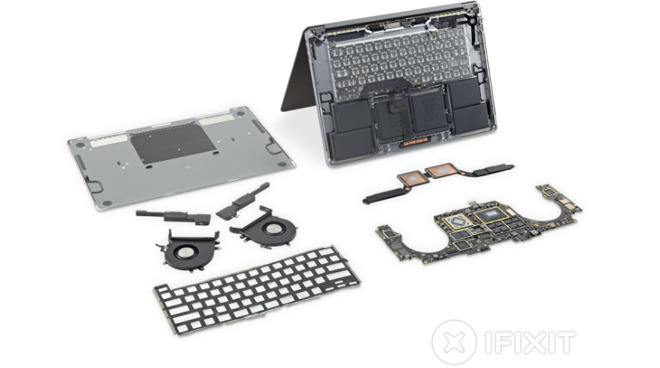 Apple says some repair work requires precision tools and processes. (Photo of 16-inch MacBook Pro components: iFixit)
While the Committee was specifically investigating whether companies use anti-competitive measures in repairs, and other areas, Apple has regularly been criticized for how hard it is to service its devices.
CBC made some questionable comments
on serviceability and repair, but it's also correct that the new 16-inch MacBook Pro is
is difficult to repair.
.
Apple's full answers, including details of its
work with Apple Maps
, can be read on the US House of Representatives Judiciary Committee's
official site
.
Read on AppleInsider