Apple's 2019 holiday ad uses iPad to bring families together
Apple has released its 2019 holiday ad "The Surprise" to YouTube, highlighting how the iPad can ease holiday and travel tensions, and to bring families together after a tough year.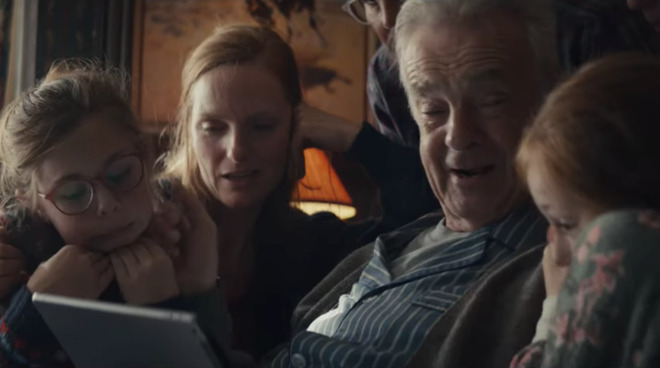 The three-minute long ad spot highlights how a little thoughtfulness and creativity can help ease holiday tensions and heal the heart in difficult times.
The ad, titled "The Surprise", shows a family as they travel with their young daughters to their grandparent's home for the holidays. Throughout the journey, the children bicker, but at every point are presented with an
iPad
to assuage the tension between the sisters.
Upon arrival at the grandparent's home, it's soon learned that the grandmother passed away sometime in the last year. The implication is that the grandfather has been struggling with the loss, acting aloof and snapping at the children when they act up. The father quells the situation by offering the iPad at every turn, giving the girls something to distract themselves with.
The granddaughters later go through the grandfather's collection of home movies. Upon discovering a video of their then-young grandparents, they begin to come up with an idea to help their grandfather feel better.
On Christmas morning, the girls present their grandfather with a digital scrapbook that includes videos of him and his wife, ending on the sentiment that even though the grandmother is gone, the family is still together for the holidays.
The ad emphasizes the iPads ability to bridge generations together-- both the granddaughters and grandfather are able to intuitively use the iPad. Additionally, it highlights a positive way tech can bring a family together, a rare sentiment in an era of screen time-obsessed advertisements.
The video features a song called "Married Life" by Michael Giacchino, and the description points the viewer to the
Apple page for the iPad.
Last year's holiday ad
was animated and focused on building emotional attachment with the Apple brand, rather than selling a specific product.