Floppy drive signed by Steve Jobs expected to fetch $7,500 at auction
A Macintosh System Tools floppy disk signed by late Apple co-founder Steve Jobs is up for auction, with the piece of tech memorabilia estimated to sell for at least $7,500 when the gavel drops in December.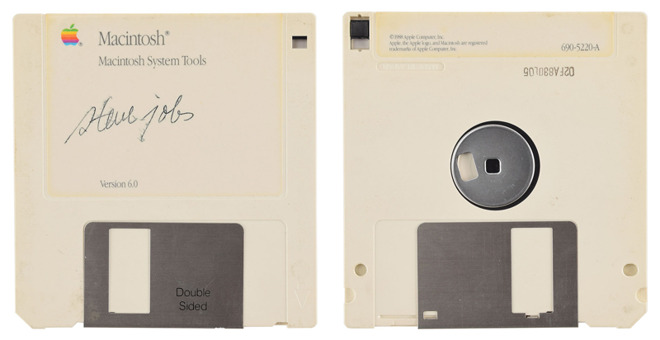 Source: RR Auction
Up for bid at Boston's RR Auction, which has handled a number of Apple- and Jobs-related sales in the past, the
Macintosh System Tools
version 6.0 disk is signed by
Steve Jobs
in black felt tip pen. Listed in "fine" condition, the signature is a bit smudged, while the disk itself appears to be in generally good order with only a few blemishes and minimal signs of aging.
The sale started at $1,000 and after seven bids jumped to $4,600, where the price remains as of this writing. The next bid is pegged at $5,060, with a so-called 30 minute rule set to go into effect on Dec. 4.
According to RR Auction's website, potential buyers must place a bid before 6 p.m. Eastern on Dec. 4 to be eligible for an extended bidding period. During extended bidding, each new bid resets a 30-minute timer that, once elapsed, closes the sale.
Jobs was notoriously cautious when it came to handing out his autograph. As such, only a few rare items remain, many of which have fetched thousands of dollars in past auctions.
In August, for example, a Jobs-signed Pixar poster from the film "Toy Story"
raised $31,250
, while a Networld Expo poster from 1992 was sold in 2017 for $19,640.
Other Jobs-related items from past auctions include a newspaper clipping that
sold for $27,000
and a signed first-issue of Macworld that
fetched $47,775
in 2018. A job application that Jobs filled out by hand went
for over $174,000
that same year.