Apple to face class action over MacBook butterfly keyboard
Apple on Monday was denied a motion to dismiss a class action lawsuit leveled by MacBook owners who claim the company was not only aware of a flaw in the design of its butterfly keyboard, but took steps to conceal that fact from potential buyers.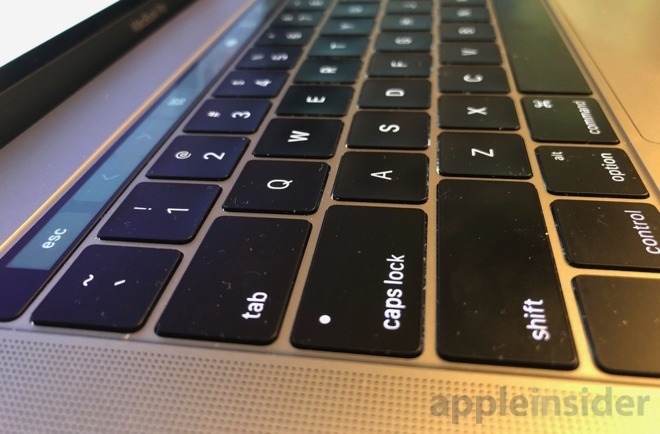 MacBook Pro with butterfly switch keyboard.
U.S. District Judge Edward Davila
in an order
handed down in San Jose, Calif., today said Apple failed to present convincing arguments in its bid to toss claims of the case
lodged in May
.
Plaintiffs leveled multiple claims involving various
MacBook
models manufactured from 2015 and
MacBook Pro
models produced from 2016 which rely on Apple's butterfly keyboard mechanism. The ultra low-profile switch is advertised as more responsive and robust than traditional scissor-type counterparts, but a small portion of users found the vital component fails during regular use.
As noted in the suit, Apple's butterfly keyboard can in some cases succumb to small amounts of dust or debris, which impede normal switch behavior and cause keystrokes to go unregistered. Other issues with the key design include repeating characters, unresponsive key input and "sticky" keys. The company was allegedly aware of the flaw, but continued to sell the claimed faulty MacBooks at customers' peril, plaintiffs claim.
In its motion to dismiss, Apple said it presented owners with viable options to remedy the problem, including a variety of at-home
troubleshooting methods
and a
repair program
initiated in 2018. Earlier this year, Apple extended program eligibility to
include 2018 MacBook Pro models
"The Program is an appropriate remedy under the CLRA because Plaintiffs can have their keyboards fixed free of charge and/or receive a refund for repair expenses if Plaintiffs paid to have their keyboards repaired," Apple argued.
Plaintiffs, however, note the voluntary program is ineffective because it fails to address the core issue. Further, faulty keyboards are replaced with parts bearing an identical design, leaving the door open for failure. Apple also does not compensate owners for out-of-pocket expenses during the repair process.
Reuters
reported on the order
earlier today
.
Apple appears to be moving away from butterfly switches, as the company's latest
16-inch MacBook Pro
ditches the slim profile keys in favor of a more traditional scissor type design. Whether the kerfuffle over butterfly keys prompted the shift is unclear.
Plaintiffs in the case seek damages, legal fees and demand Apple publicly disclose the keyboard design as flawed. In addition to damages, the suit calls on Apple to fix or replace defective units, with the latter demand covering reimbursement for the purchase of replacement laptops.