Apple returns to CES in 2020 with exec scheduled to speak at privacy roundtable
Jane Horvath, Apple's senior director of global privacy, is slated to take part in a privacy-focused roundtable at CES in January, marking the company's first official appearance at the trade show in nearly 30 years.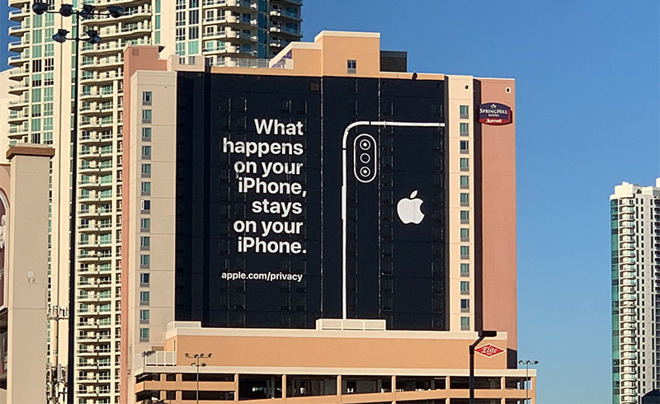 Apple billboard at CES 2019. | Source: Chris Velazco via Twitter
Horvath will join Facebook VP of Public Policy and Chief Privacy Offer for Policy Erin Egan, Procter & Gamble Company Global Privacy Officer Susan Shook and Federal Trade Commission Commissioner Rebecca Slaughter in an hour-long discussion moderated by Rajeev Chand, Partner and Head of Research at Wing Venture Capital.
The executives are expected to tackle a range of privacy-related topics including building privacy at scale, government regulation and consumer impact of privacy programs, according to an outline of the event posted to the official CES
website
.
Horvath has worked in her role as Apple's privacy czar since September 2011 but entered the public eye when she attended a so-called "
spy summit
" to discuss data privacy and mass surveillance issues in 2015. It was around that time that Apple began to ratchet up its rhetoric on privacy in consumer tech. Prior to Apple, Horvath acted as Google's Global Privacy Counsel.
Bloomberg
reported on Horvath's planned appearance
earlier today
.
An Apple executive last took the stage at CES in 1992, when then-CEO John Sculley unveiled the Newton. At the time, the trade show was still being held at its original Chicago venues.
The tech giant has since refrained from participating in CES, at least in an official capacity. Recent years have seen "undercover" employees prowling the grounds in search of new technology and staking out the competition. Previously electing to take part in Apple-friendly gatherings like the Macworld Conference & Expo, the company over the past ten years has relied on its own launch events and annual developers conference to expose consumers to new products and services.
In early 2019, however, Apple did make an appearance of sorts at CES in Las Vegas,
plastering a massive billboard
on the side of SpringHill Suites by Marriott hotel that overlooks the Las Vegas Convention Center. That ad's message: privacy.