Apple's new Communication Limits parental control feature bypassed by bug
Posted:
in iOS
edited December 2019
Apple this week rolled out new parental control features as part of iOS 13.3, but one of the most touted, Communication Limits, is easily defeated thanks to what appears to be a bug related to iCloud syncing.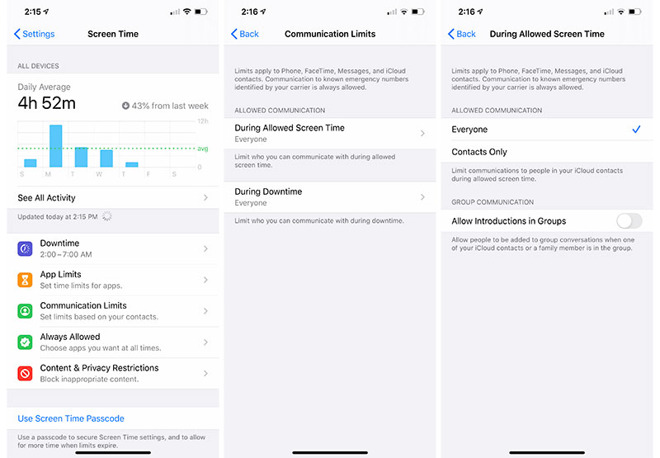 Accessing Communication Limits in iOS 13.3.
Communication Limits debuted with iOS 13.3
on Tuesday
and allows parents greater control over who their children talk to, text with or
FaceTime
.
The feature is two-pronged and blocks incoming and outgoing communications from anyone not in an
iPhone's
Contacts list, while restricting users -- kids -- from adding contacts without first entering a security PIN. When enabled, Communication Limits prevents children from talking to non-vetted contacts.
A bug, however, renders those protections largely useless.
Discovered by
CNBC
, Communication Limits
can be bypassed
if an iPhone's contacts are not synced with
iCloud
by default.
To demonstrate the flaw,
CNBC
tapped on an incoming text from an unknown number. As designed, a full-screen "Restricted Contact" pane appeared, but the page was easily bypassed by tapping on an "Add Contact" option. Adding the new contact to iPhone's Contacts list enabled unfettered access to the number.
Children can also use
Siri
on
Apple Watch
to text or call any number, even those not in the Contacts list of a paired iPhone.
CNBC
found the above methods do not work when Downtime is enabled.
Apple in a statement said it is working on a fix, but failed to offer a timeline for release. In the meantime, parents can avoid the bug by changing an iPhone's default contacts syncing service to iCloud.