Apple reportedly planning PRODUCT(RED) Apple Watch Series 5
A brief mention in an unspecified Apple product database has sparked speculation that a PRODUCT(RED) version of the Apple Watch may soon be released.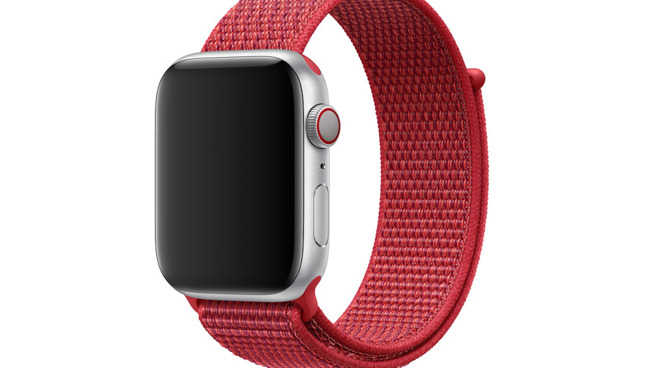 Apple has previously released a PRODUCT(RED) sports band, but not an Apple Watch
Apple
is potentially planning to release a
PRODUCT(RED)
version of its
Apple Watch Series 5
, which, if true, would mark the first time any
Apple Watches
have been offered in this form. The company
did previously release
a PRODUCT(RED) sport loop band in November 2018.
The claim comes from French publication
WatchGeneration
which does repeatedly stress that most of its information is speculation -- but not all.
According to the publication, a mention was found in an unspecified Apple database but was subsequently removed. The mention was apparently a reference number that was different to other PRODUCT(RED) items that
WatchGeneration
refers to as "bracelets," or bands.
The site also says that it believes the specific color would be close to that of the
iPod touch
, which got a PRODUCT(RED) version
in May 2019
.
PRODUCT(RED) is a partnership between
(RED)
and companies ranging from Apple to
Nike
, all of whom are raising awareness and funds for the treatment of HIV/AIDS. Up to half of the profits from a PRODUCT(RED) item are donated to the project.
Apple says
it has donated over $220 million since the project began 13 years ago.
Currently Apple sells PRODUCT(RED) versions of the
iPhone
,
iPod touch
, assorted iPhone and
iPad
cases and sleeves, Apple Watch sport bands, plus
Beats
headphones and portable speakers. It does not currently offer a PRODUCT(RED)
iPad
,
Mac
,
AirPods
or Apple Watch.