Foxconn moving iPhone production to combat coronavirus production loss, says Ming-Chi Kuo
Posted:
in iPhone
edited June 2020
Apple analyst Ming-Chi Kuo sees significant uncertainty surrounding iPhone production in China because of the ongoing coronavirus, and has detailed what he is seeing so far at Apple assemblers Foxconn and Pegatron.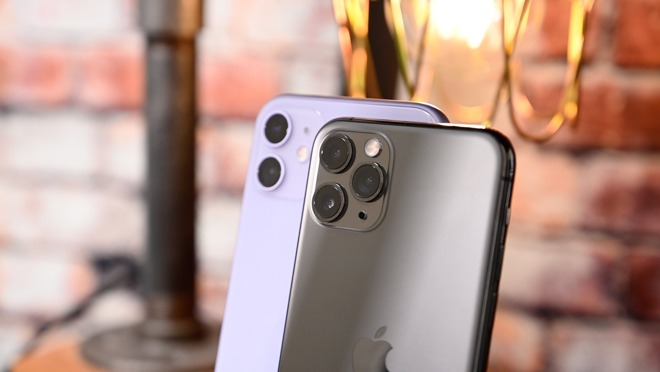 iPhone 11 (left) and iPhone 11 Pro (right)
In a note seen by
AppleInsider
Ming-Chi Kuo
believes that there is more than just
issues surrounding Foxconn
for Apple. Besides just Foxconn, Pegatron will have problems soon if they haven't manifested already, and the entire supply chain has been shaken by the extended holiday ordered by the Chinese government.
Kuo believes that Apple's Zhengzhou site is the most critical iPhone production site, and is responsible for the bulk of the
iPhone 11
and
iPhone 11 Pro
assemblies. It isn't clear when the factory will open, and Kuo thinks that the labor return rate will be between 40% and 60% of what the factory will need for full production.
Furthermore, the Shenzhen facility is impacted. Kuo sees most of the "
iPhone 12
" development there -- but that team didn't stop working. However, labor is impacted, with the return rate only being as high as 50% and possibly as low as 30% of pre-shutdown levels.
To hopefully deal with some of these problems, Kuo asserts that some production has been moved to India and Taiwan, but "capacities are limited" at those facilities.
Pegatron has two critical, and impacted, facilities. The first, Shanghai, resumed work on February 3, with a labor return rate of about 90%. But, Kuo is expecting resignations, lowering the workforce to about 60% after pay is doled out in February.
Kuo speculates that Pegatron's Kunshan facility is in charge of "
iPhone SE 2
" production. The original start date for production was February 10, but that has since been postponed. The labor return rate is predicted to be between 40% and 60% of pre-holiday levels.
Working around the virus
While the ongoing growth of the coronavirus outbreak will
hurt Apple's business
to a currently-unknown extent, the main hit for the company will be on the production side rather than retail. Apple's main production of its products takes place in China, the main country affected by the outbreak, with steps being taken by assembly partners involved to minimize its effects.
In the case of Foxconn, it said at the end of January provisions were being made to meet its production obligations. Foxconn operates a facility in Wuhan, along with other firms in the Apple supply chain.
While originally speculating a reopening of production on
February 10
, the company has also
contacted staff
to warn them not to return to work on that date. It has also taken steps to
quarantine returning workers
for up to two weeks to prevent further infections.
Reports have also suggested Foxconn was
being prevented
from opening up its facilities by local officials following an inspection, with concerns over the high density of employees and circulated air systems cited. Local authorities have
denied the reports
, advising on Sunday discussions with the company are ongoing, including talks over plans to minimize the coronavirus' spread.
During the January 28 Apple financial results conference call, Apple CEO
Tim Cook said
the company was "gathering lots of data points and monitoring (the situation) very closely." Cook also raised the existence of "alternate sourcing and contingency plans" for factories in affected areas, and admitted factory reopening delays were factored into its guidance.
As of February 9, the World Health Organization reported there have been 37,558 confirmed cases of the coronavirus worldwide, and 813 deaths. The majority of infections are based in China, making up 37,251 of the total with 6,188 deemed to be "severe," and 812 deaths.