FCC approves rumored 'Powerbeats 4' earphones
A filing at the U.S. Federal Communications Commission has confirmed a new set of earphones are on the way from Apple, with artwork indicating they may be the rumored Beats "Powerbeats 4."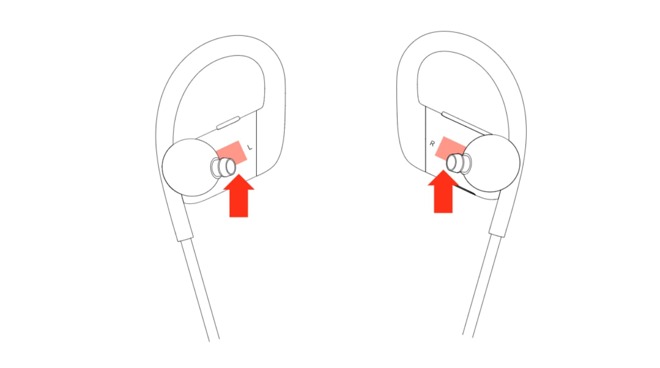 An FCC filing illustration for what is believed to be the 'Powerbeats 4'
Appearing in filings on Thursday,
label artwork
for a device described as the "Wireless Headset A2015" has surfaced, complete with a diagram showing where regulatory information would be placed on the device. The
filing
includes a number of elements, including confidentiality letters and RF exposure test results, mandated by FCC regulations.
The image for the filing depicts the headphones as being extremely similar in design to an icon that appeared in
iOS 13.3.1
in January, for a Beats-branded earphone that wasn't completely wireless. Rather than taking the design of the Beats
Powerbeats Pro
or Apple's
AirPods
, the image seemed to show a connecting cable between the two earbuds, something that also appears in the FCC filing.
Given the connecting wire and having a design that is a cross between the Powerbeats 3 and the Powerbeats Pro, it is likely the earphones could be called the "Powerbeats 4." Details leaked within
iOS 13.3
revealed the name of the product, as well as indicating it will have the same "Hey Siri" functionality for hands-free use as its stablemates.
The model number A2015 is not within any of the number ranges used by other Beats products. The Powerbeats 3 Wireless was model A1747, while Powerbeats Pro was model numbers A2047, A2048, and A2078 for the left and right earpieces and the case.
The filing with the FCC is an indication a product is certainly on the way, but doesn't help in determining exactly when Apple will release the item. Given rumors of a March event, it is entirely plausible Apple could unveil the "Powerbeats 4" at the same time alongside other major launches.