Using Apple CarPlay impairs driver reaction more than alcohol, study shows
U.K. based road safety charity IAM RoadSmart has released a study showing how in-vehicle infotainment systems can substantially impair driver's reaction times -- even more than alcohol and cannabis.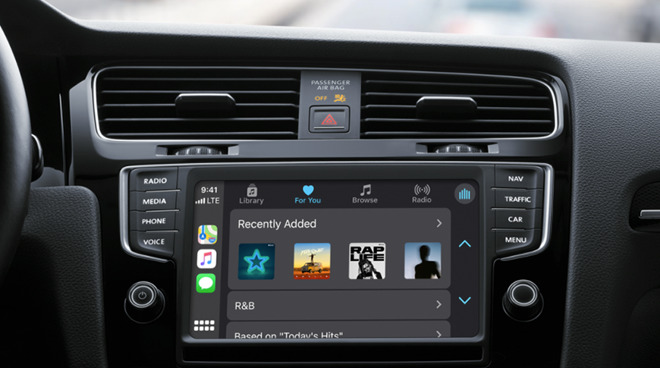 Independent consultant company TRL conducted
the study
on behalf of IAM RoadSmart and the Rees Jefferys Road Fund. The study was conducted to gain insight into how a console infotainment system may impair a driver's reaction time.
The test involved two experimental trials focusing on Android Auto and Apple
CarPlay.
Twenty Android and twenty Apple users would be subjected to the same simulated test route. Each driver drove three times: A control drive, where they did not interact with the system, a voice-enabled drive where they used the voice system only, and a touch-enabled drive, where they used the touch screen of the system only.
As part of the test, users would be required to follow another car, navigate an erratic motorway, and perform a figure-eight loop. During these tests, users would be told to perform a task, such as accessing music on Spotify, input data into a navigation app, or read texts and take phone calls.
Additionally, participants would be asked to flash their headlights whenever a red bar appeared on the screen, which measured their reaction time to external events.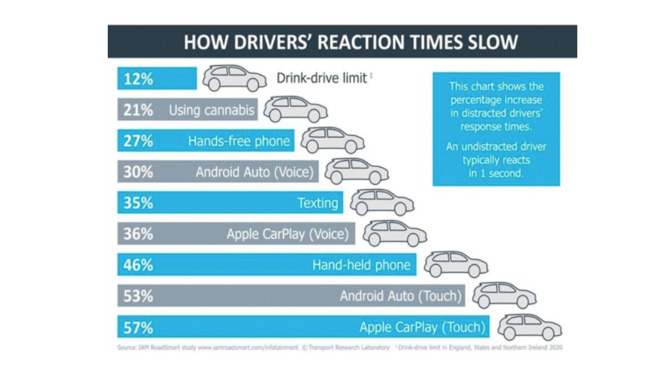 Image Credit: IAM RoadSmart
Regardless of the infotainment system, all users showed significantly slowed reaction time. Undistracted drivers typically showed a one-second reaction time. Those who used the voice-controlled Apple CarPlay saw a 36% increase in their reaction time, which rose to 57% when they used the touch interface.
Android Auto users faired only slightly better-- a 30% increase in reaction time when using voice control, and 53% when using touch controls.
For comparison, those who drive under the influence at the drink-drive limit showed a 12% increase in reaction time, and those who used cannabis saw a 21% increase.
Those who used Android Auto saw a 1.73-foot (0.53-meter) deviation on their lane positioning when performing navigation tasks with Android Auto. Those who used Apple CarPlay saw a deviation of 1.64 feet (0.50 meters.)
The report states that participants showed significant difficulty in controlling the vehicle's speed and position whenever they interfaced with an infotainment system. Participants also failed to react consistently to awareness checks when engaging with touch-based systems.
Both Android and Apple infotainment systems required users to take their eyes off the road for longer than the National Highway Traffic Safety Administration recommended guidelines. Study participants underestimated the time they spent looking away from the road when engaging with touch controls by up to 5 seconds.
Due to the results of the study, IAM RoadSmart is calling on industry and government to openly test and approve all infotainment systems and develop consistent standards that will help minimize driver distraction.
Apple introduced CarPlay in 2014 as a way to get the most out of a supported infotainment system. Since then, Apple has added to the system with navigation improvements, support for Settings and Calendar, and support for "Hey,
Siri
." More improvements
are expected
in iOS 14, with a new wallpaper API and the ability to use Siri to find locations based on seating availability, IMAX showings, or children discounts."