Apple offers 10% bonus when you add funds to Apple IDs
Apple is giving iPhone and iPad users in self-isolation a way to save money on App Store and other Apple ecosystem purchases, by offering a 10% bonus when customers add funds to their Apple ID.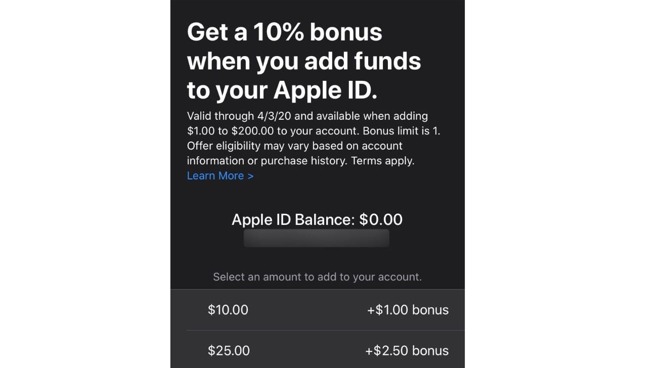 The ongoing
coronavirus
pandemic has forced companies to send employees out from offices and to work from home, while schools around the world are conducting similar measures with children. Government advice to stay home and to not gather with other people has led to more people using their iPhones and iPads for work, education, and entertainment.
An occasional
promotion
has been relaunched by Apple, providing those who added credit to their Apple ID an extra bonus amount on top. Purchases will add an extra 10% of credit on top for a fund addition, worth up to $200 in the United States, 200 GBP in the United Kingdom, and up to 300 euro in some European territories, with similar offers provided in a number of other markets.
The bonus will only be applied to one purchase, according to the terms of the offer, meaning it will only apply on the first top-up purchased since the offer's introduction. The offer stands until April 3, 2020, with eligibility of users varying based on their account information and purchase history.
To top-up on an account, open the App Store on an iOS device, tap the user icon in the top-right corner, then
Add Funds to Apple ID.
Details of the promotion are then shown, with bonus amounts displayed alongside example top-up amounts, though a last option for "Other" provides the ability to select a custom amount of the user's choosing.