Supposed Apple CarKey screenshots reveal how digital key feature works
A set of questionable screenshots shared on Twitter this week supposedly show off Apple's so-called "CarKey" feature for iOS, potentially offering a first look at the digital key that will ostensibly let users control vehicle systems with their iPhone and Apple Watch.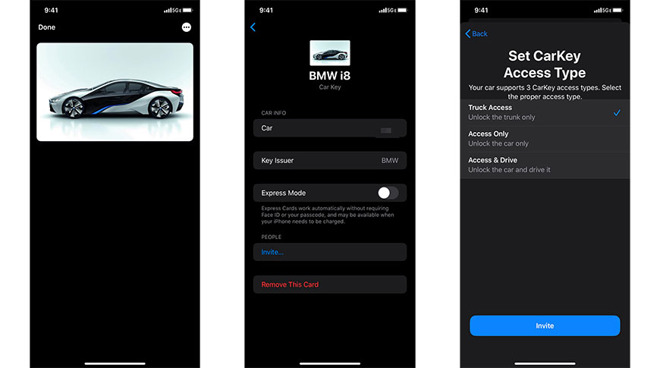 Alleged screenshots of Apple's CarKey interface. | Source: "DongleBookPro" via Twitter
A trio of screenshots from "
DongleBookPro
," captured on an iPhone running an unknown version of iOS, apparently demonstrates the feature with a key tied to a BMW i8.
It appears that digital keys are stored in the Wallet app, with enrolled cars listed as browsable cards. Tapping on a car's avatar brings up a screen that displays stored vehicle information, a digital key's issuer, an option to enable Express Mode, sharing settings and an option to remove the key from Wallet.
Much like HomeKit or other smart home locks, users can apparently share their
CarKey
with another iPhone owner. According to a third screenshot, access can be restricted to specific subsystems like door locks, trunk locks and a car's ignition. Support for other variables may exist. For example, some cars with wireless key fobs integrate safety driving modes that limit a driver's speed and other mechanical settings.
Express Mode, like Wallet's Express Transit feature, automatically enable CarKey without requiring authentication with
Face ID
,
Touch ID
or a passcode. In theory, this feature would allow users to simply walk up to their car, unlock and start it without pulling a device from their purse or pants. If the mode works similarly to Express Transit, the digital key might also work when an iPhone's battery is depleted.
Whether the screenshots are legitimate is unclear, as abnormalities suggest the images were manipulated. For example, the definition of Express Mode specifically mentions "Express Cards," while wording and text spacing on the "Set CarKey Access Type" screen is awkward. That said, early iOS software builds are more about functionality and less about polish.
The screenshots jibe with a report this week that, citing code from a leaked version of
iOS 14
, claimed BMW would be
among the first
carmakers to utilize CarKey if and when it debuts in a future version of iOS.
Apple's proprietary CarKey technology was initially discovered in an early iOS 13.4 beta
in February
. The feature failed to debut with the update's release
on Tuesday
. Beyond the API's existence, not much is known about the initiative. Reports indicate the system leverages NFC hardware on iPhone, and potentially Apple Watch, to communicate with a car's onboard computer to unlock, lock and start a vehicle.
The Cupertino tech giant has been investigating digital car key systems for years and in 2018 filed a
patent application
describing methods by which an iPhone can securely control a car's subsystems. Another patent,
issued in November
, detailed a solution that integrates Bluetooth and Ultra Wideband connectivity to determine a device's relative location before exchanging cryptographic keys with a target vehicle.
Apple is
also a member
of the Car Connectivity Consortium, an automotive industry group focusing on the development and integration of universal digital key technologies. The CCC is currently working toward Digital Key Release 3.0, a system that taps Bluetooth Low Energy and UWB technology to deliver passive, location-aware keyless access to smartphones and other mobile equipment.