Compared: 2020 MacBook Air i3 versus MacBook Air i7
The MacBook Air is again available with an i7 processor. We've benchmarked the base 2020 MacBook Air with i3 processor, and the high-end quad-core i7 MacBook Air to see how much of a performance difference there -- and to see if the i7 is worth the higher price tag.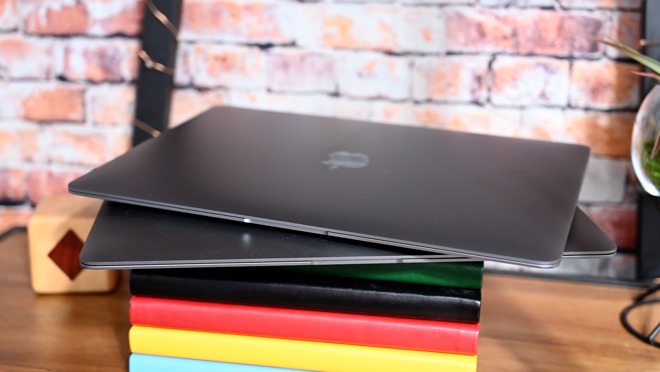 2020 MacBook Airs
2020 MacBook Air
Aside from the processors -- and corresponding price increase -- there are no differences between models of the 2020 MacBook Air.
Across the board, the new machines can now be configured with up to 2TB of internal storage, start with a higher 256GB of base storage, have adopted the 10th-generation of Intel's processors, now use the Magic Keyboard, and have more powerful Intel Iris Plus graphics that can power a 6K display.
Users can configure the SSD and the RAM when picking out a machine, but that will offer a smaller performance difference than the processor choice.
MacBook Air i3 versus MacBook Air i7 performance
This all leads up to the actual performance increase those processor improvements provide.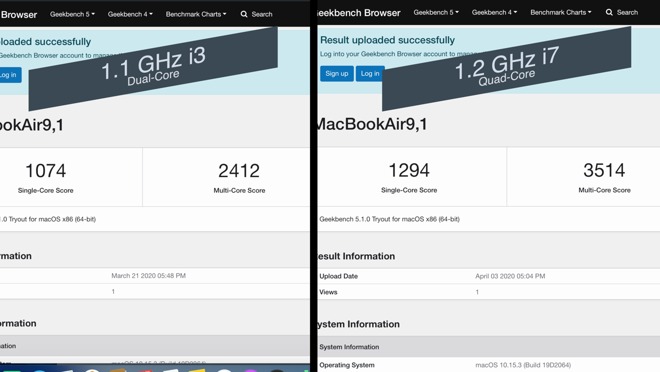 Geekbench 5.1 results on the i3 and i7 MacBook Air (2020)
For the base 1.1 GHz dual-core i3-1000NG4 processor, we scored a 1074 and a 2412 on the single and multi-core tests. On the 1.2GHz quad-core i7-1060NG7 machine, we managed a 1294 and a 3514 respectively.
Those are no small gains. The roughly 20% single-core benchmark gain is good, but the near 50% multi-core gains are excellent. This is due, in part, to shift from a dual-core to a quad-core chip.
We also tested out the CPU-intensive benchmark Cinebench R20, and the quad-core i7 easily outmatched the dual-core i3. The i3 scored a 690 while the i7 scored a 1194 -- double the cores, near double the score.
During our time testing the
MacBook Air
, we noticed the i7 would usually run slightly faster with everyday tasks and certainly has an edge with more intensive tasks such as Xcode compiling. Even on powering up from a cold shut down, we saw the i7 boot around two seconds faster than the i3.
To test everyday tasks, we encoded a roughly six-minute video in 4K at the default settings from iMovie. The base model took six minutes and two seconds while the i7 config took five and a half minutes. Not a huge saving in video encoding, but they do share the same graphics.
When configuring your MacBook Air, it is $100 to go to the 1.1GHz quad-core i5 and $250 to go to the faster quad-core i7. For a 20% price increase, you are getting 50% better performance out of your machine. Processor speeds don't help everything -- they won't necessarily make emails or Facebook any faster -- but you want to tax your machine at all, this seems like a good upgrade to consider.
Deals on Apple's MacBook Air
A number of 2020 MacBook Air configurations are currently on sale in the
AppleInsider
2020 MacBook Air Price Guide
, further discounting the latest systems on top of Apple's price drop for the new 2020 line.
Meanwhile,
closeout MacBook Air models
are also available with cash savings of up to $350 off.
For even more
deals
on Apple products, including MacBook Pros, check out the
AI
Apple Price Guide
.