Apple's Magic Keyboard for iPad Pro up for preorder on Amazon, supposedly ships on May 30
Apple's unreleased Magic Keyboard with Trackpad has popped up on Amazon's UK website with a shipping date of May 30, but that's likely just a placeholder as the retailer builds up its stock.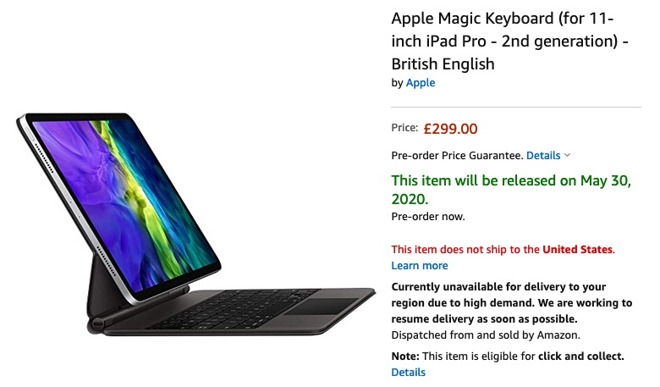 A product listing for Apple's upcoming Magic Keyboard with Trackpad.
The new
Magic Keyboard
with Trackpad was announced in March alongside the 2020
iPad Pro
lineup and new trackpad support in
iPadOS
13.4. At the time, Apple said the accessory would launch in May.
Though Apple failed to offer a clear timeline for availability, a
product listing
has appeared on Amazon suggesting a release date of May 30. An identical listing on the
U.S. Amazon store
states only that the item has not yet been released. Like with the UK site, customers are still able to preorder the accessory.
While the product is currently available to preorder, the date offered by Amazon is likely a placeholder. Retailers sometimes set arbitrary release dates as they await a green light to sales from manufacturers. On the other hand, the Amazon listing marks the first time that a major retailer has given any sort of concrete scheduling details.
The new Magic Keyboards, designed exclusively for 11- and 12.9-inch iPad Pro models, feature a trackpad for the first time, but they also sport a unique floating hinge design and backlit keys. They're priced at $299 for the 11-inch model and $349 for the 12.9-inch model and are compatible with the 2018 iPad Pros.
Alongside the Apple-produced Magic Keyboard, Logitech in March also
debuted
two new keyboard accessories with trackpads for the
10.2-inch iPad
and the
10.5-inch iPad Air
. Both of those products are listed as "coming soon" on Logitech's site, though no firm timeline has been given.
In the meantime, 2020 iPad Pro users will be able to take advantage of full mouse and trackpad support as long as their devices are running iPadOS 13.4.
A handful
of
first-
and
third-party
apps have also been updated to support trackpads and mice.