Apple's iOS sees highest share of US activations since 2016, report says
Posted:
in iOS
edited April 2020
According to a report from research group CIRP on Friday, Apple's iOS accounted for 44 percent of U.S. smartphone activations during the first quarter of 2020, beating similar metrics last seen in 2016.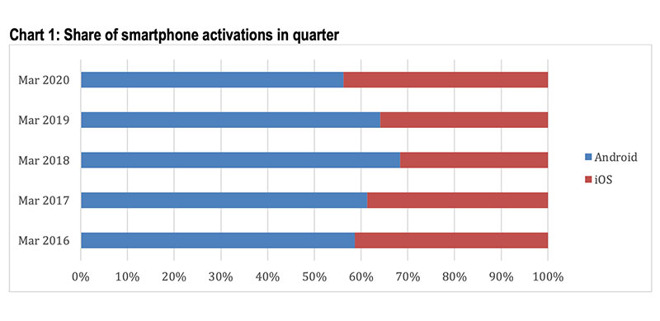 Source: CIRP
While Apple and Google share a "stable duopoly" in smartphone user share, the scales are slowly shifting in favor of iOS. Since a low of about 32% in the first quarter of 2018, iOS has steadily regained marketshare to take 44% of the whole in the most recent March period, CIRP claims (
PDF link
). Android gobbled up the remaining 56%.
"U.S. operating system market shares have varied slightly in the past few years, but have remained remarkably stable," said Josh Lowitz, partner and co-founder of CIRP. "Android has typically had a somewhat greater share, but shares have not varied considerably.
As expected from a saturated market like the U.S., new users appear responsible for negligible churn for the two smartphone leaders. Data suggests switchers are the new prize.
CIRP notes 89% of Android users and 91% of iOS users stuck with their current operating system in the most recent March quarter. That slight imbalance was also evident in 2019, a year in which relative iOS activations began to recover from the low suffered in 2018.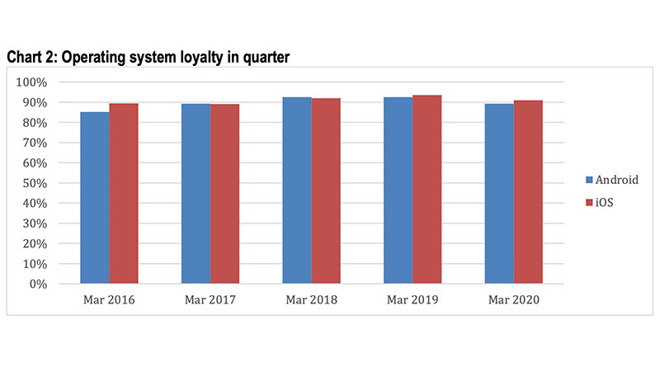 Overall, however, fluctuations in marketshare are nuanced, indicating high levels of loyalty for both iOS and Android.
"Operating system loyalty is stable at very high levels," added Mike Levin, partner and co-founder of CIRP. "For the past four or so years, around 90% of new mobile phone activations stayed with the buyer's previous operating system. Despite Apple's efforts to attract Android users to iOS, and Android handset manufacturers' similar efforts to attract iPhone customers, operating system usage is among the stickiest of all consumer affinities."
Today's data was gleaned from a survey of 500 subjects polled in April.
In its report, CIRP argues Apple and Google must join forces to create a
COVID-19
contact tracing app to help U.S. agencies monitor and track transmission of the deadly virus.
The companies announced initial steps toward such a solution
earlier today
, noting development of specialized APIs and operating system-level integrations that will enable both iOS and Android devices to track the spread of COVID-19 via Bluetooth communications. The tech giants underscored the joint system is built on principles of user privacy.
Apple and Google's contact tracing project is expected to launch as an app in mid-May, which is to be followed by operating system integrations at a later date.