Apple responds to Senate concerns about COVID-19 app privacy
Apple last week responded to a letter from several Democratic senators who inquired about the data privacy policies of the company's COVID-19 screening tools.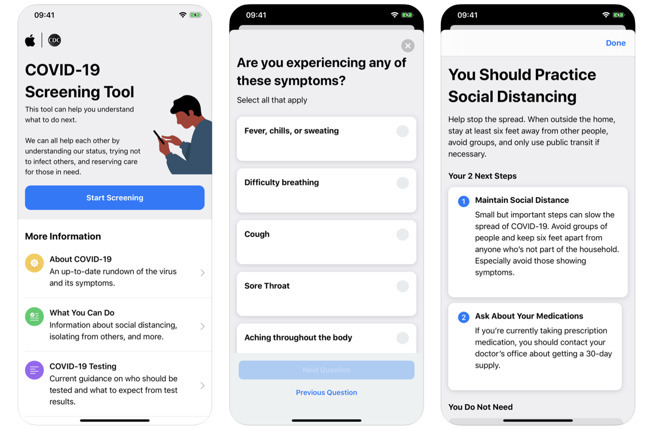 Apple's COVID-19 app. Credit: Apple
On April 3, Senators Bob Menendez, Kamala Harris, Cory Booker and Richard Blumenthal in a letter to Apple CEO
Tim Cook
expressed concern over how confidential health data is handled in Apple's
coronavirus
app and website.
In a
letter
dated Thursday, Timothy Powderly, Apple's senior director of government affairs, responded to some of those questions and outlined the privacy protections baked into the COVID-19 screening app and website. The app and website were created in partnership with the CDC, FEMA and the White House Coronavirus Task Force.
For example, Apple says that it doesn't collect any information other than non-personally identifiable app usage and crash data. That data is then kept only as long as necessary to "support the operation of the COVID-19 website and app." It also pledged not to share or resell any data collected with third parties, or use it for commercial purposes.
Because end users are the ones inputting data into the systems, the tools aren't governed under HIPAA guidelines. Any user-inputted data sent through the portal is encrypted during transport. Apple also said that the app and website are accessible to people with disabilities.
In the letter, Apple added that it "drew upon its engineering and clinical resources" to develop the tools at the request of the Department of Health and Human Services.
Bloomberg
reported on Apple's response
earlier today
.
The Apple COVID-19 app and website
launched
in late March and contain tools that let users assess coronavirus risk, symptoms and recent exposures. The app was
updated on Thursday
with a new state guideline portal, as well as self-care and emergency tips.