Former Apple lawyer accused of insider trading says charges unconstitutional
Gene Levoff, Apple's former senior director of corporate law, continues to fight charges of insider trading and on Monday asked that his indictment be dismissed citing an argument of constitutionality.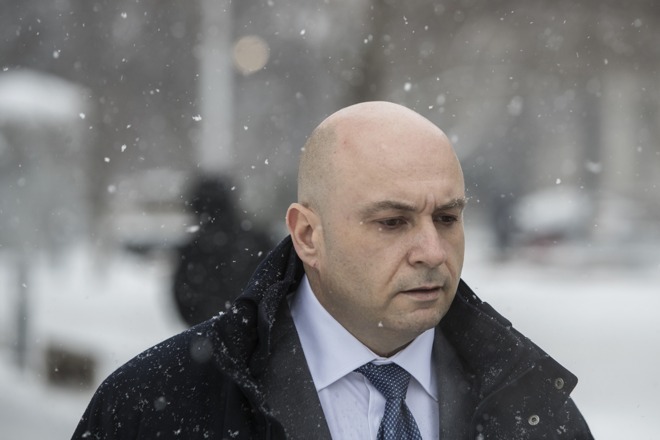 Gene Levoff | Source: Bloomberg
Levoff was
formally indicted
by the U.S. Attorney's Office for the District of New Jersey in October for conducting multiple stock trades made based on information learned from early access to Apple's revenue and earnings disclosures.
According to his lawyer, Kevin Marino, the prosecution is
unconstitutional
because Levoff's actions are not expressly prohibited by any one criminal law, reports
Bloomberg
.
"The definition of insider trading is wholly judge-made: Every element of the crime and the scope of regulated individuals subject to it was divined by judges, not elected legislators," Marino said in a court filing. "This alone renders the criminal prosecution of insider trading unconstitutional."
As noted by
Bloomberg
, courts have failed to examine the constitutionality of a federal common law of insider trading despite years of upholding criminal indictments in such cases.
Whether the tactic will succeed is unclear, as the Supreme Court dealt with a similar, albeit not identical, insider trading case as recently as 2016. At the time, the highest court in the land appeared to have no problem with the process's constitutionality.
As part of Apple's Disclosure Committee, Levoff had access to company financials prior to public reporting. According to prosecutors, he used that information to seek unjust enrichment through a series of beneficial stock trades that generated $227,000 in profits and avoided $377,000 in potential losses. The conduct dates back to 2011 and intersects with a blackout period tied to Apple's wider trading policy. Ironically, Levoff was in charge of the initiative and would sometimes perform illicit trades after notifying others of the restrictions.
Levoff faces six counts of security fraud and six counts of wire fraud, each of which carries a maximum penalty of 20 years in prison. In addition, the securities fraud counts carry a $5 million fine, while the wire fraud counts rate a fine of $250,000 or twice the gain derived from or loss caused by the offense.
Apple in a statement to
AppleInsider
last year said Levoff's indiscretions were first brought to its attention in 2018. A thorough investigation led to his dismissal that same year.
Levoff is currently
out on bail
after being formally charged by the U.S. Securities and Exchange Commission
in February
of 2019.