Siri gets improved voice in Germany
German users are reporting that Siri is suddenly sounding much more natural, especially on HomePod, following a long-promised update to iOS.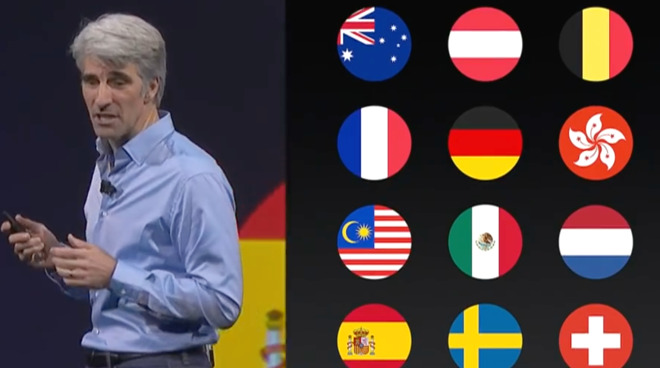 Craig Federighi in 2017, introducing improved Siri voices coming to all languages, including German
Apple's
Siri
has a distinctive, immediately recognizable voice -- but people in different countries know this technology by very different voices. Some default to a male Siri voice, some to a female, and all have different languages and accents. Now German-language users are reporting that the Siri voice they hear every day has been noticeably improved to sound more human and natural than before.
According to German site
iphone-ticker.de
, Siri has finally
received an update
that was actually promised back in 2017.
"Almost three years after Apple's software boss Craig Federighi announced during the launch of iOS 11 that the in-house voice assistant Siri would sound significantly more human in the future," says the site, "Apple now seems to delight German users with new Siri voices."
Federighi announced the update for all Siri voices, starting with the US one, during his presentation at WWDC 2017. "We're making a big upgrade to your primary interface in dealing with Siri, and that's Siri's voice," he said. "We've used deep learning now to create a really natural and expressive voice for Siri."
Readers of
iphone-ticker.de
say that the new Siri voice is more melodic, as well as natural, and that this is particularly noticeable on HomePods. However, there have been certain problems. Some readers are saying that since the update, "Siri always sounds like helium." Apple has yet to comment.
However, there are cases where Siri's voice will revert from the now human-sounding normal to a more robotic one, and this may be what's happening for these users. It happens when your iPhone or iPad is particularly low on space and the device
offloads the richer Siri voice
.
Keep up with all the Apple news with your iPhone, iPad, or Mac. Say, "Hey, Siri, play AppleInsider Daily," -- or bookmark this link -- and you'll get a fast update direct from the AppleInsider team.