Apple's road back to a $300 share price after the coronavirus changed everything
Amid one of the worst economic downturns in years, Apple has outperformed most expectations that analysts have placed on it. Just shy of two months into the COVID-19 pandemic, its share price has returned to levels not seen since before the crisis.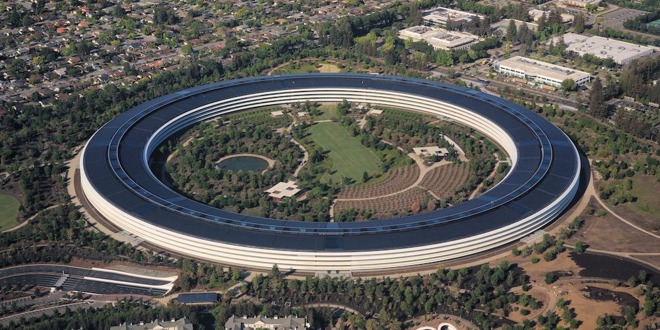 Apple's share price are back up to pre-coronavirus levels as of early May.
The
COVID-19 pandemic
has hurt Apple's revenues and demand for its products across the globe. The Cupertino tech giant proved its resilience during the pandemic by outperforming expectations and returning to pre-crisis share price by early May. Here's what that road looked like for the company.
Apple and COVID-19 -- a timeline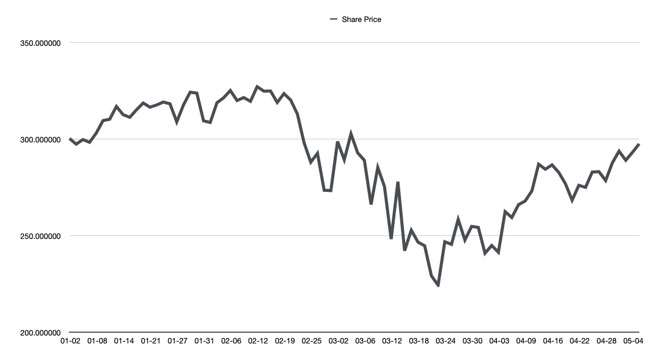 Apple's closing share price from the beginning of 2020 through early May.
Apple started off 2020 with a very strong financial position, with a record-smashing holiday quarter that
pulled in revenue of $91.8 billion
, although coronavirus was a concern in China in January, Apple's position appeared upbeat across the board.
As the coronavirus spread in China, Apple was forced to contend with the fallout from the outbreak in that region. Foxconn and other suppliers were forced to
shut down their factories and keep them shuttered
throughout February. The key Apple partner took its
biggest revenue hit
in years as a result.
On the retail and demand side, the company closed all of its retail stores and offices throughout Greater China in early February, and although early indications suggested Apple would reopen by Feb. 10, retail and office operations remained closed far beyond that date.
On Feb. 17, the Cupertino tech giant
warned investors
that it would likely miss revenue guidance for the second quarter due to both supply chain issues and weakened demand in China -- a critical region for the company's production and sales.
As the coronavirus continued to spread across the world, the world's financial markets began taking a beating. The NASDAQ started plummeting in February and March, as more countries and companies across the world had to deal with mandated stay-at-home orders and social distancing guidelines.
It was a similar story for Apple's stock price. That price reached its lowest point of
$224.37 on March 23,
causing Apple to dip below the $1 trillion market capitalization that it had been the first to achieve.
China began recovering in March, with Apple's supply chain in the region
reaching normality by mid-month
. Elsewhere, however, Apple shuttered all of its retail locations outside of China, and they
remained closed
throughout April and early May.
As the world transitioned to remote learning and work-from-home policies, Apple's stock began recovering. The company eventually regained its $1 trillion valuation, and throughout April, Apple's share price has largely recovered to pre-coronavirus levels.
On April 30, the Cupertino tech giant reported earnings that exceeded Wall Street expectations. Although revenue was still down from pre-pandemic levels, the company's results proved to investors that it could maintain a relatively strong position during COVID-19.
Key drivers of Apple's recovery from COVID-19 hit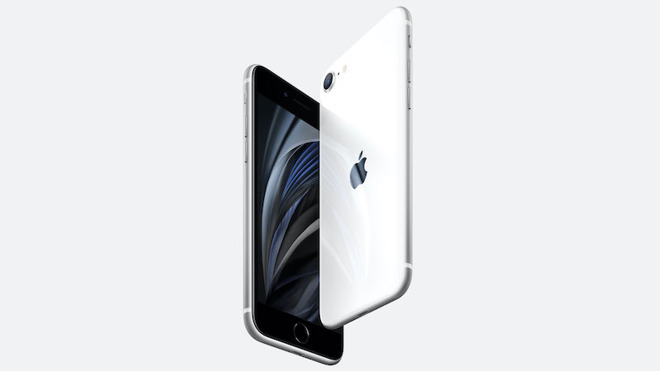 Apple's iPhone SE, priced at $399, is a device tailor-made for uncertain economic times.
The first visible sign of Apple's slow march toward recovery, at least in China, was likely the company's
reopening of retail locations
in mid-March.
At its second fiscal quarter of 2020 earnings call on April 30, Apple indicated that store foot traffic levels have not recovered fully in China. More consumers, however, have switched to online retail, which aided the company's revenue and sales numbers in the region.
But even in the midst of the global crisis, Apple launched new
iPad Pro
models alongside a Magic Keyboard accessory that ushered in cursor and trackpad support for the company's tablet lineup. Although that
$350 accessory may have seemed questionable
in a period of economic recession, the changes to
iPadOS
represented a broader and more significant shift for Apple's tablets.
The iPad Pro lineup, as well as a new lower-cost
MacBook Air
with a Magic Keyboard, likely contributed to Apple's report of an all-time high in the Mac and iPad user base. While other segments like iPhone shrank, Apple's iPad and Mac numbers actually saw an uptick, likely due to a wide transition to distance learning and work from home among its customer base.
The launch of the
iPhone SE
, a powerful smartphone at an affordable price point, was another factor aiding Apple's return to pre-coronavirus levels. Apple CEO
Tim Cook
noted that the company had seen a "strong customer response" to the
affordable smartphone
.
All of those products signaled that Apple wasn't pausing its usual pace of product releases during COVID-19. At its April 30 earnings call, Cook reiterated that new products were Apple's "lifeblood."
Other product segments also helped to offset the damage done to iPhone shipments during the second quarter. Apple's Services saw a year-over-year jump of 17%, and its Wearables segment surged 23% to a new quarterly record.
The earnings call itself, which actually
reported growth in the company
despite the global crisis, also contributed to an overall positive outlook on Apple's long-term prospects. Despite a slight dip on May 30 after Apple's Q2 2020 results, Apple's share price is up nearly 3% since the drop.
Looking ahead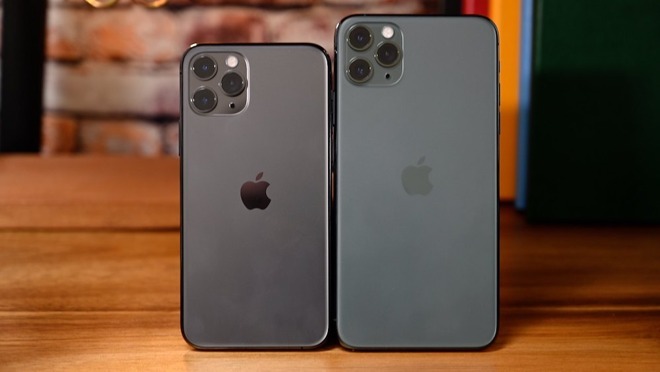 Looking ahead, Apple's rumored "iPhone 12" lineup is likely to drive iPhone shipments well into 2021 and beyond.
Apple did not provide guidance for the June quarter, citing the unpredictability and uncertainty of the economy during the global pandemic. Despite that, many analysts have suggested that Apple's
long-term outlook appears bright
.
JP Morgan's Samik Chatterjee, for example, expects Apple to outperform the broader market. The Cupertino tech giant remains a top pick for Morgan Stanley analyst Katy Huberty, who says that Apple's long-term growth prospects appear sustainable. Many other analysts agree on the company's strong balance sheet.
With supply chain production in China normalizing, there's also a greater chance that the company's rumored
5G iPhone
is on-track for a release sometime in the fall.
Importantly, that device is largely expected to drive iPhone revenues well into 2021. Key Apple supply chain partner Qualcomm, for example, expects 5G smartphone demand to
remain solid across 2020
despite a downturn in the broader smartphone market.
Apple also recently authorized a boost to its share repurchase endeavors by $50 billion, and due to low interest rates during COVID-19, the company recently tapped the bond market to
raise fresh capital for corporate purposes
.
With efforts like the Apple-Google Exposure Notification API, combined with loosening of social distancing and lockdown restrictions across the world, it's also probable that Apple could begin reopening its retail footprint globally through 2020. In June, Apple is holding its first virtual WWDC, where it's expected to debut
new operating system updates
as it usually does.
During its April 30 conference call, Cook said that he was confident in Apple's ability to bounce back strongly from the COVId-19 pandemic. Other signs, like early indications that
consumer spending
is slowly recovering, could also bode well for the Cupertino tech giant.
The COVID-19 pandemic has shaken up the tech industry. Although Apple has not escaped the effects of the crisis, it is much better equipped than rivals to maintain its strong financial position after it's "over" -- or a new normal is established