Apple Store in Scotland renamed amid worldwide protests for racial equality
As citizens in countries around the world call for a reckoning on racial justice and equality, Apple on Friday quietly renamed its Apple Buchanan Street store in Scotland to a title not associated with the prominent local slave owner.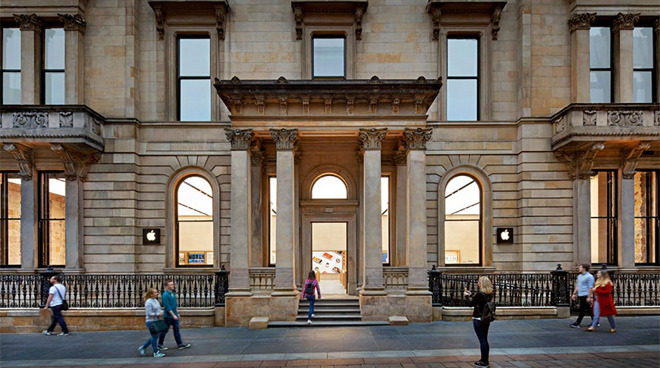 Apple Glasgow, formerly Apple Buchanan Street.
The name change was made official on Apple's retail
website
, which now lists the store as Apple Glasgow.
As noted by
9to5Mac
, which
spotted
the modification earlier today, Apple will sometimes rebadge brick-and-mortar outlets after a move or when a host shopping mall changes its name. In this case, however, the Glasgow location is an independent storefront on Buchanan Street.
Though Apple has not commented on the matter, it is thought that ongoing protests prompted the change from Apple Buchanan Street to the less descriptive Apple Glasgow.
Emboldened by George Floyd's killing in the U.S., demonstrators in the UK have taken their calls for racial equality to the streets. Like many regions of Europe, Glasgow is not unaffected by former wrongs committed by slave owners, traders and others whose actions were morally questionable.
Buchanan Street is named after prominent businessman
Andrew Buchanan
, who owned and operated tobacco plantations in the U.S. The avenue, which is now a popular shopping destination, was built
after his death
on land owned by the family.
By changing the name of its store, Apple appears to be siding with protestors in the region who seek to change various street names associated with slave owners or figures who supported racial inequality.
The move comes one day after Apple CEO
Tim Cook
announced a
$100 million Racial Equity and Justice Initiative
to be led by Lisa Jackson, the company's vice president of Environment, Policy and Social Initiatives. Cook in a video posted to Twitter addressed the unrest seen across the nation, and now the world, following Floyd's death at the hands of police last month, saying Apple will be a force for good in the fight for
racial equity and justice
.
Apple Glasgow remains closed due to the
coronavirus
pandemic. The store could reopen soon, as Apple plans to open the doors to
32 outlets in the UK
on June 15.