Apple seeking to invalidate touchscreen patents used against it in lawsuit
Apple has filed a lawsuit that seeks to invalidate intellectual property at the center of a patent infringement complaint lodged five years ago.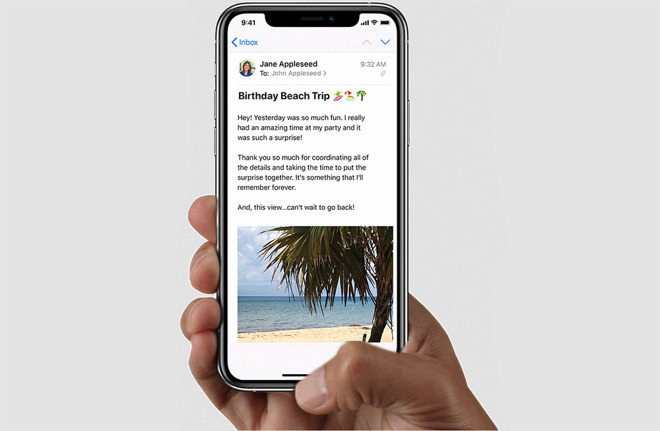 Credit: Apple
The property in question is a pair of patents related to mobile touchscreen graphical interfaces owned by a company called Zeroclick. In 2015, Zeroclick levied a lawsuit at Apple which alleged the company's iPhone touchscreens infringed on those patents.
In a new complaint filed Friday in the U.S. District Court for the Northern District of California, Apple seeks a judicial decision that the two Zeroclick patents are invalid or unpatentable.
The two patents, which were granted to Zeroclick in 2010 and 2013, cover a graphical user interface (GUI) and an "apparatus" which enables "functions of controls in the GUI to be activated by a movement to a control and then another subsequent movement related to that control."
For both patents, U.S. Patent Nos.
8,549,443
and
7,818,691
, Apple writes that one or more of their claims are "drawn to abstract ideas without the addition of any inventive steps sufficient to qualify as a patent-eligible invention."
The complaint goes on to add that one or more claims are "anticipated or rendered obvious" and that one or more claims are "indefinite" by way of using generic terms and phrases.
Apple's current litigation appears to be preemptive since a judge struck down Zeroclick's original lawsuit in 2017. That's because the original Zeroclick entity divested itself the IP and transferred all rights to Dr. Nes Irvine, the named inventor of the patents. Apple notes that it's likely that a second entity named Zeroclick, a Texas-based LLC that Dr. Irvine formed in November 2019, will continue to use the two patents in further lawsuits.
In fact, in January 2020, Dr. Irvine transferred the IP rights to the second Zeroclick entity. The original entity attempted to argue that the court should permit "Zeroclick 2" to be substituted in the litigation.
Apple is seeking both patents to be rendered invalid, as well as any other relief that the Court deems "just and proper."