Apple unveils plans to ditch Intel chips in Macs for 'Apple Silicon'
Posted:
in macOS
edited August 2020
In a "historic day," Apple CEO
Tim Cook
announced a shift to Apple Silicon, with technologies in place to run existing Intel apps with Rosetta 2.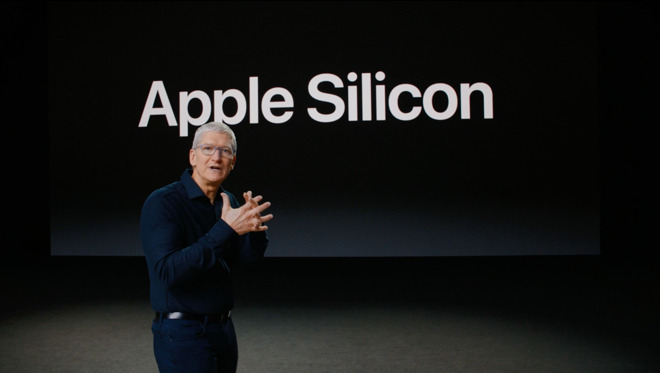 Prior to turning over the focus to Johny Srouji, senior Vice President of Hardware Technologies, Cook discussed the three major transitions in the Mac's history, naming the shift to Power PC, macOS, and Intel. Saying that the journey to Mac on a custom chip has been over a decade, Apple is bringing the history of shipping 10 billion chips to the Mac, for the first time.
Apple says that its chip architecture that began with the iPhone provides the best performance per watt, with the new systems designed for a sweet spot of power and performance.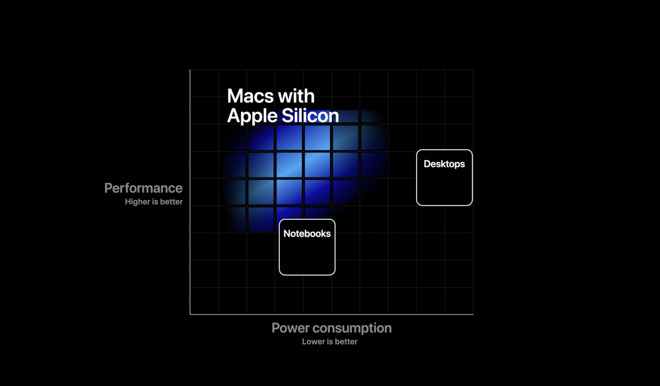 Power to Performance on Apple Silicon
Apple also notes that there are an assortment of custom technologies that it will use for
Apple Silicon
, including neural networking, GPU, the Secure Enclave, and more.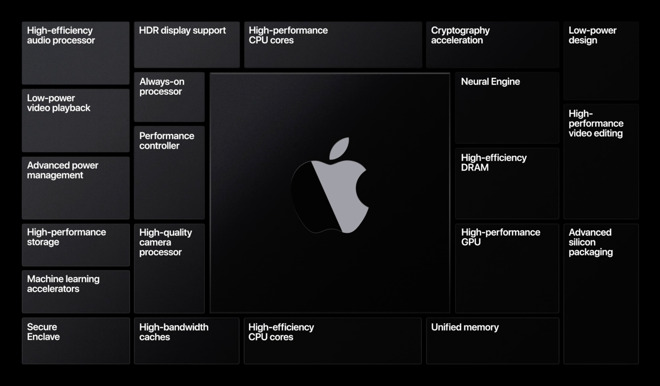 Apple Silicon advantages over Intel or other processors
Apple's senior vice president of software engineering,
Craig Federighi
, says that everything for
macOS Big Sur
is updated for the Apple Silicon platform. The company also says that Logic Pro X, and Final Cut Pro X will be available for day one. Federighi also says that the vast majority of developers can get their apps running in "a matter of days." Federighi says that they've been working with Adobe and Microsoft to get their flagship software offerings running early.
The new "Fat Binary" that Apple is using for software delivery is called "Universal 2." The developer's kits that Apple is running are on Apple's A12Z processor with 16GB of RAM, as found in the new iPad Pro.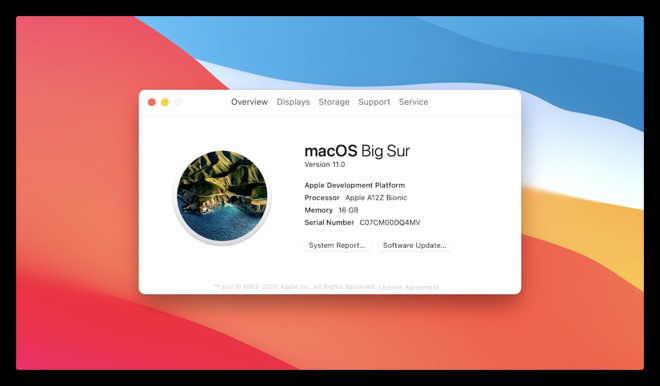 "About this Mac" on the Apple Silicon developer's kit
Federighi demonstrated Photoshop, and Final Cut Pro X. He applied filters in real time to 4K footage in the video editor, saying that the Neural Engine is fully utilized, in addition to full use of all of the cores on the chip.
Rosetta 2, Intel code, and iOS software
Older Intel applications will be translated at the time of installation by Apple's
Rosetta 2
tech. Apple says that the process is transparent to users.
Docker, and other similar technologies will be covered by virtualization technologies.
Practical use of Rosetta 2 was provided by Apple with Maya use and scene panning. Apple claims that games will easily be updated with Rosetta 2 as well, with a demonstration of
Shadow of the Tomb Raider
gameplay.
Beyond Mac games, the system will also run iPad and iPhone apps natively.
Apple Silicon quickstart kit available soon
The
Apple Developer Transition Kit for Apple Silicon
is a
Mac mini
, with 16GB of RAM, 512GB SSD, and the A12Z chip. Developers will be able to apply for the program on Monday, with units shipping before the end of the week. The kit is $500, and must be returned to Apple and the conclusion of the program.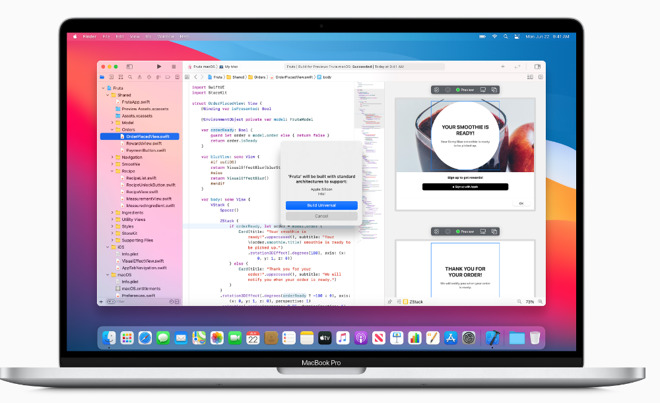 Apple's Xcode compiling apps for Apple Silicon
Cook says that the first Mac with Apple Silicon will ship by the end of 2020, with the entire transition taking "about two years."